It was only after I'd written the first few installments of Think Retro, which started about a year ago, that I was hit by a blinding realisation: not only could I use this weekly column as an excuse to buy more vintage Apple stuff on eBay, but I could legitimately write these purchases off against tax. Fun and legal; hot damn!
The resulting uptick in my eBay shopping since then has meant I've gotten better and better at picking out and picking up bargains, since for me there's infinitely more joy to be had in rescuing a lovely old Newton or LC or G5 from a trip to the trash, and giving it a dignified and loved retirement after a long and useful life, than in lining the coffers of a professional eBay seller determined to squeeze every buck of profit from his sale. And besides, I'm Scottish, so spending money isn't something that comes easily to me.
Thus, this guide to buying vintage tech on eBay was born, so that you too can play your part in caring for and cherishing retro tech—and, quite coincidentally, picking up for just a few dollars the tech that you once yearned for as a youngster but could never afford. (Till now.)
I'm focussing on eBay here because it's what I use and it's the most global marketplace, but if you live somewhere serviced by Craigslist, Gumtree, Freecycle or another local equivalent, you should be checking them out too for bargains. Ditto thrift stores and charity shops, and any dedicated forums such as vintageapple on Reddit.
Browse
Obviously, one way to look for retro stuff on eBay is just to browse for it. Click the Shop by category button at the top left, Show All Categories then do a Command-F search for "vintage com…" to jump to the link for Vintage Computing. Click, then—for the juicy stuff, actual computers—click Vintage Computers & Mainframes and check the box for Apple under Brand in the sidebar. Or, just click here! Although I'll show you some smarter, less laborious ways to find stuff below, it's still worth making time every now and then to browse in this way; it's just quite fun, and serendipity can throw up some wonderful things.
In the link above I have the list sorted so that auctions that are about to end are shown at the top, which is always a great way to snag a bargain, but if you're check in regularly, switching to Newly Listed lets you just see the latest additions.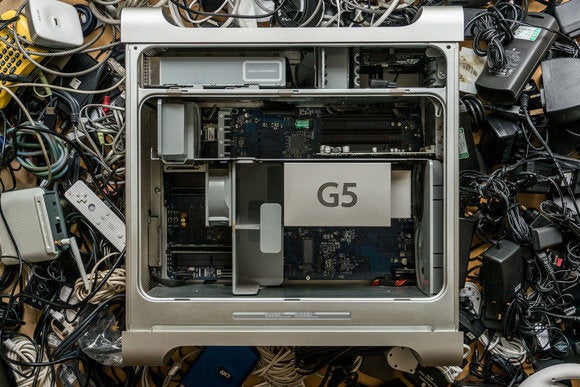 Bid low—you're in no rush
This stuff has hung around for decades. It's not going anywhere, and unless you're after something super rare then there will always be another one for sale soon. So: be prepared to lose. "Bid low, lose; bid low, lose; bid low, win" is much more satisfying than "Bid high, win." (Of course, if it's something you just really want or, ahem, you have a looming deadline, you might have to bid high, or use Buy It Now.)
Use Best Offer
Some listings, though, have the option to Buy It Now or make a Best Offer, which means the seller will entertain lower prices than the figure they've set for buying something outright. It's usually a sign in my experience that they know they've set the Buy It Now price a little high and are just hoping for a schmuck to pay it.
Don't be that schmuck. If there's a Best Offer option, offer a lower bid. Not insultingly low, as they'll reject you outright, but low enough that if they accept, you'll be delighted—maybe 60 percent of the Buy It Now price. Usually what will happen is that they'll come back with a higher counter-offer, which you can either accept or counter again yourself, and so on until one of you blinks. There's the option of adding notes with your offers, so asking if they'll throw in a mouse with the Quadra you're haggling over or something—hey, it might work.
Bid local
Especially on vintage Macs, postage can be frighteningly expensive—and downright petrifying if you're shipping internationally—so use the Item Location filter in the sidebar to find stuff that is local to you. You can limit it to your whole country, or set a smaller radius within which you're happy to drive to collect. Again: be prepared to lose several times before you find a local bargain. ("Going to pick up an eBay purchase" is actually a great excuse to explore your local area if you need a reason.)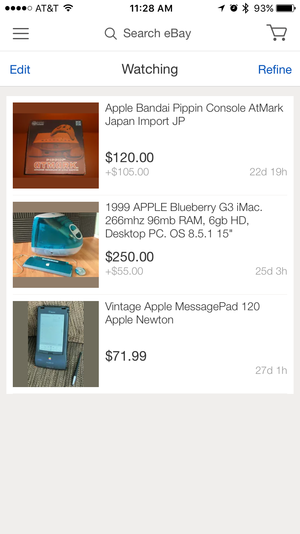 Bid at the last minute
I hate automated sniping systems, but it's still a sad truth that the best way to snag a bargain is to game the auction system as much as possible. Put bids in too early and the price has a habit of bubbling up, as people get caught up in a bidding war. But waiting till the dying seconds of an auction before putting in a bid which might not be high enough to cinch the deal? Screw extreme sports; this is my adrenaline rush.
Of course, the danger is that you'll just forget to bid, so set a reminder, perhaps with a quick "Hey, Siri." Better still, install the eBay app on your iPhone, add the thing you want to your watch list, and it will ping a notification when bidding is about to close. And better still, use an Apple Watch. You'll get notifications of closing auctions, and you can even bid right from your wrist—even if your hands are full, you have your nose, right? There's no excuse not to own a G4 Cube.
Take a risk
Often, vintage hardware is listed as "spares and repairs" or "sold as seen" simply because the seller doesn't have the time or expertise to confirm it's working. Chances are, though, it will be, and if the price is low enough and it's easy to pick up, there's no harm in sticking a low bid in. Even if it proves not to work, it might be a relatively simple fix—a new battery, say—or you can often make more money than it took to buy it by stripping it down and selling it for parts.
Search by part number
You can of course also search for specific items. The problem with this is that searching for, say, "imac g4" will throw up all sorts of parts and accessories and weird other irrelevancies rather than just showing you a list of beautiful lamp-like iMacs, even if you limit your search to a relevant category. You could add further search terms to try to narrow things down—"imac g4 17," say, for a specific size—but a useful trick is to search for the part number of the thing you want.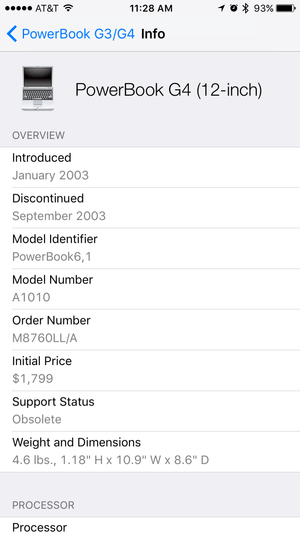 True, not every seller will list it, and some will use the wrong one, so it's not foolproof, but it's nevertheless a good idea since it should cut out everything extraneous. My preferred way of finding part numbers is with the Mactracker app (available on the Mac and iOS App Stores)—look for Part, Order or Model Number on the first tab.
Set up saved searches
Once you're looking at a list of things you're interested in on eBay, whether as the result of filtering the list of everything in a category you're browsing or by creating a search string that finds specifically what you're looking for, you should save it so you can easily jump to it later in My eBay—such as when you've lost an auction by following my "bid low" advice, and need to find another example.
You can click Follow this search at the top of the list, which will by default send you emails when new items match your criteria, but since clearing my inbox is a fight I'm in no danger of winning any time soon, I'd rather keep notifications like this away from Mail. Instead, I turn these search results pages into an RSS feed simply by adding "&_rss=1" to the end of the URL and hitting Return. I subscribe to this in my RSS reader—currently NetNewsWire, though I had been using Reeder for years—and that way I can easily see if there's anything I might want to bid on when I'm scanning my feeds in the morning.
This works especially well for items that are rare not because they're inherently unusual or expensive, but just because they're little hyper-specific things you want that nobody ever thinks to sell. There might be no matches for sale at the moment you search for them, but subscribe to the results in RSS and as soon as one pops up, add it to your watch list and then bid.
Let me know your tips for buying vintage tech on eBay—and share your stories of beloved bargains snagged—in the comments below!