The Siri Remote that comes with the new fourth-generation Apple TV is way more powerful than the Apple Remote it replaces. It's fun to use, and mostly intuitive, but we've already uncovered some not-so-obvious tips and tricks.
Power up
The Siri Remote has a Lightning port, and comes with a Lightning to USB cable for charging it. Apple says the built-in lithium-ion battery can last "months" on a charge with normal use, but when it's time to recharge you can just connect it, using the Lightning cable, to your Mac or a USB charger.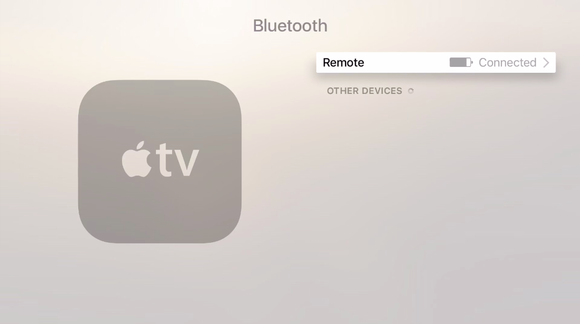 To see the battery life remaining in your remote, go to Settings > Remotes and Devices > Bluetooth on the Apple TV. This page features a graphical display of how much battery life is left, but not a percentage or a time estimate to zero (when it's not plugged in) or fully charged (when it is plugged in).
Home, Jeeves!
The button to the right of the Menu button has a TV icon on it. That's the Home button. It always goes all the way back to the Apple TV's main interface, saving you multiple taps of the Menu button, which takes you back one screen at a time.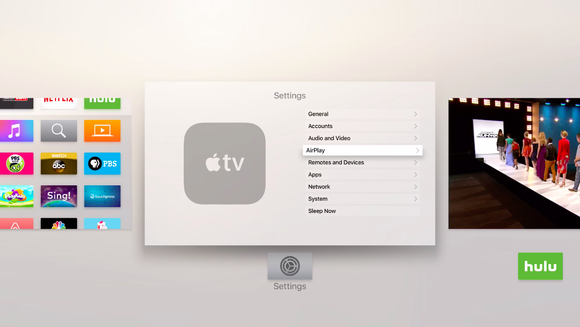 If you double-tap the Home button, you'll see an app switcher very similar to the one in iOS, showing your recently used apps. Then just use the touchscreen to scroll to the app you want, and click to go there. This is very helpful for jumping from one app to another without having to go back to the main menu.
On and off
The Siri Remote can turn your TV on and off, and if your TV supports HDMI-CEC, it should set itself up automatically the first time you pair your remote. Then, just hold down the Home button and the Apple TV will ask if you want to put it to sleep. Select Sleep to not only put the Apple TV to bed, but also turn off your television. Once it's off, press Home again to wake up the Apple TV, while also turning on your TV and selecting the Apple TV's input.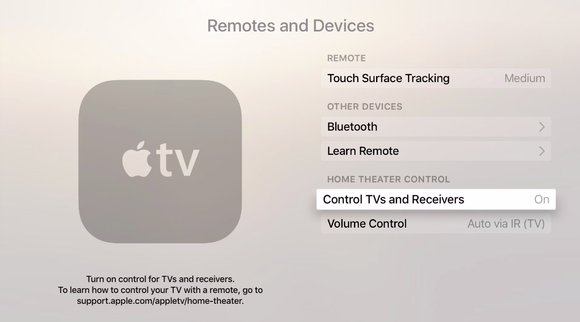 If the automatic setup didn't happen, it's a good idea to dig into your TV's own settings to make sure CEC is enabled—the trouble is, every TV manufacturer gives it their own silly name. My Toshiba TV from 2007 has it under the name Regza Link. Vizio wisely calls it CEC, but Sharp calls it Aquos Link, Sony calls it Bravia Sync, and so on. If you don't recognize it in your TV's menus, try searching Google for "[TV manufacturer] enable CEC."
If your TV doesn't support CEC at all, you're not out of luck, because the Siri remote also has IR. Head to Settings > Remotes and Devices > Learn Remote, and you can use the prompts to set it up.
Re-pair
If your Siri Remote becomes unpaired somehow, hold it near your Apple TV, and hold down the Menu and plus buttons. You can only have one Siri Remote paired at a time, but how many of these $79 remotes are kicking around your house anyhow?
Navigate during playback
As a video is playing, you can scrub forward or backward with the Siri Remote, either by dragging your finger across the trackpad, or press the right side of the trackpad to go forward 10 seconds, and the left side to go back 10 seconds. (Skipping forward obviously doesn't work during Hulu ads.)
You can even navigate with your voice. Just hold the microphone button and say, "Skip forward 30 seconds," or "Go back 2 minutes," or even "Play this from the beginning." If you just missed a line of dialogue, try, "What did she say?" to jump back to the beginning of the actor's speech.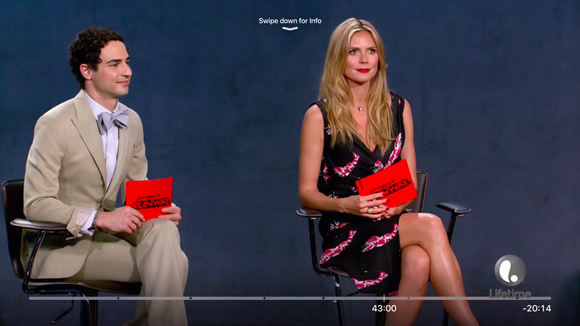 Extra video options
When you're watching a video, you can give the trackpad a quick swipe down to access other options, like turning on subtitles, or choosing an AirPlay speaker to send audio to.
Navigating music
If you're listening to music on your Apple TV, you can hold down the right side of the trackpad to fast-forward and the left side to rewind. You can also press the right side once to skip forward a song, and press the left side twice to go back a track.
After you press Play to start a song, you can still see the rest of the album or playlist by clicking once on the touchscreen. Swipe all the way up for the ellipses (…) button, which holds more options. In true Apple Music fashion, those options vary based on what you're doing.
Adjust the trackpad speed
I keep accidentally fast-forwarding or rewinding videos when picking up the Siri Remote and brushing the trackpad inadvertently—that thing can be sensitive! No other remote I've used with my TV has a trackpad like this, so I'll just have to get used to picking it up from the bottom. (Insert joke about "holding it wrong" here!)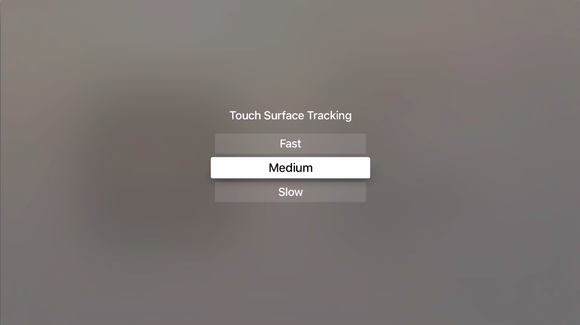 Unfortunately, you can't adjust the sensitivity of the trackpad, but you can tweak how quickly it scrolls through menus, in Settings > Remotes and Devices > Touch Surface Tracking. This defaults to Medium, but you can choose High if you want to really zoom, or low to slow everything down a little.
Force quit or restart
If an Apple TV app freezes, try holding down Menu until you go back to the home screen. To restart the Apple TV, you can go to Settings > System > Restart. But if the whole Apple TV is unresponsive, you can force-restart it with the Siri Remote. Just hold down the Menu and Home buttons together, and let them go when the white LED on the front of the device starts to flash.