As of last Friday, Apple finally has its own game console of sorts—we're ignoring the Pippin, just like everyone else did—and there are some early victories with the new Apple TV. You'll find several interesting games out already across a nice spectrum of price points and genres, including some games designed specifically for TV. And if you already play games on your iPhone or iPad, chances are you already own a few of them thanks to universal apps.
But there are irritations, as well. Due to developer storage restrictions, some games make you wait for levels and content to download mid-game— Asphalt 8: Airborne has it the worst of the early crop. And pressingly, some games ported over from iOS just don't play very well with the Siri Remote.
It's early days still, and some of these issues may be resolved soon with software updates or policy changes. Also, adding a gamepad handily solves that last problem, but not everyone wants to plunk down another $50 or more after buying the box. If you're planning on grabbing the latest Apple TV, here's what to expect from the gaming experience.
Starting selection
On Friday, we published a list of the first 10 Apple TV games you should play—a starting point based on initial impressions that we'll be updating and expanding soon. Since then, I've been digging deeper into the early roster of TV-enabled games, and I'm happy to find that there's at least a couple dozen interesting games to consider at this early stage.
Games like Crossy Road and Alto's Adventure are just as endlessly replayable on your television as they are on your iPhone or iPad, while Transistor and Octodad: Dadliest Catch are more complex games worth digging into. And that's just a few of the more notable options.
Admittedly, the early selection is a bit slimmer than I expected—I figured a much larger collection of developers would be eager to have their games ready for day one, especially considering just how many amazing games are on the iOS App Store. Maybe some wanted a little extra time to nail the TV experience. Others might be waiting to see how much demand there is for Apple TV gaming.
My initial impression about gaming demand? There is quite a bit. Games currently dominate the paid apps and top grossing charts, and games are one of the biggest feature additions to the Apple TV over the previous model. Actually finding games beyond what's promoted has been difficult, however—I didn't even know that great iOS games like The Last Rocket and Space Age had Apple TV versions until Slide to Play posted unofficial sales rankings over the weekend.
Apple added its own top charts soon thereafter, which helps a bit, and is now rolling out categories—together, they should go a long way towards showing off some deeper cuts in the growing TV App Store library.
Good fun—and grumbles
Unsurprisingly, it's the simplest, "one button" games that are best on Apple TV so far. Crossy Road is great because it's just constant clicking with occasional swipes. Alto's Adventure requires nothing more than clicking and sometimes holding the button down. Both of those games were a blast on iOS, and that hasn't changed on the TV. Similarly, Canabalt and Jetpack Joyride both work well due to straightforward game design.
And there are a couple of big releases that feel comfortable with the Siri Remote because they were built from the ground up to use it. Harmonix's Beat Sports is slight, sure, but the music is great and the motion controls work solidly. Meanwhile, Galaxy on Fire: Manticore Rising delivers a slick, impressive space shooter that's automated enough to work well with the Siri Remote, but still offers enough interactivity and control to be entertaining.
Still, the vast majority of early Apple TV games are ports of top iOS entries—and some of them just don't play nearly as well using the Siri Remote touchpad. Geometry Wars 3: Dimensions Evolved, Does Not Commute, and Pako: Car Chase Simulator are games that I love on iPhone, but all of them feel diminished on Apple TV using the Siri Remote. There's something in common between all three of them: You're steering a vehicle, and it feels very fiddly and imprecise with the touchpad, even when trying the different touch sensitivity settings.
Elsewhere, a game like Rayman Adventures is only for Apple TV (so far) in the United States, but it is built on the familiar framework of the great Rayman: Fiesta Run—and I just can't seem to wrap my head around the touchpad controls. It's the same core game that I've played for hours and hours on iPhone, but the interactions don't feel as natural on the Siri Remote. On the other hand, a complex game like Transistor has been smartly streamlined for the Siri Remote because it doesn't try to replicate the iOS experience on your TV. It's a winning approach.
There's a lot that developers will need to learn over time about designing games for the Apple TV and its primary input device, and hopefully some intelligent tweaks will make early games feel more comfortable and precise. If not, at least the next wave of games can learn from their missteps. Until either of those scenarios happens? Grab a gamepad. All of those games are immediately improved with a traditional game controller.
The Nimbus and MFi gamepads
Even with Apple's MFi (Made for iPhone/iPad/iPod) program, game controllers haven't really caught on with iPhone and iPad gamers because they're rarely necessary: Touch controls usually do the trick, and lugging around a gamepad for a portable device is annoying. But on the Apple TV, with the simple and streamlined Siri Remote coming off as a less surefire option, having a gamepad feels more and more like a necessity.
Apple hasn't released its own gamepad, which is a shame: I'd love to see the company put its own spin on the tried-and-true console controller. But SteelSeries has just released the Nimbus controller for Apple TV, and it's a great one: I've used the vast majority of MFi gamepads, and the Nimbus offers the best combination of feel, functionality, and starting price of the bunch.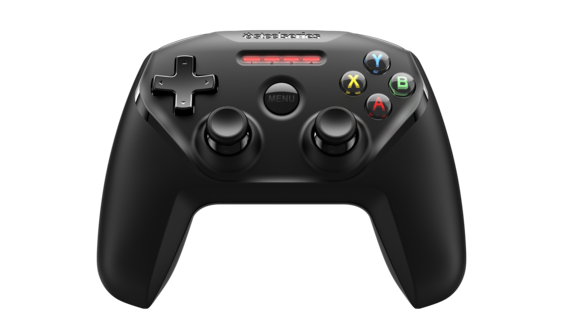 It takes inspiration from Microsoft's Xbox One gamepad, albeit with symmetrical analog sticks like on PlayStation controllers. The Nimbus fits really well in your hands, the buttons and sticks are responsive, and it pairs easily over Bluetooth with the Apple TV (as well as iOS devices and Macs). The earlier SteelSeries Stratus XL felt a little more premium in build, but the Nimbus has two huge advantages: It features a built-in 40-plus hour battery with a Lightning port and starts at just $50. The Stratus XL used AA batteries and launched at $70.
The advantages over the Siri Remote are immediate and significant. Geometry Wars 3: Dimensions Evolved may be fumbly and awkward with the Siri Remote, but it's brilliant fun with dual analog sticks. Octodad: Dadliest Catch—in which you're an octopus posing as a human father—lets you play with a lot more speed and precision when using a gamepad. And while Transistor plays fine with the Siri Remote, you'll feel a lot more capable in the heat of battle with a full controller in hand.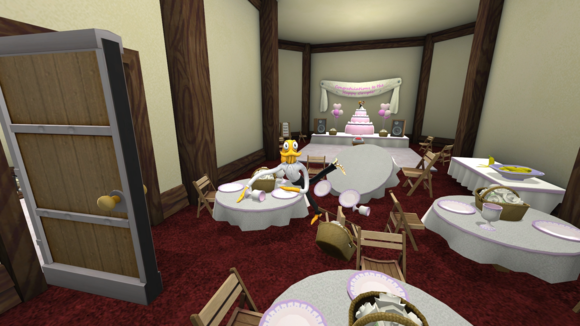 If you're serious about gaming on the Apple TV, take the plunge on a controller: many games are better with buttons and analog sticks as opposed to the Siri Remote's tiny touchpad. And if you already have an MFi gamepad, you don't need to buy the Nimbus—they're all supposed to be compatible. I also used the very good Hori Horipad on the Apple TV, and if you don't like the look of the Nimbus, the Mad Catz C.T.R.L.i pads and Stratus XL are worth a look, as well.
Only a week
We're about a week into the new Apple TV's lifespan, and current annoyances are sure to be addressed. Developers will figure out how better to harness the Siri Remote's input options—or decide against releasing iOS ports that don't play as well using it.
Finding the games you actually want to play is already getting better, thanks to App Store interface additions, and hopefully Apple will do something about download size restrictions before too long. An awesome iOS game like Asphalt 8: Airborne suffers on the Apple TV, not only due to the mid-game downloading but also choppy performance (and if I had to guess, those issues are intertwined). Without some concessions to developers, larger-scale games could be consistently diminished on the Apple TV.
But for now, there's a lot of fun to be had and a bit of frustration as well. Whether or not you have a gamepad may help decide how much of each you encounter while gaming on the Apple TV. If you fancy the idea of a proper, Apple-made game console, it's well worth the investment to have a gamepad to fill out the illusion.