It's been only a week since the new Apple TV hit stores, but according to a new report, it's already made Apple the most popular set-top maker in the U.S.
According to Slice Intelligence, Apple now owns 31 percent of the streaming TV hardware market (well, the market of Slice users, anyway), in large part to the launch of the fourth-generation Apple TV. Merely a week in, the newest Apple TV alone already owns over 13 percent of the market, with previous generations accounting for the remaining 18 percent. Amazon's Fire TV owns 28 percent, Roku has about 25 percent, and Google's Chromecast counts with 16 percent, according to data from the 3 million online shoppers in the U.S. who opted to share their online buying habits with Slice, the e-commerce tracking app.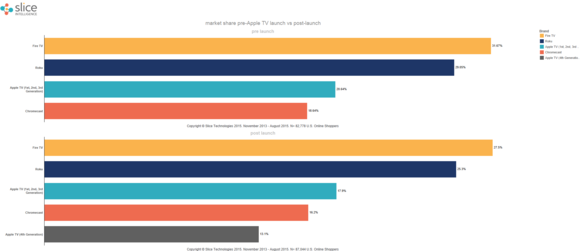 "As we have come to expect with Apple launches, the first buyers of Cupertino's latest gadget are its biggest fans," wrote Jaimee Minney, VP of marketing at Slice. The report also revealed that 90 percent of Slice users who purchased an Apple TV were men, and a majority were between the ages of 35 and 44.
Another interesting note: Slice users who purchased the new Apple TV were five times more likely to also purchase an Apple Watch. Maybe the Apple Watch and iPhone bundle promotion could expand to include other Apple gear as well.
Lastly, almost 58 percent of new Apple TV buyers hadn't purchased any sort of streaming TV hardware in the last two years, suggesting that these Slice users were waiting for Apple to release a new generation before upgrading.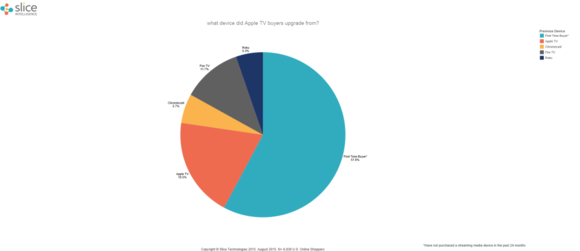 Why this matters: Even though this data is not representative of the streaming TV hardware market as a whole, it's not surprising to see that the fourth-generation Apple TV has some early signs of success. It's all been building up to this.
According to data from Adobe Digita Index (ADI), in 2015 Apple TV doubled its share of paid TV streaming, surpassing longtime leader Roku and popular gaming consoles like Xbox and PlayStation. And that was even before the launch of the newest generation. As the Apple TV continues to gain steam, we can expect more developers to jump aboard.
"When TV broadcasters build an app they focus on Apple first," said ADI principal analyst Tamara Gaffney. "It's very hard to build a streaming video app for every platform [Android, Roku], so going with Apple is a natural consolidation."