The makers of Castro, a popular podcasting app, are throwing their hat in the patronage ring with their new 1.5 release. The app is now free, with an option to pay $1 per month as a nonrecurring 3-month, 6-month, or 12-month contribution to the developers at Supertop. The in-app purchase comes with no extra features.
While version 2 is on track to release in a few months, says Padraig O Cinneide of Supertop, the firm felt it was the right time to switch its business model and ask users for direct support. This follows Marco Arment's decision with the release of Overcast 2 to move from a two-tier freemium model to making all features available with the option to contribute directly. Many software companies and independent programmers have expressed concerns about the viability of ongoing product development in the absence of trial options and straightforward upgrades at the App Store.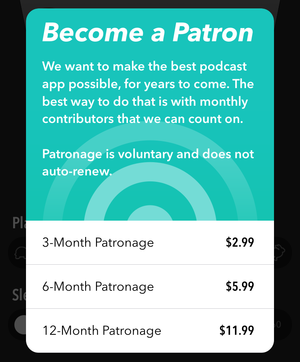 Castro has long been rated among the top iOS apps for a combination of simplicity, crisp design, and well-presented options, such as choosing between streaming or downloading an episode of a podcast on the episode page. Like other podcast apps, Castro has a Share extension that allows direct import of standard OPML-formatted subscription lists from another app's export feature.

Castro 1.5 adds 3D Touch throughout the app for both peeking and popping, and action previews. Hard-press the app's icon and you can search within the app for whatever's currently in your clipboard, or choose a random episode to play. Castro's episode cache is now integrated with upgraded Spotlight searching in iOS 9. They've also bumped up the in-app web viewer to use Safari View Controller, also new in iOS 9, to allow better support for following links in the show notes.
O Cinneide says via email that this 1.5 release lets them work on building a community of patrons in advance of the 2.0 release, and building interest and excitement. He notes, "The patronage model requires making something that people love enough to be willing to voluntarily support it."
Castro's two years of releases have built a vocal audience, and the company's price change lets those core users provide one-time or recurring support. But it also opens the app up to use by tens of millions of new users currently relying on the Podcasts app, Overcast, or a competing paid app.