At a Glance
Expert's Rating
Our Verdict
Back in May when I looked at several Thunderbolt 2 docks, Sonnet's Echo 15+ Thunderbolt 2 Dock had yet to be released.
The Echo 15+ is now available. It's more than just a dock; it's a big box full of stuff that users in a production setting will appreciate.
Drive selection
Sonnet offers eight different models of the Echo+. First, you decide if you want an Echo 15+ with a DVD burner, a Blu-ray burner, or a Blu-ray drive. Then you can configure the type of storage device you want:
DVD burner plus:
empty bay for your own drive ($469)
2TB hard drive ($569)
Blu-ray burner plus:
empty drive bay ($599)
4TB hard drive ($749)
a pair of SSD for a total of 1TB of storage ($999)
Blu-ray drive plus:
empty drive bay ($499)
2TB hard drive ($599)
4TB hard drive ($649)
The Echo 15+ uses an internal SATA connection, so you can use just about any modern hard drive. There's space for one 3.5-inch drive or two 2.5-inch drives. Sonnet also includes mounting screws and a Torx wrench for opening up the Echo 15+.
Digital distribution is the preferred method of file transport nowadays, but optical media is still a viable option, especially if you're dealing with large high-definition video files. Optical media can also be used for short-term archiving. If you don't want an optical drive, however, you're out of luck: Sonnet doesn't offer the Echo 15+ without an optical drive.
Having one box that houses an optical drive and hard drive and also acts as a dock is a great way to cut down the clutter on your desk, even if that box measures a sizable 8.3 by 8.9 by 3.1 inches. The Echo 15+ uses a big power brick that measures 7 by 2.8 by 1.5 inches, so plan your floor space under your desk accordingly.
Front ports
The Echo 15+ has two USB 3 ports on the front panel. (Sonnet says that all of the Echo 15+'s USB ports have a 7.5-watt capacity.) There's also a 3.5 mm headphone jack (optical compatible), and a 3.5 mm microphone jack.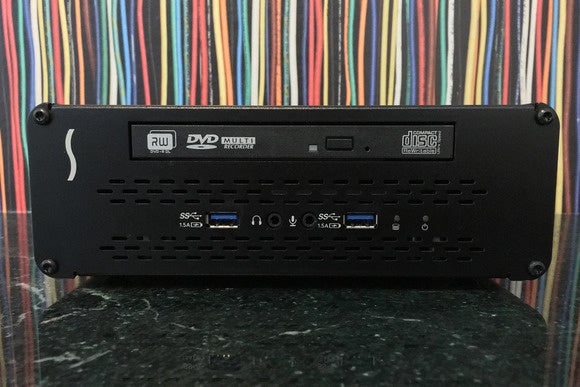 Most of the Thunderbolt 2 docks I've seen (as well as the older Thunderbolt 1 docks I've reviewed) have an easy-access USB port (either on the front or side) and a front-facing headphone jack. The Echo 15+ is one of the few docks with a second front USB port, which is handy.
Rear ports
The back of the Echo 15+ is where all the action is. Here's a list of the connectors.
Two Thunderbolt 2 ports
Two USB 3 ports
Two eSATA ports
gigabit Ethernet
FireWire 800
3.5 mm audio out
3.5 mm audio in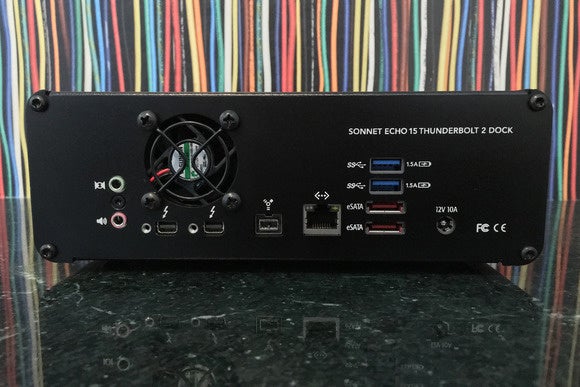 Your Mac connects to one of the Thunderbolt 2 ports; you can then connect your Thunderbolt peripherals to the other port. If you have multiple peripherals, you can daisy-chain them. And as with the other Thunderbolt 2 docks I've reviewed, you can connect a 4K monitor to the Echo 15+.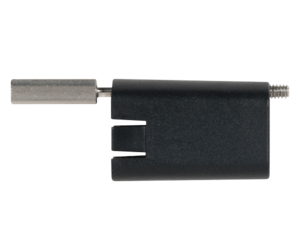 The Echo 15+ is the first Thunderbolt device I've seen with a method for securing the Thunderbolt cable connection. Sonnet offers the ThunderLok, which is essentially a sleeve that fits over a Thunderbolt cable connector. The sleeve has a built-in thumbscrew that attaches to a screw hole next to each Thunderbolt port on the Echo 15+. They're sold separately ($8 each or $13 for two) and they're worth the money, especially if you're putting the Echo 15+'s storage device and optical drive to heavy use. (I have an iMac I use for testing (in addition to a Retina MacBook Pro) and on numerous occasions I've had a Thunderbolt cable slip out of the iMac as I reach around to connect or disconnect a device. I'd love to have a way to secure a Thunderbolt connection to a Mac.)
Unfortunately, Sonnet doesn't include a Thunderbolt cable with the dock. The company offers for purchase both copper and optical Thunderbolt cables, ranging in length and price.
Daily use
During testing, I never had any problems with the Echo 15+. Connected devices always work without any performance issues, though if you daisy-chain Thunderbolt devices, you'll experience some speed issues regardless of the dock you are using.
The Echo 15+ requires the installation of a Mac driver that you download from Sonnet's website. The software installs a handy menu bar icon that you can use to eject all mounted devices that are connected via the Echo 15+ all at once. The software's release notes recommend that the driver "should only be run in OS X 10.9 and above."
The Echo 15+ has a fan to keep its interior cool. The fan is relatively quiet, but then again, no other Thunderbolt dock has a fan (and no other Thunderbolt dock has a storage bay and optical drive). But if you need absolute silence from your devices, you won't get it from the Echo 15+. [Note (1/12/16): Sonnet has made improvements to the Echo 15+ to significantly reduce the amount of noice made by the fan.]
While the Echo 15+ is a big box, it's strong enough to support a display sitting on top of it. Sonnet says it can support a display up to 34-inches, and can also carry a Mac Pro or a 27-inch iMac.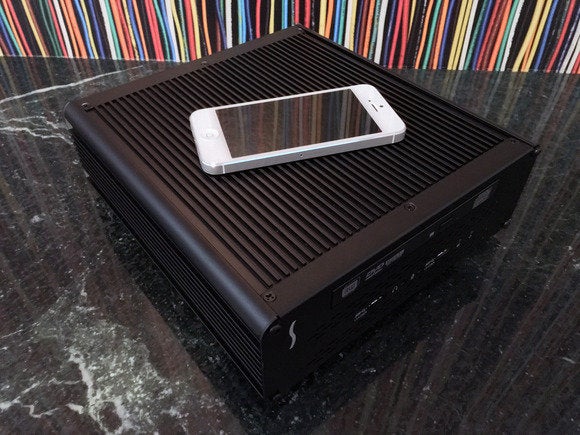 Bottom line
For production environments, the Echo 15+ Thunderbolt 2 Dock is a heavy-duty handy device. Having an all-in-one box helps cut down on the desk clutter, and the Echo 15+ has plenty of ports for your Mac workstation.