Steve Gentile writes in with a question that, in similar language, many readers have. He wants to be able to maintain essentially a family iCloud Photo Library. He upgraded to 200GB of iCloud storage and has about 20GB in his own Photos library. He and his wife both sync to their own iCloud accounts, and they have a Mac with Photos on it as well.
The problem now is that although we want all photos synced to the cloud, we don't want to have three duplicates of 20GB on each machine. My wife's iPhone is running low on space. What is the best way to sync our iPhone photos to the cloud but not need to store them all?
Unfortunately, you and many others are running up against an odd limit that continues to plague Apple: while it offers Family Sharing in iCloud, this is mostly about sharing purchases, location, and a group photo album, rather than syncing or sharing data to a common location. The common photo album works just like another iCloud Photo Sharing album, but it's labeled specially and created automatically. However, you have to add items into it; it doesn't sync for you.
Apple doesn't let families or households purchase blocks of cloud storage or coordinate or pool any syncing. This is true of nearly all cloud-based storage aimed at consumers: the storage is locked to an account, but you can share or invite people in.
You probably don't want to use the same iCloud account for all your devices. (If you do, however, set one or more devices to use optimized storage, and then you won't download full-resolution versions of all photos to every device that uses the same account. In Photos for OS X, go to Photos > Preferences > iCloud and select Optimize Mac Storage. In iOS, go to Settings > iCloud > Photos and select Optimize iPhone Storage.)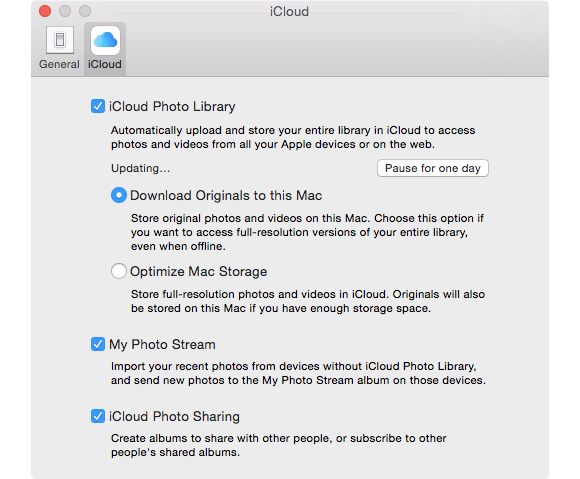 The alternative is to create an account at another cloud-storage photos site. Amazon Cloud Drive is probably the best deal at $12 a year for unlimited photos (and 5GB for videos and other data) or $60 a year for unlimited everything. It comes with a three-month free trial, and the photos tier is free for Amazon Prime subscribers.
You can set up Amazon's iOS app to upload new photos automatically, but you'll have to delete them occasionally after uploading, as Amazon can't remove pictures its added. There's a desktop OS X uploader that requires manually adding images. It's not ideal, but it might provide you with the right combination of sharing, storage, and price.
Ask Mac 911
We're always looking for problems to solve! Email yours to mac911@macworld.com including screen captures as appropriate. Mac 911 cannot reply to email with troubleshooting advice nor can we publish answers to every question.