The iPad Pro is a giant iPad. The 12.9-inch addition to Apple's tablet line-up went on sale today, and according to early looks at the Pro from a few major publications, the massive iPad will be familiar to anyone who's used one of its predecessors.
But its big display, while the most noticeable of the Pro's features, isn't its only selling point. Critics say the Pro's 4GB of RAM is the reason why iOS 9's trio of multitasking features—Split View, Picture-in-Picture, and Slide Over—are extra useful and lightning fast on the new tablet compared to older ones.
The iPad Pro is designed to replace a laptop in your work, which is a tall order—and one the new tablet doesn't necessarily live up to, the early reviews say. At least not yet.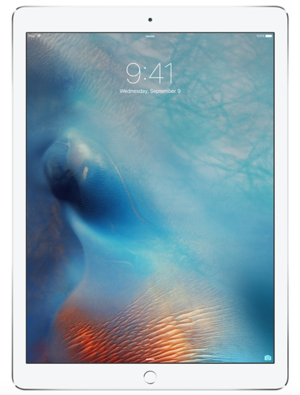 The Pro's pros and cons
The iPad Pro could conceivably replace your notebook or desktop, depending on what you do for a living. If you don't need OS X for work and are in the market for a new computer, Daring Fireball's John Gruber says the iPad Pro is more powerful than the cheapest MacBook Air.
"At a fundamental level—CPU speed, GPU speed, quality of the display, quality of the sound output, and overall responsiveness of interface—the iPad Pro is a better computer than a MacBook or MacBook Air, and a worthy rival to the far more expensive MacBook Pros," Gruber writes.
The iPad runs all of your favorite iOS apps, but few have been optimized yet for the Pro's supersized screen, reviewers noted.
Smart Keyboard isn't all that great
Apple is selling a new $169 Smart Keyboard to be paired with the Pro to make the new tablet feel like a full-fledged work machine.
"For real work, it's all about attaching Apple's $170 Smart Keyboard," the Wall Street Journal's Joanna Stern writes. "You don't do this via Bluetooth, but rather with the new magnetic Smart Connector. I quickly fell in love with the feel of the bouncy fabric keys, and it became second nature to hit Command-Tab to toggle between apps. Oh, and did I mention the keyboard is spill-proof? Seriously, my iced latte just wiped right off."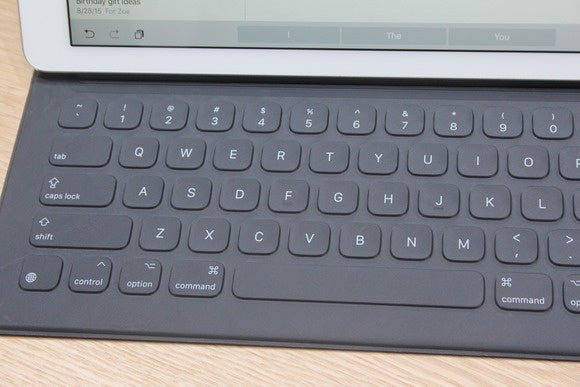 But the keyboard also has its detractors. Some noted that the keyboard can be a little awkward to balance on your lap, because it's so light and lacks a kickstand. Some outright hated it.
"I was disappointed with Apple's optional keyboard case," says The Verge's Walt Mossberg. "It's essentially a shallow Mac keyboard, with keys like Command that mean something only in Mac OS X, but not a single shortcut key to an iPad function, like Home or Search. It's also not backlit, and it has only one angle in which it holds the screen."
Mossberg found that the MacBook Pro's keyboard is still the one to beat, but third-party manufacturers can develop their own keyboards. One option, Logitech's Create, is on sale now for $19 cheaper than the Smart Keyboard. Mossberg ranked it a close second to the MacBook Pro keyboard. It also functions as a case, which the Smart Keyboard does not.
Apple Pencil wows the critics
While reviews of the Smart Keyboard were mixed, the Apple Pencil is winning raves across the board. Few actual artists have tested the new iPad stylus, which only works with the Pro, but the WSJ's Stern handed it off to the newspaper's illustrator, who found it easier to use than the Wacom tablet.
"He was impressed most by how the glass-and-pen combo could imitate his art-paper experience: the gentlest tilts of his watercolor brush, light shading with his pencil and deep presses with a flat marker all were lag free," Stern writes.
Accessory makers have had to develop workarounds to make iPad styluses that work with the tablet's multi-touch display, to satisfactory but imperfect results. The Apple Pencil achieves what those styluses could not.
"Using most third-party styluses with earlier iPads has always felt like drawing with a gumdrop, and even ones which go to absurd lengths to work around technical limitations have not been entirely satisfying," says Fast Company's Harry McCracken. "But by designing the iPad Pro's touch screen for the Pencil as well as your fingertips, Apple has decisively overcome all of these issues."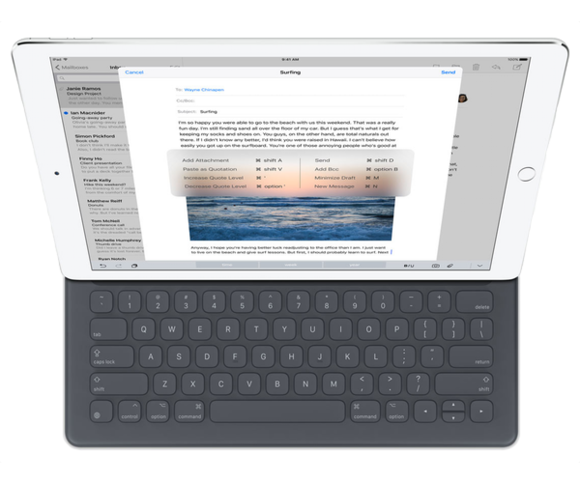 The verdict so far
The iPad Pro is a giant tablet. If you need a massive touchscreen to get work done, the Pro is right up your alley. It runs the hundreds of thousands of apps created for iOS, including a few releases timed for the Pro's launch, like the 3D sketching app uMake and new image-editing software from Adobe. But the Pro is a niche product, critics say, because it doesn't run OS X and is therefore limited in its power and usefulness.
"The iPad Pro will no doubt make a lot of Apple users happy, especially if they use it for graphics," Mossberg weighs in. "But I won't be buying one, and I don't recommend that average users do so either."
But Daring Fireball's Gruber says the Pro isn't just for graphic designers.
"The iPad Pro is 'pro' in the way MacBook Pros are. Genuine professionals with a professional need—visual artists in particular—are going to line up for them," Gruber writes. "But it's also a perfectly reasonable choice for casual iPad users who just want a bigger display, louder (and now stereo) speakers, and faster performance."
Stay tuned for the definitive Macworld reviews of the Pro and its accessories.