If you're relatively new to the Mac, it may not be immediately obvious as to how you would delete an app—after all, OS X doesn't come with any sort of uninstaller like Windows does. Removing apps from your Mac is usually a very easy process, however, though there are some caveats.
From the Finder
Open a Finder window and navigate to your Applications folder. It should be accessible via the Favorites sidebar by default; if it isn't there, pop open Spotlight and do a search for "Applications folder" and it should pop right up.
Next, find the app you want to delete: Note that you may need to dig through folders within the Applications folder to find the app you want to remove. Once you find the app you want to remove, drag its icon to the Trash icon in the Dock. You may be asked to enter a username and password to confirm you want to delete the app: Enter your admin account's username and password when prompted, then press OK.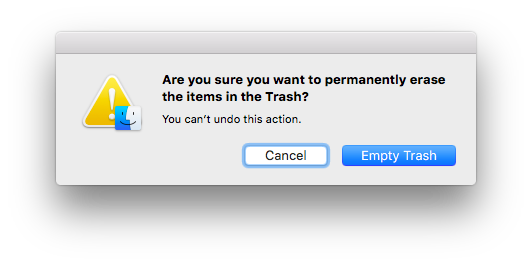 At this point, OS X will move the app to the Trash, but if you change your mind, you can simply drag the app back to the Applications folder. To delete the app forever, click and hold the Trash icon in the Dock, then select Empty Trash, and confirm you want to empty the trash if prompted.
From Launchpad
If you use Launchpad, you can delete an app with just a few clicks. Open Launchpad (by clicking its Dock icon, using the trackpad gesture, or searching for it in Spotlight), then click and hold any app icon until the icons start shaking. Click the "X" button next to the app you want to delete, then confirm you want to delete the app when prompted.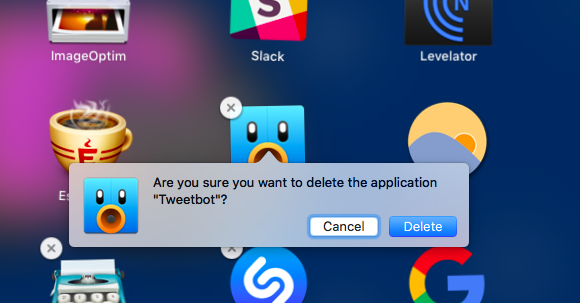 When you delete an app through Launchpad, OS X will delete it right away—you won't be able to rummage through the Trash and put it back in your Applications folder.
Caveats
There are a couple things you need to know about removing apps on OS X. First, when you delete an app using this method, some things, such as preferences files (which store your preferences for each app) may get left behind. For the most part, these files use a negligible amount of disk space, so it's largely a non-issue. In a few cases, developers may provide uninstallers for their apps, but for the majority of Mac apps, drag-and-drop deleting is the only way to go.
Also, recent versions of OS X, like iOS, don't allow you to delete apps that come with the operating system—at least not without dipping into the command line. If you're determined to delete Safari or Mail from your Mac, though, OS X Daily has the instructions to follow. Note: We don't recommend you delete the built-in apps, and we haven't tested this method, but the option's there if you must proceed.