There's nothing like printing your own photography, though adorning your walls with your own art can be intimidating. A safe way to print—and thus enjoy—your digital memories is to create a calendar in Photos for OS X. At 13 by 10.4 inches, Apple's calendars are big and printed on thick, high-quality paper so they look better than the ones you get anywhere else. They're stunning and they make great gifts.
The calendars you create in Photos can be customized in myriad ways. You can choose from a variety of themes, customize the look of each page, add captions, national holidays, pull events from your Calendar app, and plop pictures onto individual date squares (great for birthdays!). You're not stuck with a 12-month calendar either—you can include up to 24 months if you wish, and you don't have to start with January. Apple's calendars are also affordable: a 12-month calendar costs $20 (add $1.49 for each additional month). This column walks you through the process of creating own. (Creating a calendar in iPhoto is a similar process.)
Step 1: Pick the pictures
Unless you want one picture per page, start your calendar with 25 to 35 pictures in an album made specifically for this project. In the album, drag to reorder the pictures, however, you want them to appear in the calendar (else Photos flows them into the calendar chronologically according to capture date). But if you prefer, you can also start the project by selecting a Collection or Moment, individual thumbnails or even multiple albums (by Shift or Command-clicking).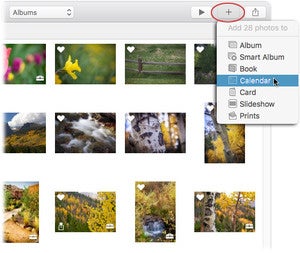 Step 2: Choose the length, start date, and theme
Click the + button in Photos' toolbar, or the one that appears when you point your cursor at the upper right of thumbnails in Collections or Moments view, and choose Calendar (you can also choose File > Create Calendar). In the resulting screen, pick the number of months you want and the start date. Click Continue and you see a list of themes. Photos hops online to see if Apple has added any new ones (those thumbnails have a tiny cloud icon at lower right). Double-click the theme you like and, if necessary, Photos downloads it, plops your pictures into it and deposits you in All Pages view, which gives you a satisfying sense of what your calendar will look like (the Big Date theme was used here).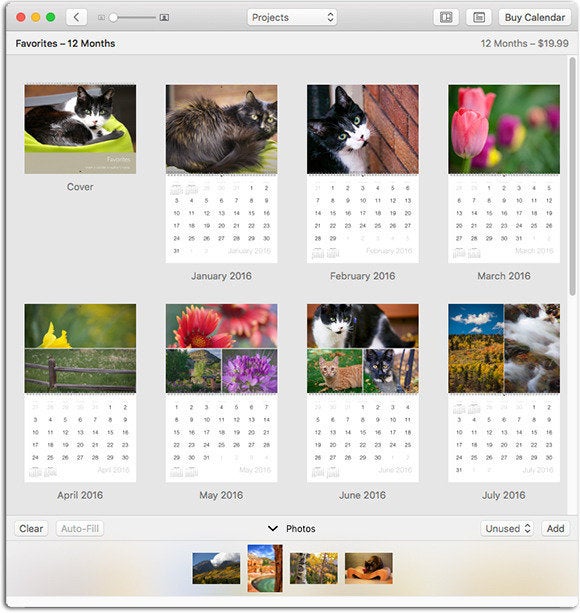 If you want to experiment with other themes, now's the time. It's best to settle on a theme before you start customizing each page, or else all your design work flies out the window. To do it, click Settings in Photos' toolbar (circled here). In the resulting pane, you can change themes, calendar length, start date, and a slew of other options, as this screenshot illustrates.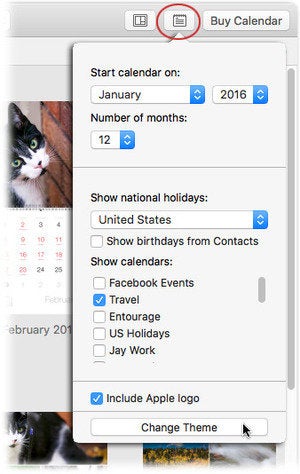 Step 3: Customize pages
While you're in All Pages view, you can rearrange the pages as well as the images they contain. To move a page, point your cursor at it and then click and hold down your mouse button atop the gray rectangular icon that appears beneath it. When the page pops off the workspace, drag the selected page atop the page in the desired location. When the page in the target location dims, release your mouse button and Photos moves the selected page to its new home, as shown here.
To move pictures around, click an image and hold your mouse button down until the picture pops out of the frame, and then drag it atop another frame. If Photos wasn't able to place all the pictures you began the project with, they appear in the Photos drawer at the bottom of the window where you can drag them onto pages yourself. To remove a picture from a page, drag it to the Photos drawer. If you prefer to place the pictures yourself, click Clear Placed Photos and all the pictures in your project are moved to the Photos drawer. To add more pictures to your calendar project, click the Add Photos button at lower right and then click to select the images you want to add.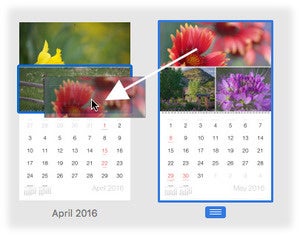 To change the number of pictures per page, and their arrangements, or to change the background color of a page, activate the page and then open the Layout Options panel by clicking the button circled here. Scroll to find the layout you want and click its thumbnail to apply it. If the layout you pick supports a background color, use the swatches at the bottom of the panel to change it.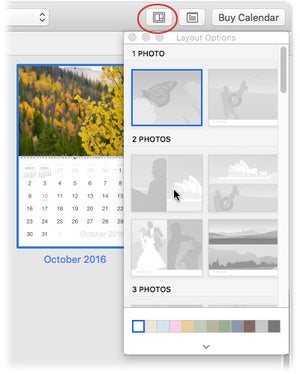 Step 4: Customize picture positioning and captions
To fiddle with how individual pictures appear in their frames, and to customize text, double-click a page to enter Single Page view. That's where you can change a picture's zoom level and positioning, apply a filter, or open it in Edit mode. Click the picture you want to change and, if the Options panel isn't open, double-click the image, click the Options button beneath the page, or click the Options button in Photos' toolbar (circled here).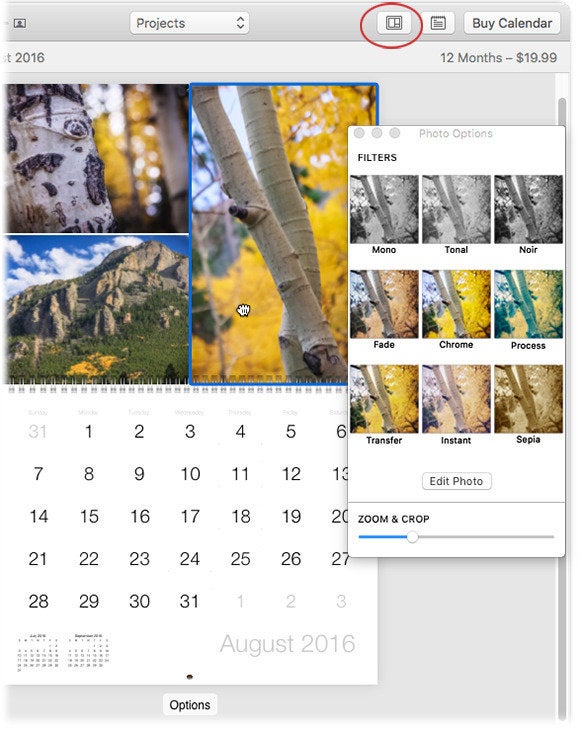 To edit your calendar's title and captions, click the placeholder text and then type away. The Text Options panel automatically opens, letting you change the font, size, style, color, and alignment. To add custom text to a date square, click the square and a text box appears.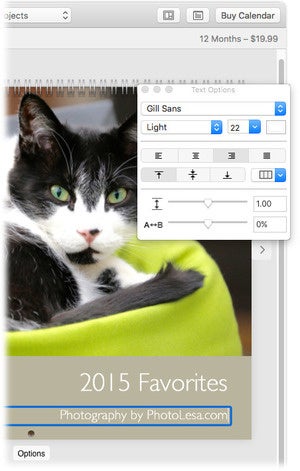 For even more creativity, add a picture to a date square. Simply drag a picture from the Photos drawer onto a date square to mark a birthday, anniversary, graduation or other personal event.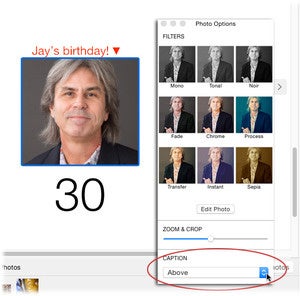 To edit a different month, click the left or right-pointing arrows on either side of the calendar page, or use the arrow keys on your keyboard. To return to All Pages view, click the back button at the upper left of Photos' toolbar.
Step 5: Final inspection
To proof your calendar, choose File > Print. Then either print it or export it as a PDF using the PDF menu at the bottom left of the Print dialog. And for goodness' sake, remember to spell check your calendar by choosing Edit > Spelling and Grammar. Typos on a calendar are worse than typos in a book because you have to stare at them for a whole month!
Step 6: Buy the calendar
When you click the Buy Calendar at the upper right of the Photos window, the program examines your calendar for problems such as placeholder text, placeholder pictures, and text that's too long to fit in its box. If Photos encounters any of these issues, it alerts you and lets you fix it—just keep clicking Buy Calendar until you run out of error messages.
As you can see, it's easy to create a gorgeous calendar in Photos. But be warned: when you give custom calendars to loved ones, there's no going back; they'll expect them yearly. Until next time, may the creative force be with you all!