When Apple introduced the latest version of the Apple TV, a lot of people were worried that they would no longer be able to stream content from their iTunes libraries. In the screenshots on the Apple website, the Computers tile isn't shown, and on the Tech Specs page, nothing said that you could still use Home Sharing to access your iTunes library.
Well, rest assured; nothing much has changed. You can still stream music and videos from your iTunes library, as you have been able to do for years. You can watch movies and TV shows, you can stream music, and you can listen to podcasts and audiobooks on the Apple TV. Here's how you set up and use the Apple TV to access media in your iTunes library.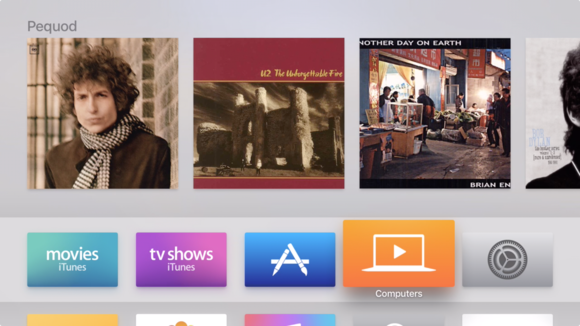 Set up Home Sharing
Home Sharing is Apple's method of authenticating you so you can access content from your iTunes library on other devices. This feature uses your Apple ID, the one linked to your iTunes Store account. To activate it, go to iTunes and choose File > Home Sharing > Turn on Home Sharing. Enter your Apple ID and password, and iTunes will be ready to serve up audio and video to other Apple devices.
Home Sharing works with other computers (iTunes), iOS devices (the Music or Videos apps), and the Apple TV. On the latter, go to Settings > Accounts > Home Sharing, and enter your credentials. If you have more than one Apple TV, enter the same credentials on each of the devices so they will be able to access your iTunes library. Remember that each device that will access your library has to be set up to use the same Apple ID for Home Sharing.
Stream content with Home Sharing
Home Sharing lets you stream media. Even though the new Apple TV contains either 32GB or 64GB flash storage, you can't "send" files from your iTunes library to the device, as you could with the very first Apple TV, which synced content from your iTunes library. That device was more like an iPod in the living room; the current Apple TV (and the second- and third-generation models) pull media from your iTunes library, or from the cloud.
To use Home Sharing to access content from your iTunes library, select Computers on the Apple TV's home screen, and then select a library. If you have more than one computer running iTunes, and Home Sharing is active on each of them, they will all display here.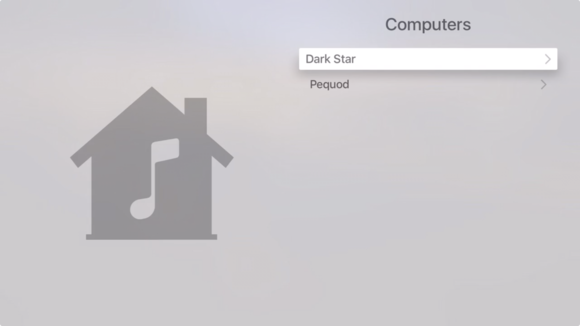 Select a library, and you'll then see the types of content available: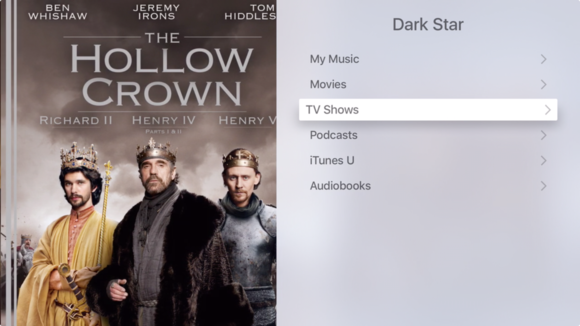 Drill down through your music and videos, and choose what to play. If you don't have all of these media kinds in your iTunes library, the Apple TV will only display those available, though my MacBook's library shows a listing for Home Videos, even though I don't have any on that device.
One good thing about Home Sharing is its ability to access multiple devices. For example, you may have your music library on the computer you use regularly, but store your videos on a dedicated device, such as a Mac mini. If so, you can select either device from the Apple TV and access its content. In fact, if you're running out of storage on your Mac and have another older Mac, it would be useful to convert it to a media server. Set up iTunes on the old Mac, perhaps add an external hard drive, and add, say, all your videos to that iTunes library. Since videos take up so much space, you could still have room on your main Mac for your music.
Home Sharing has not been without problems over the years. Sometimes the Apple TV can no longer see your iTunes library. I've had to do one or more of the following at different times to get Home Sharing to work again (though Apple may have improved Home Sharing for the new device):
Quit and relaunch iTunes on my Mac.
Restart my Apple TV.
Sign out of Home Sharing on my Mac or Apple TV, then sign in again.
Restart my router.
You may also need to tweak your computer's security settings. Home Sharing uses TCP port 3689 and UDP port 5342, and if you have a firewall on your computer, you'll need to make sure these ports are open. An Apple support document explains what you need to do.
While the Apple TV is great for getting content from Apple's cloud, it also lets you use the music and videos in your iTunes library. Use Home Sharing to access all your stuff, and enjoy your movies, TV shows, and music on your TV set.