Withings isn't trying to compete with smartwatches with its Activité line of activity trackers. Instead, the French company is targeting style-conscious shoppers who don't want rubbery bands on their wrist lighting up with garish LED step counts. The latest addition to the Activité family is the Activité Steel, as classy a fitness tracker as you'll find for $170.
The Steel is similar to the Activité Pop, but trades the Pop's candy-coated looks and PVD-coated bezel for a black silicone strap, black watch face, and stainless steel trim. It's also slightly pricier than the $150 Pop, but significantly less expensive than the $450 Activité, which has a luxurious calf leather band and sapphire dome watch face. The entire Activité line is designed with the aesthetics of Swiss timepieces in mind.
Withings is positioning the Activité Steel as a stylish holiday gift option, presumably for a man in your life—its press materials reference the Steel's "distinctive masculine feel." But even if black and steel seem the height of manliness to you—they don't to me—the Steel's watch face isn't distractingly oversized and looked perfectly fine on my small wrist.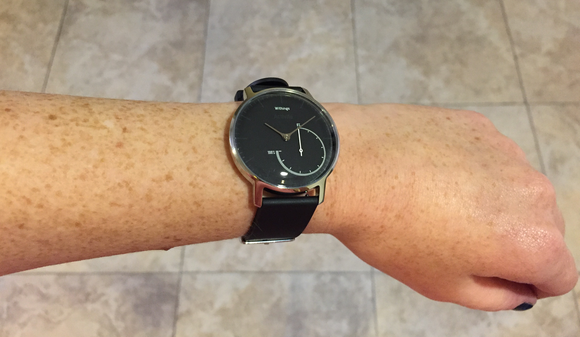 Like other Activité models, the Steel connects to the Withings Health Mate iOS app, where you can set the watch's time and step goals, as well as log food with a new MyFitnessPal integration. The watch is water-resistant up to 50 meters so you can track swimming, and it also monitors your sleep. You don't have to charge it, because it comes with a standard watch battery that will last about eight months.
Check back next week for our full review of the new Withings Activité Steel.