Whenever a new gadget is released, we tech writers have to figure out how to take screenshots of the device. It is important that we are able to show readers what the display looks like when we are describing features. You may wish to do this too: you may want to capture a screen to share with a friend or you may need to take a screenshot for someone providing tech support.
With the Apple TV, it's not that simple. You can't take a screenshot on the device itself; at least no one has found that magic sequence of button-presses on the remote that captures the display and sends a photo to your iCloud Photo Library. But you may still, even if you're not a tech writer, need to capture images from the Apple TV, if you are, say, a teacher or trainer. You could just take photos of your TV screen, but that never looks very good.
There are two ways to grab screenshots of the Apple TV, though one is much better than the other. I'll start with the one I don't use, then explain the better way to do this.
Use Xcode
If you have an Apple developer account, you can download Xcode, the software needed to write and package apps for OS X or iOS. You can get access to this software with a free account. After you've downloaded and installed Xcode—it's a 4GB download, and takes up 9.5GB on disk—you can connect the Apple TV to your Mac and use Xcode to take screenshots.
To do this, you need some extra hardware. The Apple TV has a USB-C port on the back; that's the type of connector that the new MacBook uses. You'll need a USB-C cable that you can connect to your Mac. But you'll also need a TV; Xcode doesn't display anything from the Apple TV. So, next to your Mac, you'll have the Apple TV, an actual TV set (it doesn't matter what size), an HDMI cable to connect to the TV, and a USB-C cable to connect to the Mac. And a power cable. And the Apple TV remote.
Once all this is connected, launch Xcode, choose Window > Devices, and then select your Apple TV. Click Take Screenshot, and Xcode dumps a photo of the screen on your Desktop.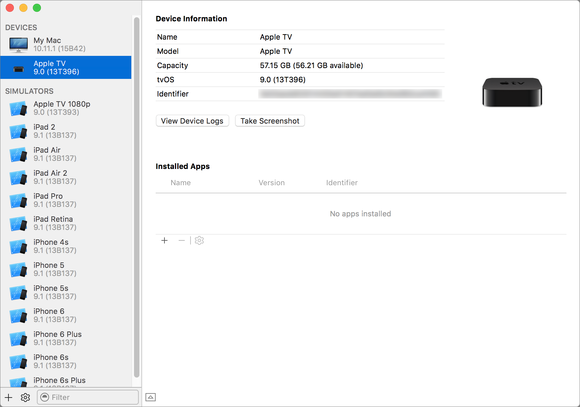 The disadvantage to this is the need for a TV, but with Xcode, all you need to do is click a button to get a screenshot.
Use QuickTime Player
There's another way to get screenshots, and it involves the OS X app QuickTime Player. In this scenario, you connect the Apple TV to your Mac using a USB-C cable, as above, but you don't need a TV. You do, however, need to trick your Apple TV into thinking it's connected to a TV. It's not enough to connect an HDMI cable to the device and not connect the other end of it to anything. You need a special dongle that makes the device think it's connected to a display. I happen to have one, which I use on my headless Mac mini server to be able to change its screen resolution; I explain the device in this article.
Once you've done this, launch QuickTime Player, choose File > New Movie Recording, click the down-pointing arrow next to the Record button, and then choose Apple TV.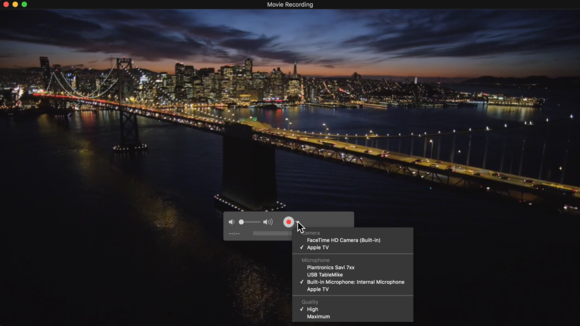 You don't need to actually record anything with QuickTime Player. You can use the Apple TV's remote to move around the interface and then take screenshots on your Mac of the QuickTime Player window. To do this, press Command-Option-4, then press the spacebar, hover your cursor over the window, and click your mouse or trackpad.
You can also record video, if you want to make, say, a tutorial. Just click the Record button; when you're finished recording, however your mouse over the window and click the Stop button. Save the recording, and you can use the video. You cannot, however, record any DRM-protected content; if you try, you'll see a message like this: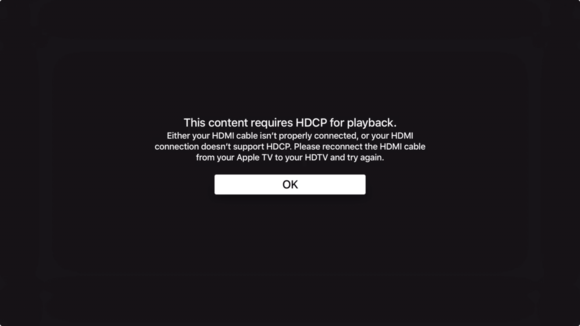 If you need screenshots from the Apple TV, either of these methods works; if you want screen recordings, only the latter does what you need. If you need to do this often, getting that HDMI dongle makes it a lot easier.