Since the debut of the classic Mac OS System 1.0 in 1984, the Finder has been an indispensable hub of the graphical user interface experience. Despite many improvements over the year—most radically with OS X in 2001—the core functionality of Apple's Finder remains largely the same, despite efforts to improve upon the experience even today.
Take command
Commander One is a Mac application written entirely using Apple's new Swift programming language that provides an alternative to the Finder. The main window is split into dual panes that can be used to act upon files and folders in multiple locations at once. Similar to popular applications like ForkLift, the free version works with local and network drives for search, preview, and other file operations, including the ability to rename files during copy and move. (Try that with the Finder and let me know how it works out for you.)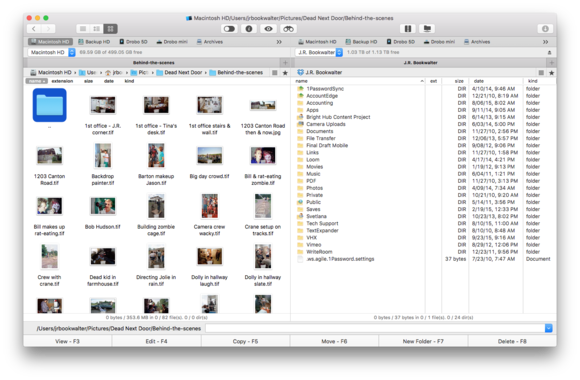 A paid Pro upgrade adds several unique power user features like archive compression and extraction, a built-in FTP manager, a process viewer, and direct access to Dropbox accounts, MTP, or even iOS devices. Commander One Pro also includes an assortment of color themes, but most of them are fairly gaudy and only apply to the content panes, rather than the entire window.
One of the more compelling features of Commander One are global function key shortcuts for routine file tasks such as View, Edit, Copy, Move, and Delete (others can be customized in preferences). These are displayed across the bottom of the window so they don't have to be committed to memory. There are also three different views available for each pane: List, column, or thumbnail grid.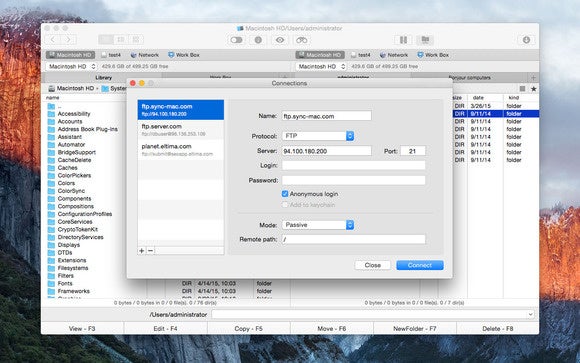 Just the two of us
Although Commander One checks off a laundry list worth of features, not all of them are implemented with the same degree of polish. For example, some buttons appear to have been placed randomly across the user interface, and there's not always a clear indication which pane you're actually working on at any given time; highlighting the active tab would help rectify this oversight.
By default, the application displays every user interface option available, which tends to be overwhelming at first. Thankfully, users can independently disable six different areas (Buttons, Command Line, Disk List, Disk Info, Path Bar, and Selection Info) from the View menu to streamline what's actually shown. One thing you can't do is collapse Commander One into a single pane, although each side can optionally contain an unlimited number of open tabs.
At least one Pro feature was downright buggy in my testing: Adding an FTP server caused Commander One to hang with a spinning beach ball. Repeated attempts produced similar results, requiring me to purge application settings and restart the computer in order to make FTP Manager available again. (The FTP Manager login issue has since been resolved with the latest 1.2 update.)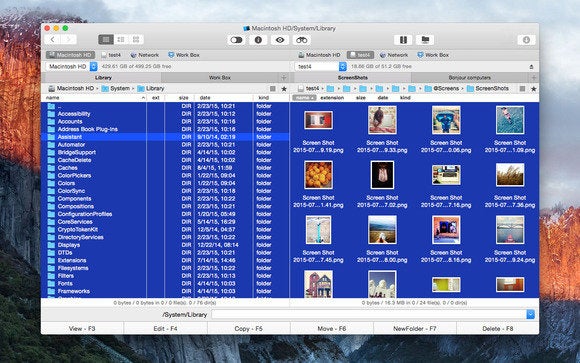 Bottom line
Commander One adds welcome utility the Finder could only dream of and manages to handle most core tasks quite well, but could use further UI refinement and a few bug fixes.