While Getting Things Done might be a proven method for maximizing organization and efficiency, you don't need to adopt a whole new philosophy just to get your life in order. All you need is the right app.
However, finding that one perfect app can be the most difficult task of all. Do a search for "task manager" or "list maker" and you'll get dozens of apps solely dedicated to scheduling and organizing your life.
The task managers on this list all let you dive in and out of your lists and to-dos with ease and efficiency, showcasing not just the beauty of iOS but also its power and versatility. And of course, they will all help you get things done. Here are our picks.
The best task manager: Todoist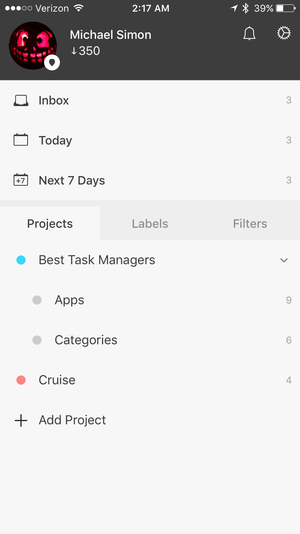 While Todoist (free) has actually been around as long as the iPhone has, it was born and raised on the web, only emerging in its native form in 2012 after it had ample time to mature.
Life outside the App Store has served it well. Where other some other apps feel either rushed or unintuitive, Todoist consistently gets things right. From its minimal interface to its supremely functional task management, Todoist is such a pleasure to use you might find yourself looking for extra excuses to use it. Thankfully, you won't need to look far. Whether you're a list maker, project manager, or obsessive scheduler, Todoist's deceptively powerful interface has you more than covered. There's a minimal feel to it for sure, but none of its design decisions get in the way of your ability to quickly set, schedule, and finish tasks.
Todoist breaks down your to-dos in a logical way that helps you prioritize. Like most task managers, you'll get a list of what needs immediate attention each time you launch, but what makes Todoist great—and gives it an edge over its competitors—is the ease with which it handles all of your projects and appointments, no matter when they're occurring.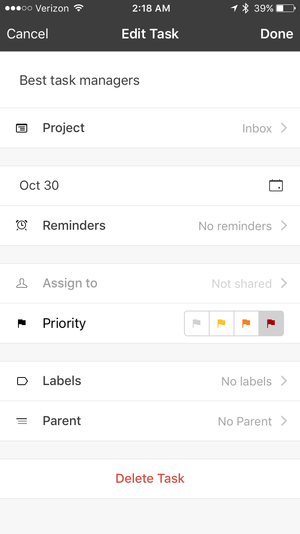 There's a logical priority placed on the tasks due during the current week, but you don't need to use Todoist as a conventional task manager to take advantage of its greatness. By utilizing an inbox to organize your to-dos, it gives you a degree of control over your schedule that helps actually get things done more efficiently—not just hastily check them off a list.
That's not to say you can't quickly jump in and out to check on the day's tasks, but speed is only a small piece of Todoist's strong user experience. Truth be told, there are any number of apps that let you input and output tasks much faster, but I didn't find one that collected or organized them better. Todoist understands that all tasks are not equal, so the creation of their reminders shouldn't be either. It's not just about scheduling—the app lets you collect like-minded tasks into projects, giving them greater importance and stature and helping to separate them from the simpler things going on in your life.
And Todoist won't cost you a thing. You can choose to subscribe to a premium account that greatly expands the service with things like custom filters, file attachments, location alerts and labels, but the free version of Todoist is still comfortably ahead of its peers.
Runner-up: Todo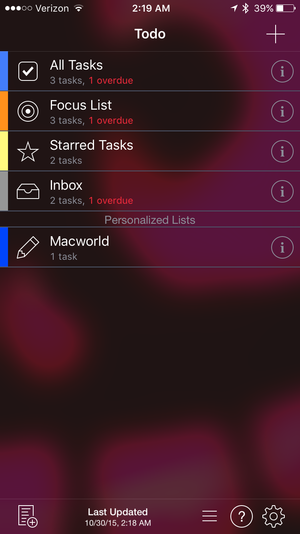 Advanced features are one thing, but the basic premise of a task manager—making lists and scheduling tasks—ought to be a fairly instant-to-understand process.
That's what ultimately earned Todo ($5) this spot. Todo edged out the others all on the strength of its interface. It offers a healthy servicing of advanced features for power users, but Todo really nailed the basic tenets of a task manager.
Right off the bat, Todo distinguishes itself with its smart, intuitive options. Start a new to-do and you'll immediately be asked to choose the type of task you'll be tackling: A reminder, list, or project. It's a simple step but an important one; many apps ignore the fact that a good deal of our tasks only need rudimentary checklists, and a way to group items together neatly and logically is often hidden inside complex menus, if it's not overlooked altogether. Outside of list-centric apps like Clear or Remember the Milk, Todo handled things like packing lists and bundled tasks better than any other manager, and its dexterity made the input process utterly painless.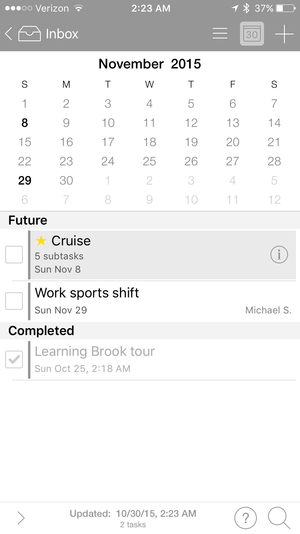 But what Todo truly excels at is organization. Where other apps merely give you a repository for the things you need to do, Todo actually helps you organize your tasks in a way that helps you complete them more efficiently. No matter what type of tasks you create, they'll naturally be sorted into smart categories: An Inbox filled with things yet to be completed, a Focus List of anything due within the next 24 hours, and Starred Tasks for anything urgent. On top of that, you can add personalized lists to divide your tasks by theme. You'll need to do the sorting yourself here, but it's another example of how Todo understands the way tasks naturally fit together.
The interface isn't quite as polished as some of its competitors', but there's a certain appeal to its custom backgrounds and whimsical use of color. Navigation is smooth and intuitive, and you'll find a wealth of options in its settings, including location awareness and contacts integration. Like Todoist, there's also an optional Todo Cloud subscription that expands the app's capabilities with powerful sharing, syncing, and collaboration (along with a clever Siri workaround), but most users will be plenty pleased with the basic app. Todo isn't just worth the price of admission; its simple yet sophisticated task management will give you and your life a new sense of order.
Best for calendar lovers: Good Task 2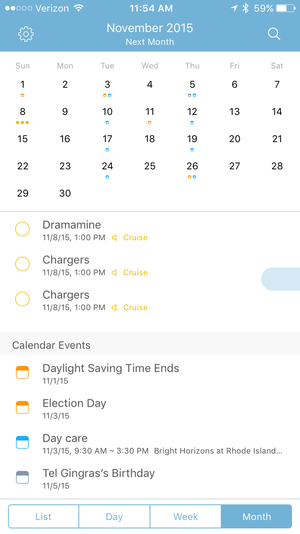 If you're the kind of person who needs to visualize your to-dos on a calendar, your options are surprisingly limited. Apps like Sunrise (R.I.P.) and Fantastical do an excellent job of keeping track of your appointments and reminders, but they're not true task managers, and many of the better to-do-centric apps don't want to muddy their experiences with tiny calendars.
GoodTask 2 (free) fills the space between them. With a tabbed interface that lets you quickly switch between modes, it strikes a neat balance between a task manager and a day planner, letting you visualize everything you need to do without getting too bogged down in the minutiae of days and dots.
There are four tabs to choose from in GoodTask, each with its own unique view. List displays your to-dos in classic task manager mode, while the others break down the things you need to do into daily, weekly, and monthly segments. Its interface conjures shades of Fantastical, which is hardly a bad thing—in Week mode, a DayTicker-like bar lets you quickly jump through your tasks and Month view splits the screen between a full calendar and a chronological list of upcoming to-dos.
A nifty pull-down gesture lets you create new tasks and you can easily organize them with custom lists, but the best reason to download GoodTask 2 is its built-in calendar. Fast and functional, it puts your tasks in a whole new light, aligning them with the rest of your life and helping you find the spaces where you can get things done.
Best for power users: Gneo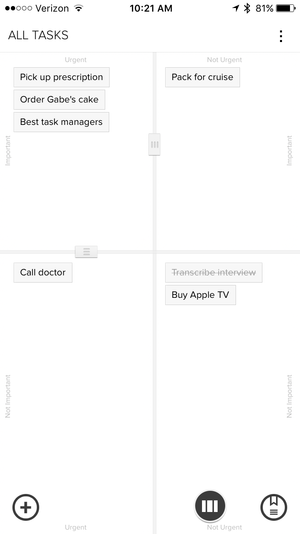 All of the managers listed here do an exemplary job with organizing and alerting you to the tasks that need to be done, but for the most part they're catch-all's, dutifully collecting everything you input.If your days are becoming bogged down with overlapping tasks, Gneo ($10) will help you unjumble your schedule.
Gneo utilizes a panel interface that helps prioritize your tasks based on urgency, the most unique (and useful) being an adjustable quadrant view that divides things by importance. If, for example, a deadline has shifted from tomorrow to next week, you can literally drag it from urgent and drop it into important, freeing up time for something that requires your immediate attention. You can also create personalized "notebooks" that work well to keep tasks of all sizes—long-term projects and goals can be separated from menial things like grocery lists, so you won't overlook anything important.
Gneo was easily the most focused task manager I used. Every step of its interface is designed to maximize efficiency and get your tasks prioritized and polished off, and power users will appreciate its strict attention to detail. Even a mountain of tasks will seem manageable once they pass through its singular system of checks and balances, and you might even gain some perspective on the other side.
Best for list junkies: Clear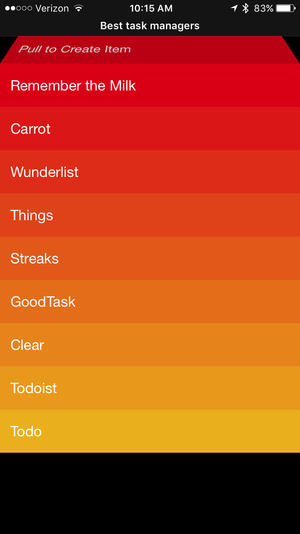 Clear ($5) was the first app to truly bring task management into the multi-touch era, introducing a slick, gesture-based interface that made boring old to-do lists exciting again. It's come a long way from its humble beginnings, but its strongest suit is still its most basic feature: Making lists, and crossing things off.
Clear isn't the only task manager that utilizes gestures, but it's the only one I tested that relied exclusively on them. Everything from creating new lists to adjusting the settings is accomplished through simple pulls and swipes, giving Clear a fresh, modern UI that's as slick as it is intuitive. You won't find many of the features common to the other task managers here, but an excellent use of color and item-specific reminders make it easy to use for all of your to-dos.
Rather than swiping through screens to navigate your tasks, Clear operates in a vertical space, which takes some getting used to. But once you learn the ins and outs of its various screens, you'll be able to make and populate lists faster than with any of its peers—and you'll have a whole lot more fun doing it.
Best for resolutions: Streaks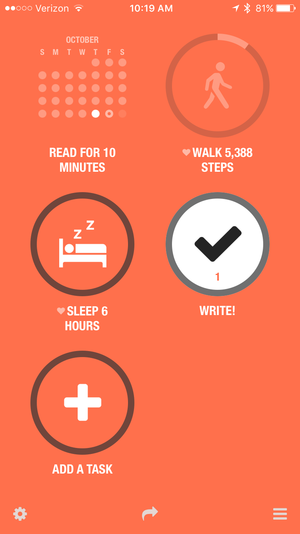 Resolutions aren't just for January. Whether you're trying to quit smoking, save up for a trip, or lose weight, Streaks ($4; iPhone only) will help you accomplish your goal.
Streaks is built to be a motivator but it's not just for tasks you need extra motivation to accomplish. You can schedule a customized daily notification for anything that you need reminding to do on a regular basis—be it walking the dog or calling your mom. And don't worry about Streaks nagging you too much—the app doesn't rely solely on badgering to keep you on top of your tasks.
To mark off a particular task for the day, you tap and hold its circle, and the app has various views to show how well you've done. It's a bit of subtle gamification, but it works, as does the integration with the Health app for tracking exercise. And while Streaks limits you to just six tasks, it's for your own good—it wants you to focus on the things you're actually going to commit to doing. That means if you want to add a new task, you'll need to complete one of your old ones (or at least feel a pang of guilt deleting it).
Others of note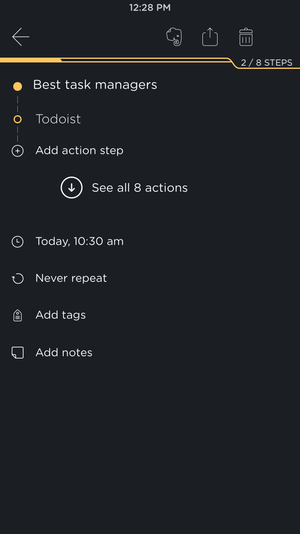 While the six spotlighted task managers above are among the very best in the App Store, there are numerous others that deserve a mention. Sporting a clever whiteboard-inspired interface, Trello's (free) system of customizable containers just barely missed out on the runner-up position. It does a stellar job of organizing and managing not just your tasks, but attachments and notes as well.
Equally excellent is Any.do (free), a powerful task manager wrapped in an incredibly lightweight interface. Lists, projects, and to-dos are all handled with style and speed, but its shining feature has to be the daily Moment, which lets you plan the day's tasks all at once.
Another favorite is Swipes (free). Impeccably designed and built around one of most distinctive interfaces I've seen, Swipes' smart, clean approach to task managing will organize your to-dos with gesture-based steps and actions. Evernote and Gmail users will love its seamless integration with all of your notes and important emails.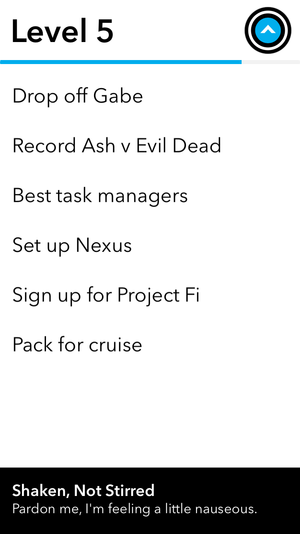 For list makers, there's the inimitable Remember the Milk (free). One of the original task managers, the app has certainly matured since its in-browser days, but it still retains much of its classic charm, down to its paper-and-pencil-styled skeuomorphic design. You'll also get a clever panel interface that organizes your tasks by day rather than date—not to mention the cutest home screen icon ever.
If you're a serial procrastinator, Carrot To-Do ($3; iPhone only) will give you the motivation you need to finish you tasks—with a liberal dose of attitude. You see, Carrot doesn't let your to-dos languish past their due dates: It will shame you with sass and attitude until they get done.
And finally, I would be remiss if I didn't include Things ($10; iPhone only). Another classic task manager, Things' system is time-tested and true, embracing the GTD philosophy and utilizing a drop-dead simple interface that stays out of the way while still helping you manage and dutifully organize your tasks.
How we made our list
During my extensive testing—which included more than two dozen task managers and list makers—I tried to represent as much of a cross-section as I could. Still, there's a good chance your favorite one didn't make the cut. So allow me to explain why.
First off, the apps on this list are all inexpensive. I imposed a price limit of $10, not because of a misguided notion that iOS apps should cost as little as possible, but because I wanted to keep a uniform, if not level playing field. By no means is this an indictment of Omnifocus or premium subscription models, but comparing a $1 app to one that costs $30 seems unfair to both.
No matter the price, every task manager needs to do a few basic things: Organize tasks, make lists, and set a schedule. Some obviously do a whole lot more, but those three facets were a starting point for every app I tested. If it didn't do one, it was out. (For example, the fantastic list-making app Paperless doesn't do due dates, so it was chopped.) I also discounted any app that wasn't yet updated for at least the iPhone 6, which notably eliminated Taasky, Finish, and Zippy, along with a few others.
From there, I used three more criteria: Interface, organization, and time management. While each of these are wholly subjective, there are some standards I did my best to apply. I tend to gravitate toward cleaner interfaces, but function trumped form. Folders (or some kind of structural hierarchy) were an absolute must, as was the ability to quickly create a new task on any page. Alerts and scheduling were important as well, but so was the ability to snooze and delete tasks without needing too many taps.