Most of the time, a dot update to mature software is no big whoop—even if it involves minor changes to an interface or workflow. But occasionally, what appears to developers and product managers as routine turns out to be a really big—and thoroughly unpleasant—deal.
Adobe found that out the hard way when it released version 6.2 of its Lightroom photo management app at the MAX Creativity conference a few weeks back.
After resolving an issue that initially crashed the program, and apologizing profusely in a blog post, it turned out that users were incensed about the update for other reasons, particularly with changes to the import dialog, which many photographers used constantly and were quite attached to.
Adobe had aimed to streamline the process of importing images into the app—to make it easier—but was met with howls of protest from longtime users over that and other workflow changes it had made in version 6.2. Those included removal of the camera card auto eject feature and a Move option.
With that level of hostility, Adobe hastily walked back the change and almost immediately provided a channel to revert to version 6.1 until an update could be finalized to bring back the old import method.
That update is now ready. With the new version 6.3 released Tuesday, Adobe has set the import dialog back to the same workflow as version 6.1, though the company is still considering how to handle some of the other issues its users objected to.
Just the announcement that it intended to do so evoked a chorus of appreciation.
Typical responses read:
Thank you all for the courage to step back and listen to your customers. This act is far to (sic) rare in today's world of "we know best what you need" approach to products. Lightroom is a great tool, and nearly all of the omissions and changes to the recent release were things I used on a daily basis. And preferred. I look forward to many years of continued enjoyment of Lightroom and respectful dialog with your team. Thank you again. —Danny W. Norris

Great to hear & thanks Tom & LR team for listening & acting on the feedback received (sic) so quickly. This is certainly a good step towards rebuilding trust. — John Quixley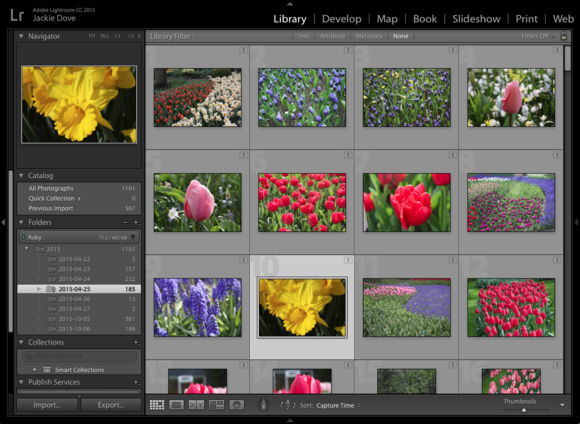 While there were also lingering issues with performance noted by users in version 6.2, Adobe is hoping that version 6.3 will rectify those, as well.
Additional updates in the new version of both Lightroom CC (2015.3) and Lightroom 6.3 include providing augmented Camera Raw and lens profile support and squashing numerous bugs introduced in previous releases.
Support for new cameras include: Canon EOS M10, PowerShot G5 X, PowerShot G9 X, Fujifilm X-T1 IR, Leica SL (Typ 601), and Sony RX1RM2. New tethered camera support includes the following Canon models: EOS 5DS, EOS 5DS R, EOS T6i/750D, and EOS T6s/760D.
New lens profile support includes Apple iPhones 6s front and back cameras, two dozen Canon models, DJI, DXO, Leica, Sigma, Sony, and several Nikon and Pentax models.
Why this matters: Adobe seeks to maintain a good relationship with its passionately vocal photographer community. Most of the time, it manages to strike a copacetic chord when adding new features and workflows, but occasionally, it hits a clinker. When that happens, it's important to acknowledge the issue and rectify it as quickly as possible. So far, Adobe appears to have struck the right balance. The proof will ultimately be with the performance of the new version.