The battery icon in the iOS status bar just doesn't cut it. Not by itself. Sure, it'll give you a rough indication of your battery's charge status, but it's small and imprecise, and it may be hard to make out if your eyesight isn't the best. To get a better indication of your battery status, you can have iOS show a percentage indicator as well.
Open the Settings app, then scroll down and tap Battery. Next, slide the Battery Percentage toggle to the On position, and a small battery percentage indication will appear alongside the battery icon in the status bar. To hide the battery percentage indicator, slide the toggle back to the Off position.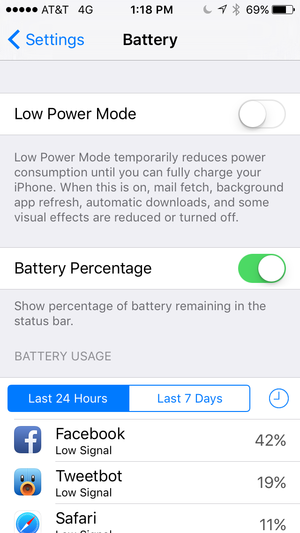 Easy, right? Perhaps it's a little too easy…
The battery indicator still leaves me wanting, even with the battery percentage visible. For instance, it'd be great to have the option to view how much run time remains before you have to recharge instead of just a percentage—after all, the percentage indicator doesn't tell you if you have three hours left or thirty minutes. Here's hoping for an improved battery indicator in iOS 10.
Note: When you purchase something after clicking links in our articles, we may earn a small commission. Read our affiliate link policy for more details.