If, like me, you remember Kai's Power Goo with affection and delight, you'll know that the image of me you see above has only been lightly manipulated. I really did look like that when I was using it again for this column.
Power Goo's features—the ability to smear regions of an image around and paint bits of one photo onto another to create composites—seem unexceptional today, but in the '90s, this was mind-meltingly exciting stuff, not in and of itself maybe, but in how easy and fun Power Goo made the process.
Just look at that interface! That's the thing I remember about Power Goo at least as much as the images you could create with it. It really felt for a few years that this was how software might look in the future: not staid, rectilinear, essentially monochrome buttons and menus, but big, juicy, floating 3D buttons and big, exciting levers that you pull to change variables. It was a future that lots of people thought was horrendous, of course—silly Fisher Price exuberances getting in the way of your work—but after decades of the command line and the established modern GUI conventions, it was at the very least new, and I'd argue intoxicating too.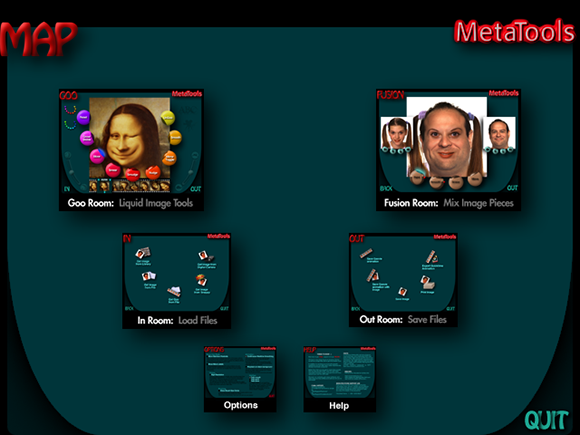 And it was easy—easy like Photoshop never was, easy even like Photoshop's supposedly easy versions never have been. You got an "In" room for loading files, an "Out" room for saving and exporting, a "Goo" room for liquified smearing, and a "Fusion" room for creating collages from two files.
It was't just easy, either, it was smooth and powerful. Oh sure, by default you were working with tiny 360×360 pixel images, and the interface was locked inside a 640×480 window which looked a bit pokey even then, but I still remember thinking "I can't believe I can do this on my [low-end] Mac!" when I first used it. It was the sort of thing I associated with mysterious, enigmatic machines with Silicon Graphics emblems on the front.
You could load in higher-res files. Indeed, the CD-ROM came preloaded with high-res versions of the stock photos of people and objects you were encouraged to play around with, but as the Read Me file warns: "On a rare occasion, the image may load as an empty black screen. If you encounter 'the black image,' please allocate more memory to Kai's Power Goo. To do so, select the application icon, go to the File Menu > Get Info and allocate more RAM in 'Preferred Size'. We have found that allocating 12–16MB of RAM to Goo has eliminated this."
Ah, the joys of manually allocating RAM to an application. And when I say "joys," I mean the abdication of responsibility by the Macintosh system designers to manage this esoteric and technical process on the user's behalf.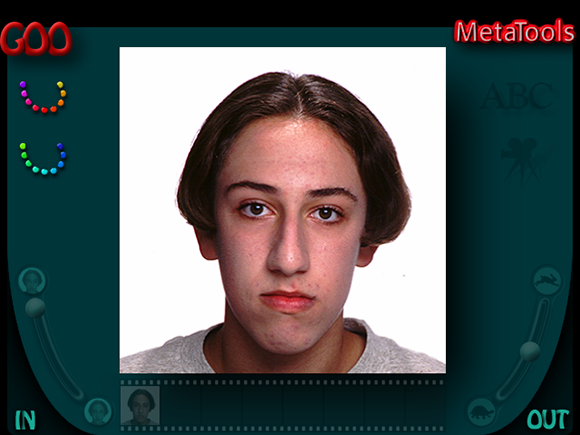 The stock photos themselves were quite glorious. Most were different kinds of people—some straight shots, some where they were pulling funny faces—but all reeked of the '90s. I mean, look at this chap above. I like this image particularly because I had that haircut in the '90s. And because it reminds me of the '90s when I had hair at all.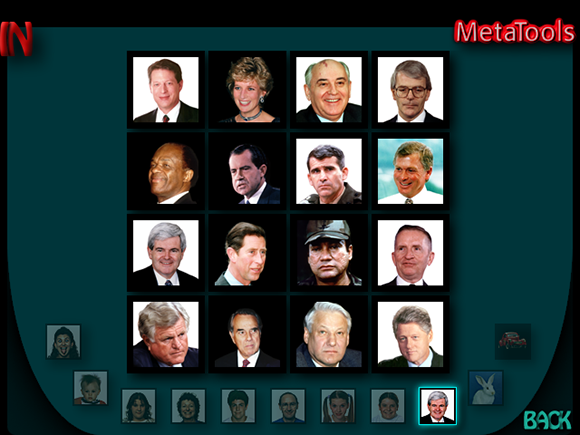 There were other categories of image, though. Some animals, some objects and, as above, some notable figures. If you were in any doubt about the era this software comes, this selection will lay it to rest.
Similarly, this support screen, which talks with such sweet, childlike enthusiasm about everyone coming together to chat about the software every evening, is also redolent of the time. Note that as well as an email address ending with the company's own domain, they also list their AOL address.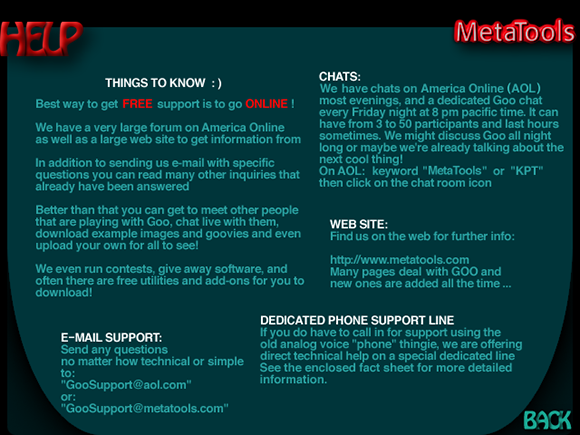 Goo couldn't only create still images, it could generate little movies too, which you could export. Here's one, and may I just say that it's only now that I realize they were using the Mona Lisa because one of the classic uses of Goo is to make someone grin widely, and La Gioconda has a famously ambivalent smile.
Sweet, huh? Insouciant. Cheeky. Yet so many of the other demo files seem to have been made either under the influence of some powerful narcotics, or have been made specifically to screw with the minds of any poor soul unfortunate enough to view them while themselves stoned, because surely then these would have you clawing your own eyes out in terror?
Remember Goo? Share your memories—assuming your therapist says you're ready—in the comments below!