Technology has drastically changed the way we experience music, whether it's by helping musicians create stadium-quality sounds in their basements or by giving fans the ability to listen to their favorite music anywhere they go.
Now you can use your iPad to learn to play the guitar or have friends take turns playing DJ on the same Bluetooth speaker. Read below to discover more high-tech gear designed for artists, music lovers, and anyone in between. And check out the video above to get a better vibe of each gift idea.
PRYMA headphones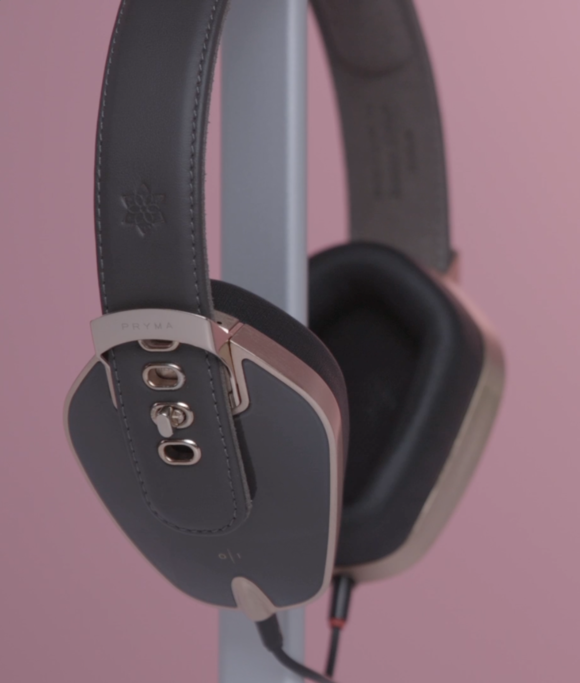 Every year, so many new headphones that come out that it's tough to find a pair that really stand out. Last month when the new Pryma headphones ($500) debuted, they certainly made an impression and redefined what a stylish pair of headphones could be.
The Pryma headphones are hand-made by Italian artisans using genuine leather, die-cast aluminum, copper, and stainless steel. They come in five color variations: Coffee & Cream, Pure Black, Carbon (Fiber) Marsala, Heavy Gold, and Rose Gold & Grey (pictured left) to match the new rose gold iPhone 6s. The headbands are interchangeable, if you can spare an additional $75 to get a second one. And each aluminum earcup is detachable. Just snap it out of its buckle-style attachment and you can pass it to a friend to let them listen in to your music.
These headphones are not just a style statement. Engineered by the high-end audiomakers at Sonus Faber, the audio quality is robust and warm. And unlike other big-sound headphones we tried, Pryma doesn't let much noise escape the earcups—so you won't have coworkers asking you to turn your volume down.
UE Boom 2 speaker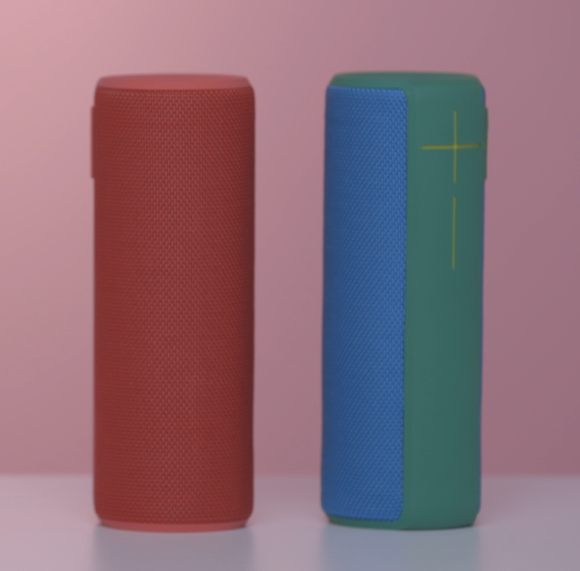 If your friends are always fighting over who gets to play DJ during your get-togethers, the UE Boom 2 ($200) wireless speaker might be able to solve a few disputes. The most recently updated in Logitech's Ultimate Ears speaker line now lasts for up to 15 hours of playtime, making it an affordable option that delivers heart-pounding 360-degree sound.
Besides being a reliable Bluetooth speaker, the UE Boom 2 is also equipped to receive firmware updates via the UE apps for iOS and Android. The most recent update introduced a new Block Party feature, so that three smartphones can be hooked up to it to take turn playing music. Only one person has to have the UE app installed and the other devices can play music from their streaming service of choice, whether that be Spotify, Apple Music, or Pandora.
If your friend happens to have a UE Boom speaker too (they're a popular buy) you can link them up using the app to double the volume. You can also designate a left and right speaker to create stereo sound.
Archer Vinyl Record Player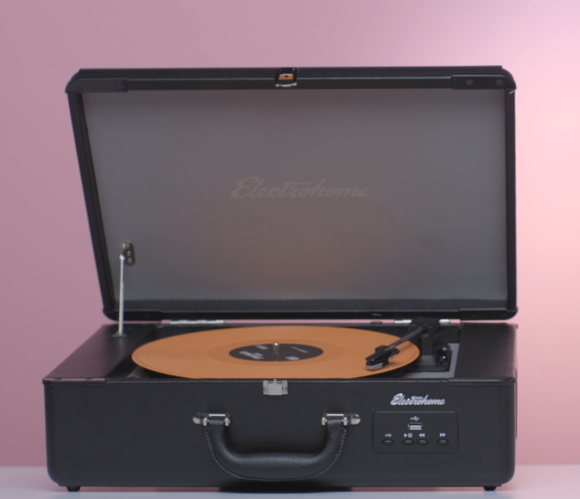 Technology moves so fast. Sometimes it's nice to be reminded of what it was like to listen to music back in the day. The Archer Vinyl Record Player ($100) does just that, bringing the classic turntable to the modern era, complete with a auxiliary input in case you need to play music from your smartphone.
Made by Electrohome, the 100-year-old consumer electronics brand, this record player is housed in a '60s-style black suitcase so you can carry it to your next shindig. Just make sure to secure the tone arm when traveling so you won't damage the diamond-tipped needle, the tiny piece of equipment responsible for delivering that warm, high-fidelity sound to the built-in stereo speakers.
In addition to playing old-school records, the Archer record player can be used simply as a set of speakers. Use an auxiliary cord (not included) to hook up your smartphone and start playing music from your device. If you are looking to start building your record collection, consider joining a monthly subscription service like Vinyl Me Please, Vinyl Moon, or Spinbox.
AfterShokz Bluez 2s headphones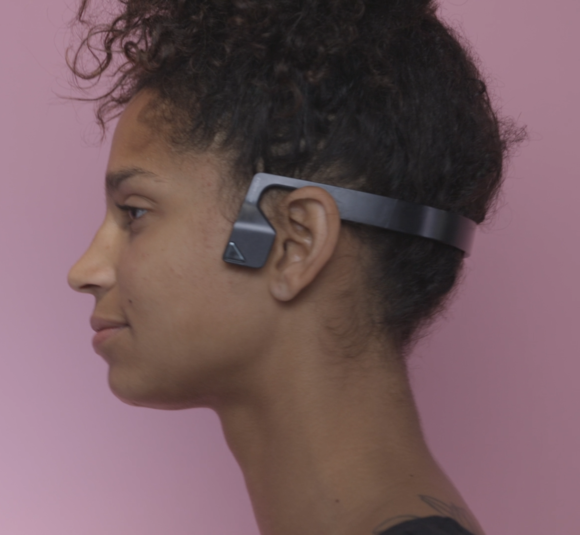 There's a pretty good chance that listening to in-ear headphones nonstop might wreck havoc on our eardrums down the line—making AfterShokz's Bluez 2s ($100) headphones sound like a very good idea. This unique pair of wireless headphones delivers sound via your cheekbones. Yes, think of the Bluez 2s as the world's first cheekphones.
The Bluez 2s rely on bone conduction technology, so they don't go inside your ears or cover them up. That way, you can listen to music or take phone calls without tuning out what's going on around you—whether that be a car honk, an ambulance siren, or someone shouting for help.
Once they're placed on your cheeks, the Bluez 2s sound surprisingly loud and clear. But it's not blaring. It feels like listening to music from a nearby speaker, but no one else can hear it. The headphones are also equipped with sound-funneling technology to limit sound escaping.
Jamstik+ smart guitar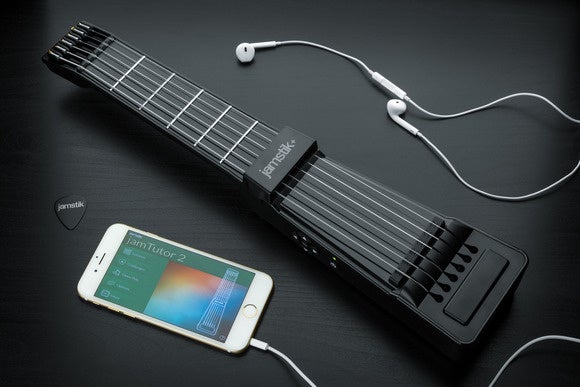 We have smartphones, smart cars, and smart homes, so why not smart instruments? Playing the Jamstik+ smart guitar ($300) is like playing a guitar with real metal strings. But in this case, the strings are on top of a fretboard with infrared sensors that pair each note to you iPhone or iPad via Bluetooth. No tuning required.
Once it's paired to your iOS devices, you can play the Jamstik+ using a suite of compatible apps. The official Jamstik+ app, for example, lets you change the guitar sound, from acoustic to banjo to electric. The Jamstik+ can also be used to learn to play the guitar with free apps like JamTutor and JamTutor 2 catering specifically to beginner guitar lessons.
More advanced guitar players can have fun with it, too. Jamstik+ recently partnered with the makers of the FourChords Guitar Karaoke app to give Jamstik+ users a free 30-day trial. FourChords has thousands of pop songs that you can tackle, Guitar Hero-style. Jamstik+ users need to email jamstikteam@zivix.net with proof of purchase to receive the access code.
Hercules DJControl Compact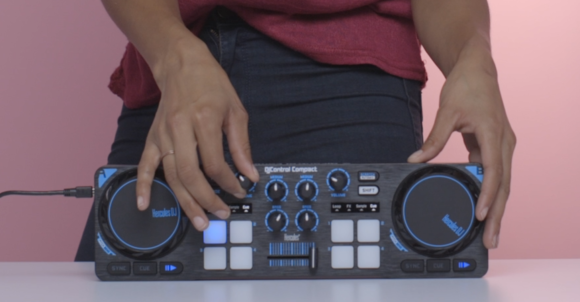 It seems like nowadays the only thing you need to become a DJ is a MacBook, but if you want to be a good DJ then a solid DJ controller is a must. The new Hercules DJControl Compact ($70) was designed to be ultra-portable and lightweight. And it fits nicely next to any 13-inch MacBook.
The two-deck DJ controller has dual jog wheels to mirror the experience of scratching and spinning real records. The wheels can be used to control the pitch and scrubbing throughout a track. Each deck also has four pads that you can use to launch looping, effects, samples and cueing.
Mixing software DJUCED 18° is included with the DJControl Compact, and the controller also works with other popular DJ software like Traktor, and Virtual DJ. And it hooks up via a USB port so it works on both a Mac and PC.