Mobile devices have become quite powerful since the original iPhone was released in 2007, but there's at least one creative task that will forever require the horsepower of a desktop computer: Video editing. With their finite storage capacities and need for touch control over the UI, modern smartphones and tablets seem ill-equipped for anything but home movies—but developers continue trying to push the boundaries of what's possible.
Apple's own iMovie for iOS paved the way and continues to be a pioneer in mobile video production. Despite the recent introduction of 4K video support for the latest iPhone 6s, iPad Air 2, and iPad Pro models, it's hard to imagine something as full-featured as Final Cut Pro X ever making its way onto such devices.
The same also applies to Adobe's industry-leading Premiere Pro CC, although the company has come up with a short-term solution for bringing video into the ever-expanding Creative Cloud lineup, courtesy of a mobile app that can be used to lay the foundation for a much larger project completed on the desktop.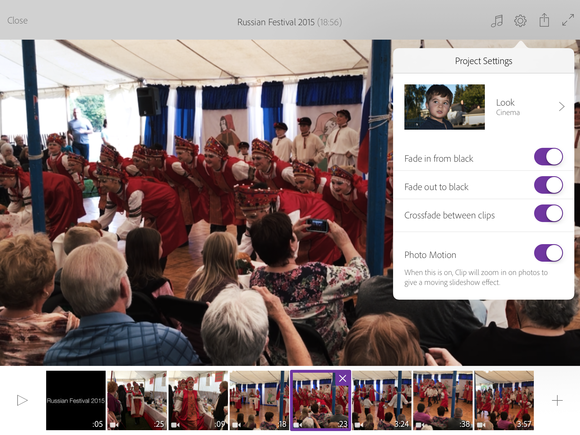 Just the basics
Like iMovie for iOS, Adobe Premiere Clip is essentially a stripped-down mobile version of the desktop favorite. Gone are the labyrinthine menus, fiddly settings, and overwhelming number of options available on Adobe Premiere Pro CC for Mac and PC, leaving only basic tools for importing, rearranging, and trimming clips, then adding music, transitions, and effects to round out the presentation.
Videos and photos can be imported directly from Lightroom or Creative Cloud accounts, device cameras, or iOS albums. Premiere Clip hasn't yet been optimized for iCloud Photo Library, so at first only a fraction of my videos showed up. The solution was to open a compatible app like iMovie or Pinnacle Studio Pro and import the files there first to make sure they were actually downloaded to the device, since opening them with the Photos app didn't seem to do the trick.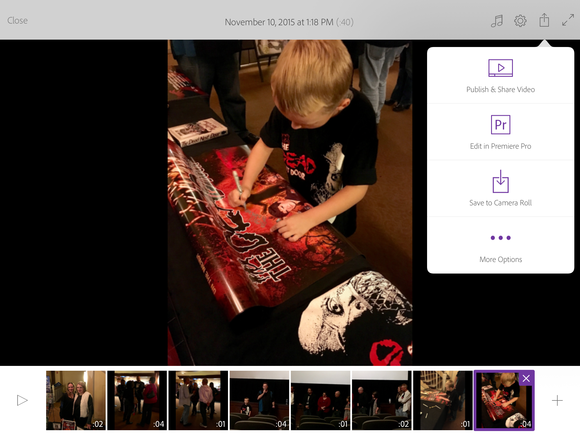 After importing one or more files, Premiere Clip offers to create an Automatic or Freeform project. In the case of the former, the app does most of the work, choosing a soundtrack from a selection of royalty-free tracks and establishing an overall pace that can be tweaked faster or slower as needed. Automatic works well for slideshows or quick videos where it's not as necessary to fine-tune the end results, although the app does allow users to replace the music with a different track or adjust where playback begins, as well as rearrange the order in which clips are shown.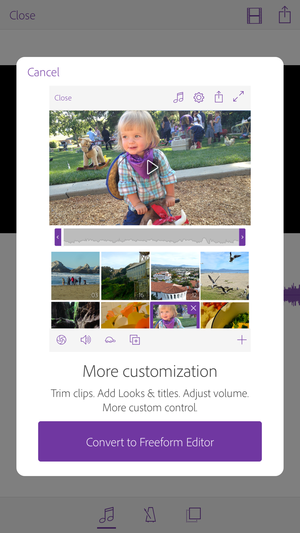 Automatic projects can also be switched to Freeform mode by tapping the filmstrip icon, which allows for more customized control over the end result. In addition to being able to trim the head and tail of individual clips, add image filters or titles, or adjust volume levels, Freeform mode enables per-clip slow-motion settings, as well as the ability to split or duplicate clips. There's also a Smart Volume setting, which does a good job of automatically balancing clip audio levels so they doesn't get lost under the roar of background music.
Gateway to Pro
Unfortunately, Adobe has gone overboard keeping Clip lean, removing too many of Premiere Pro CC's flagship features. For example, there's no way to detach audio from accompanying video or adjust either one independently—a fairly trivial matter with iMovie for iOS. While Premiere Clip does create titles, they can't be superimposed over video, only against a background color of your choice; transitions are also limited to basic fade in/out and dissolve between clips.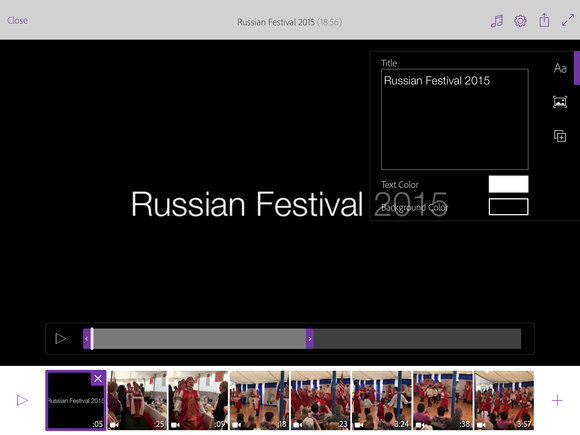 Although Premiere Clip contains a fraction of its desktop sibling's power, projects created in the mobile app can be exported to Premiere Pro CC with edits, music markers, and video effects intact. Instead of iMovie's clunky iTunes File Transfer process, Premiere Clip pushes XML data and content to Creative Cloud, which can be opened and saved as a Pro CC project.
Clip also uses Creative Cloud to sync projects between devices, so edits started on iPhone can be completed later on iPad (and vice versa) without the need to transfer files manually. In my experience, sync wasn't always reliable, and frequently slow to update, but that's to be expected when shuttling large video files up and down from the cloud.
Premiere Clip's cloud ties also extend to video filters: In addition to 30 built-in presets, users can create their own looks using the free Adobe Capture CC app, which can then be applied to clips. Together with manual exposure, highlight, and shadow controls, it's the one area where Premiere Clip currently has the upper hand over Apple, but it's not quite enough for me to abandon iMovie just yet.
Bottom line
Adobe Premiere Clip provides the basic building blocks of video editing, but compared to iMovie for iOS, it's just too underpowered to recommend for anyone but hardcore Premiere Pro CC fans.