With the announcement of iOS 9 and the subsequent release of the Smart Keyboard, this has been a good year for fans of using iPads with physical keyboards. iOS 9 added numerous keyboard-centric features, and the Smart Keyboard is the first hardware keyboard purpose built by Apple to be used with iOS.
And yet, while it's encouraging that Apple is showing some support for those of us who need to pound on actual keys in order to be productive, there's a lot more that needs to be done. Does Apple consider the Smart Keyboard an important new direction for the iPad line, or an accessory designed for old fogeys who can't get with the program and adapt to typing on glass?
Regardless, iOS needs to get better at supporting hardware keyboards. Let's start with the $169 Smart Keyboard itself. It's only available in a U.S. keyboard layout at present, leaving out the rest of the world. (Apple says international Smart Keyboards will appear in the future.) It's also missing the top row of keys found on most other keyboards, which offer some pretty nice system-wide shortcuts for volume and brightness controls, as well as a play/pause key. And there's no Escape key, which is helpful for getting out of jams.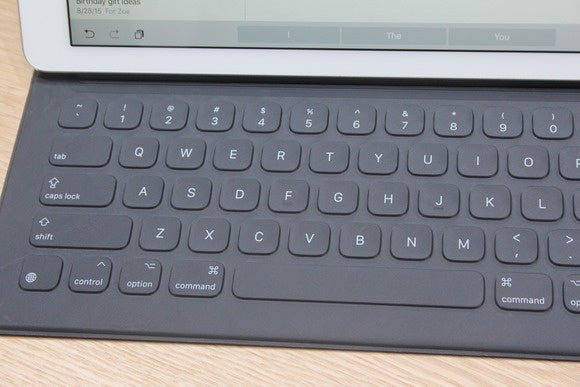 I'm not convinced that the Smart Keyboard offers more value than a regular Bluetooth keyboard that you can tuck away in a bag, unless (of course) you really need to carry a keyboard with you everywhere you go. As an iPad cover, it's bulky and lumpy, and I found myself pulling it off at every opportunity. But you can't beat its portability.
There are, of course, other keyboards that use the iPad Pro's new Smart Connector port. Well, at the moment there's one: The $149 Logitech Create, which is backlit, offers that extra row of keys at the top, but is much bulkier than the Smart Keyboard. I like the features of the Create, though it requires you to snap the iPad Pro into it, which I don't love. I'm looking forward to future Smart Connector-compatible keyboards that are more like a tray or stand into which you can easily drop the iPad Pro. In the meantime, I broke my classic Apple Wireless Keyboard out of a drawer, complete with the (now-discontinued) Origami iPad stand, and it worked like a charm. Maybe sometimes the old ways are best.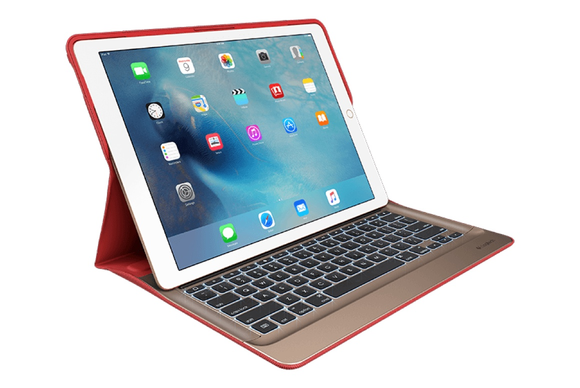 Whether I'm using a fancy new Smart Connector-based keyboard or an old-school Bluetooth one with the iPad, though, I keep finding quirks that remind me that iOS was built with software keyboards in mind. In the version of iOS that ships with the iPad Pro, there's a bug that slides the software keyboard out even when a hardware keyboard is attached. (This bug appears to be fixed in a forthcoming iOS update.)
Worse are the issues with autocorrect and capitalization. I'm constantly finding that what I've typed has been "autocorrected" to something completely wrong. Stories I write on the iPad Pro, such as this one, are much more prone to weird typos owing to strange autocorrects. Yes, you can turn off iOS's autocorrect feature, but it's still pretty necessary when you're typing on a software keyboard. And–cue the sad-trombone sound–autocorrect is a global setting, not one that you can toggle separately for software and hardware keyboards.
Capitalization's also not great. In addition to the fact that I need to turn on capitalization correction for software keyboards and turn it back off when I attach a hardware keyboard, there are other bugs that seem to stem from assumptions that are even annoying on the software keyboard! iOS seems to believe that if you typed two capital letters and then typed the delete key, what you want to do is replace that second capital letter with a different capital letter. What's far more likely is that you didn't mean to type the second capital letter, but held down the shift key a little bit too long. There's no way out of typing a shifted character in that situation except to delete one more character and start again.
I also ran into a similar bug several times on the software keyboard, in which the shift key insisted on being active when I was trying to type a number. On the iPad Pro's software keyboard, numbers are no longer on a separate screen, but are displayed in a (half-height) row of keys at the top of the screen. The keyboard wouldn't let me type a number, only symbols, because it was convinced I had pressed the shift key. (I hadn't–it wasn't active and neither was the Caps Lock key.)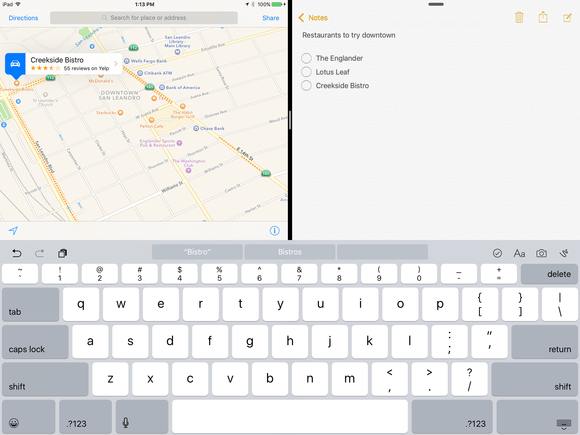 Then there are the roadblocks–places where you just can't perform a particular task unless you take your hands off the keyboard and reach up to tap the touchscreen. The most problematic of these is probably Spotlight, which is accessible from anywhere by typing Command-Space. (Related: That shortcut probably shouldn't be systemwide, because it's easy to type by accident, and it causes you to exit the app you're currently using.) Once you enter Spotlight, you can type the name of what you're searching for… but you'll need to tap on the screen to select a search result, because Spotlight doesn't let you navigate via the arrow keys.
It's quite a task to add support for hardware keyboards to an operating system that was never really intended to use them. But in for a penny, in for a pound, as they say: Apple isn'ts just supporting these keyboards from afar, it's selling one itself. Global shortcuts for share sheets, arrow navigation, and maybe even user-configurable hot keys should be on the horizon.
And if I can make one even crazier suggestion… In iOS 9, Apple added the ability to use the software keyboard as a trackpad, in order to move the text selection around on the screen. It's a great feature, and I've found that the size of the iPad Pro's screen and keyboard makes it even better. But people with hardware keyboards can't take advantage of this feature, sadly. Dare I suggest that perhaps the iPad should also offer support for Bluetooth mice and trackpads, to emulate that feature?
No, I probably shouldn't. Let's hope Apple focuses on improving iPad keyboard support, first. Trackpads can wait for another day.