According to a new report, streaming music subscribers won't be "rolling in the deep" with Adele's new music tomorrow.
Adele's highly anticipated new album, 25, will hit stores on Friday, but it won't be available for streaming on Apple Music, Spotify, or any other competing service, according to The New York Times. Adele is said to be personally involved in the decision to withhold 25 from streaming, at least during its initial release.
According to the Times, 25 is expected to sell 2.5 million albums in its first week, which would make it the fastest-selling album ever, even beating album sale figures from the peak of the CD-selling era in 2000.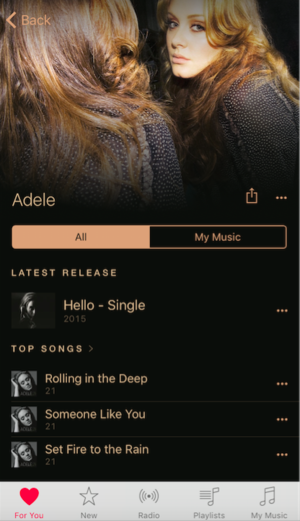 "We fully expect this to be one of our best-selling albums ever," a Target spokesperson told the Times.
The album's first single, "Hello," is currently available to stream on Apple Music and Spotify, most likely as a promotional effort. Despite its availability on streaming services, "Hello" managed to become the first song to ever sell over a million digital downloads in its first week.
The story behind the story: This is just the latest move by a big-name artist to opt out of offering new music on streaming services out of fear that doing so might jeopardize album sales. Taylor Swift's 1989 album was a notable holdout until Apple Music changed her mind earlier this year, and Beyoncé's self-titled album was absent from streaming services for a year after its 2013 surprise drop.
Adele's 25 is being released by Columbia Records in the U.S., and by indie record label XL Recordings everywhere else. XL was part of the consortium of indie record labels that banded together to decline to put their catalogs on Apple Music because of the free three-month trial during which they wouldn't receive royalties.
After Taylor Swift penned an open letter, Apple famously reversed its decision not to pay artists during the three months of free listening. As a result Apple Music fans not only got Taylor Swift's album, but also XL's catalog, including Adele's albums. Except this new one, that is.
Adele's 25 is the perfect high-profile exclusive Apple should be throwing money at. And who knows? Maybe Eddy Cue is ringing Adele right now to say, "Hello."