At a Glance
Expert's Rating
Our Verdict
Like many prospective iPad Pro owners, I was eager to get my hands on Apple's companion accessories at launch, particularly the keyboard case that takes advantage of the new Smart Connector. Imagine my dismay upon picking up the massive device at my local Apple Store, only to discover no such accessories in stock.
As fate would have it, Apple did my wallet a favor: One of the best and brightest accessory makers around was better prepared with a keyboard case of their own—one superior to what Cupertino's designers came up with.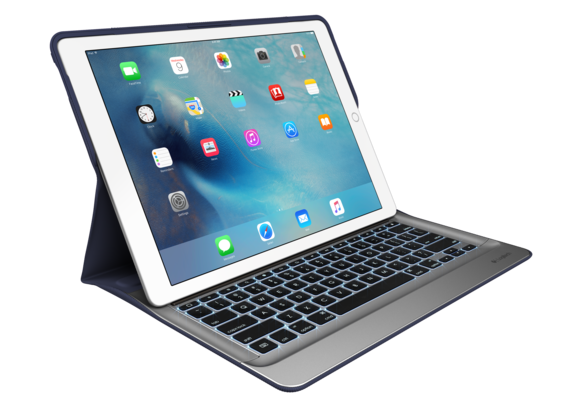 On the case
Logitech Create is a keyboard case providing all-around protection for iPad Pro. And I do mean "all-around": Available in five colors (I tested the Black with Space Grey model), Create is the The Incredible Hulk of iPad cases, with an exterior made from water-repellent fabric. There's little fear such an expensive device will take abuse inside this case—the iPad is entirely sheathed, with small openings for the camera, ports, and four speakers.
Create also encases the power and volume buttons, requiring a little more force to use them. Coming from an iPad Air with Smart Cover, this took some getting used to, but lock and volume level controls are also present on the keyboard. The added bulk and weight also makes holding the device in portrait mode cumbersome, especially when reading in bed. Unfortunately, a snug fit makes frequent removal of the iPad somewhat tricky, despite the case holding only the top half of the device.
When closed, Create resembles a notebook computer, but at 1.6 pounds for the case and 3.25 pounds with tablet inside, it's a good deal heavier than the latest MacBooks. I've tried living with chunky cases like this one in the past and always wound up ditching them, but the keyboard alone makes this case a keeper.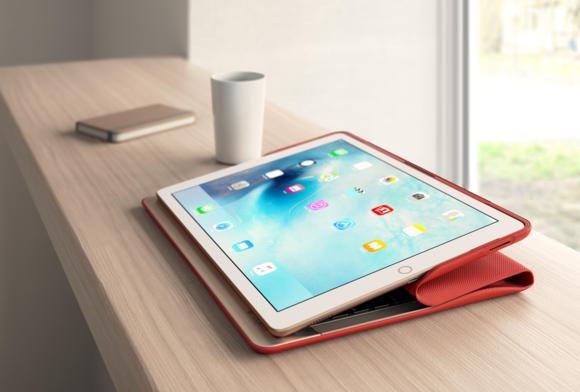 No Bluetooth necessary
Although Apple's Smart Keyboard is lighter and slimmer, Create has the upper hand thanks to backlit keys and extra row of shortcuts for home screen, brightness settings (one pair for the display, another for the keys themselves), search, switching between software keyboards, media playback, and mute in addition to lock and volume control.
Thanks to the larger tablet, the full-sized, chiclet-style keyboard is the same width and style as a MacBook, so I immediately felt comfortable using it. Create makes the iPad Pro a more capable productivity device, although it does expose a few lingering weaknesses in iOS 9: There's no Mac-style forward delete key or trackpad support, for example. Working with text on a touchscreen is downright awkward when the experience otherwise feels so much like using a notebook. Create offers two viewing angles: The first works well for typing (even when balanced on my lap), while the second positions the iPad almost flat against the keyboard for writing or drawing.
Logitech is the first third-party accessory maker to take advantage of Smart Connector, the three-prong jack along the left edge of the iPad Pro. Create magnetically attaches to the tablet—strong enough that I was able to pick up the entire tablet and case!—while also supplying power and Bluetooth-free keyboard connectivity. This can only be done in landscape mode (a limitation shared with Apple's Smart Keyboard) and the backlit keys only stay illuminated a few seconds at a time to conserve battery, but otherwise the combination of Smart Connector and Create keyboard is a winner.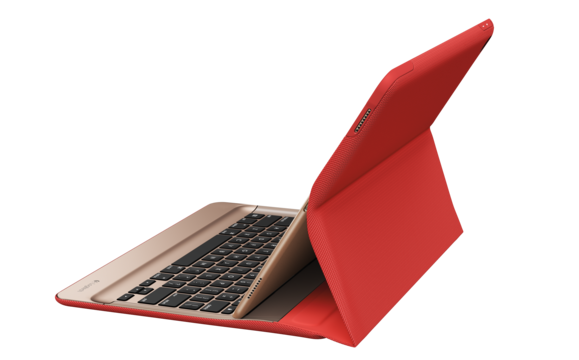 Bottom line
Even if Apple's Smart Keyboard were in stock right now, the Logitech Create Backlit Keyboard Case is hands-down the better choice. I do wish it didn't add so much bulk to the tablet, but it's hard to imagine anyone coming up with a better typing experience for iPad Pro. (And yes, I used it to type this very review in Microsoft Word.)