"'Reeder' is damaged and can't be opened. Delete 'Reeder' and download it again from the App Store."
That, and messages like that, were what I and plenty of other users were greeted with last week when an oversight led to difficulty launching apps purchased from the Mac App Store. The root of the problem turned out to be a change in the cryptographic certificates that ensure the safety and security of programs from the Mac App Store. Not all Macs handled the switch elegantly, leading to fixes ranging from restarts to deleting and reinstalling apps.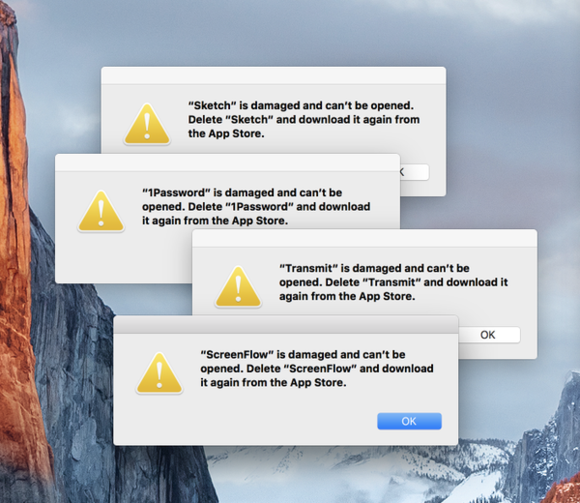 In the grand scheme of things, perhaps not a world-shaking problem. But this issue did throw into stark relief that the Mac App Store doesn't receive nearly the kind of attention lavished on its iOS counterpart. Mac developers have been frustrated with many limitations of the store for years, and it certainly doesn't seem to be getting a lot of attention from Apple.
One size fits all
In many ways, the Mac App Store has always seemed like a bit of an afterthought. There's long been a vibrant Mac developer community, but it wasn't until 2011—almost three years after the App Store's debut on iOS—that Apple launched a store on OS X.
On iOS, the App Store continues to be a contentious issue to this day. There's no question that it's made mobile apps a viable market, but there's often a question of the overall cost. Apps have long fought to get recognized in the crowd, and prices have continued to decline—great for consumer's pocketbooks, but challenging in the long term for developers looking to sustain their business. As such, it's no surprise that many longtime Mac developers were hesitant to jump headfirst into bringing their apps to the Mac App Store.
All of that also piles on top of the technical challenges. The Mac App Store's sandboxing requirements mean that many longtime Mac apps simply can't be sold on Apple's platform. Even now there are several significant absences on the Mac App Store: Shirt Pocket's SuperDuper!, for example, or Bare Bones's BBEdit, which the company decided to not offer in the MAS with the most current major release. Panic took the same route with the most recent version of its web-development app, Coda. You won't find Smile's Text Expander there either.
Of course, many of the requirements that hinder Mac developers are simply the same as the restrictions in place on iOS. But iOS was built from the ground up to be a secure, heavily controlled operating system—there's never really been an expectation of more.
Conversely, the Mac App Store came into a field where the software market was well-established. And therein lies the problem: It takes a one-size-fits-all approach, assuming that what was successful on iOS would also be successful on the Mac. And that meant not only disallowing technical functionality apps used, but also not allowing other practices long embraced by the Mac software community, such as free trials and upgrade pricing—probably because they weren't available for iOS apps.
The second best app store around
The limitations on the Mac App Store, however, go beyond simply imposing the same restrictions as on iOS. Apple's rolled out a number of useful features on the iOS App Store that have just never made it to the Mac App Store.
Take TestFlight, for example. Apple acquired the company, which let iOS developers easily distribute beta versions of apps to testers, back in February 2014, and it still hasn't added support for Mac apps, though Apple Watch apps and even tvOS apps are now compatible with the service. That's not only inconvenient, but downright harmful: As Iconfactory developer Craig Hockenberry pointed out back in July, it means that Mac developers can't test iCloud integration at all before final release, since it requires TestFlight.
Likewise, Apple added App Analytics for iOS apps in July 2014 when it updated iTunes Connect, the behind-the-scenes dashboard for app developers. Analytics aren't available for the Mac either, nor, as Hockenberry points out, does Apple block App Store reviews from beta versions of Mac OS as it does for iOS.
Leveling the playing field
None of this is to say that the Mac App Store doesn't offer some valuable services for users: Automatic updates, easily downloading all your apps to a new Mac, and offering a central clearinghouse for finding apps are just a few of the positives. The latter is a big advantage to those who have come to the Mac from iOS and are used to having a single repository rather than hunting hither and yon for apps. For developers, it provides a single storefront and easy purchasing.
But given that the Mac is doing tremendously well, setting sales records—even if not approaching the sales volume of iOS devices—and given that Apple takes a 30-percent cut of both iOS and Mac app sales, regardless of the disparate support for the two app stores, it might behoove the company to spend a little time bringing the Mac App Store up to snuff.