If you plan to shop on Black Friday, either in the comfort of your home or out in the crowded stores, you're probably scouring the web right now for ways to make every minute and dollar count. And if you're not, you should be.
Sure, you'll be bombarded by TV and radio ads, and the newspapers will be weighted down with screaming circulars, but that's the most chaotic and disorganized way to undertake the big spree. Even worse, it probably won't save as much money as you expect. You can do better, and these iPhone apps can help.
All of these free apps are run by hardcore merchandizing maniacs in conjunction with their companion websites. They maintain relationships with thousands of retailers and most leverage some social or community participation via Facebook and Twitter. Each app lets you choose to receive notifications and email to get you an inside track on the best deals, but most of them require you to register with the companion website to be able to use all the features, like saving items to your wish list.
Black Friday FM
The best Black Friday apps do not merely hawk scans of store circulars, they offer in-depth information and perspective to help you decide what to buy and when. Black Friday FM works with its website to provide shoppers a little more analysis as to how sales are constructed and how the stores are competing with each other, as well as what you won't find in the ads and why.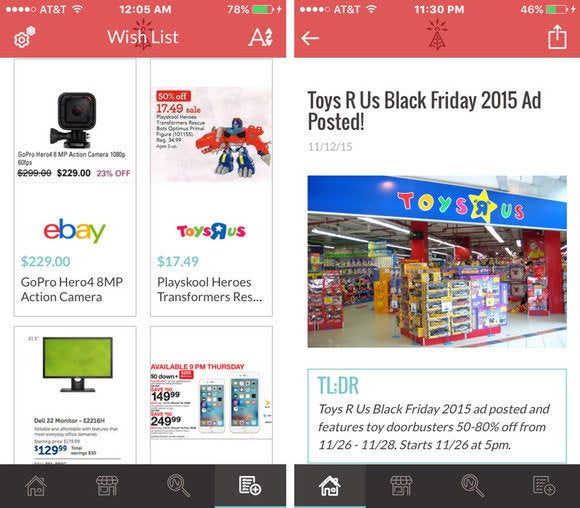 The app's attractive, bright color theme serves up news and analysis alongside the latest Black Friday ads. It tracks and posts new pages of published ads and reports "leaked" ads and special shopping events. Tabs at the bottom of the interface let you search by store or merchandise category: as you spot items you like, tap to gather them into a wish list.
TGI Black Friday 2015
TGI Black Friday for iPhone and iPad partners with DealCatcher, an online community that helps shoppers search, sort, and share more than 10,000 deals and categories relating to the app's website. Its mission: To offer the most popular deals and freshest ads and coupons by store or shopping category.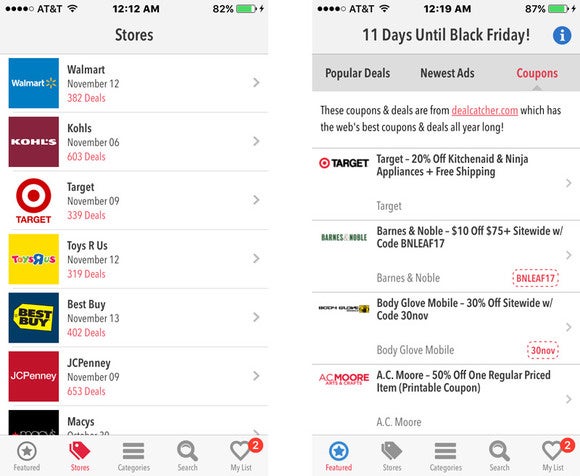 TGIBF aggregates coupons from Groupon as well as Target, Barnes & Noble, Best Buy, and Amazon and links them to purchase pages and display ads before they appear in your local newspaper. Coupons (both electronic and printable) give you immediate savings. The app sorts items by price or popularity and lets you save your favorites to a personalized list. In addition to instant notifications of new ad postings, it encourages you to share the best deals with friends and family and compare online prices.
Black Friday Shopping
If you want your ads served up piping hot, have a look at the Black Friday Shopping app and its website. The first thing you see upon launching the app is the newest scanned ads. Hit the navigation at the upper left to reveal a flyout pane listing the app's categories: Wishlist, Stores, Deals, News and About.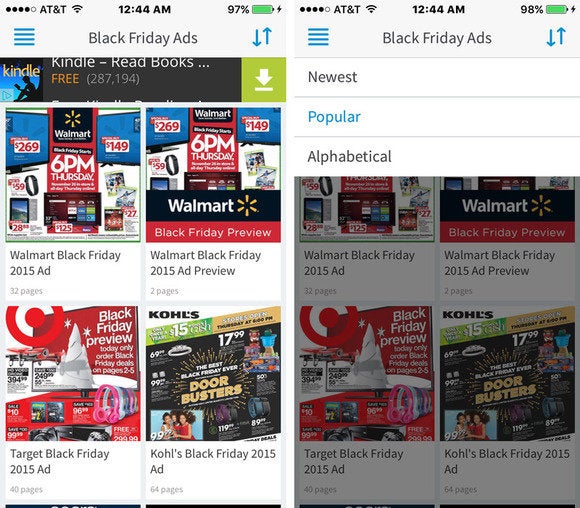 While Black Friday Shopping specifically identifies with the day-after-Thanksgiving shopping extravaganza, this deal site is a year-round resource associated with more than 200 online stores and coupons, including Groupon, where you can check your favorite categories, compare prices, and sort and search by keyword, store, or price. The app's star system and gesture-based interface for finding and marking favorites are a neat touch.
The Black Friday.com
Looking for a general shopping app with a Black Friday specialty? The Black Friday.com for iPhone and iPad, an offshoot of the Deals of America app, is laser focused on deals, deals, deals.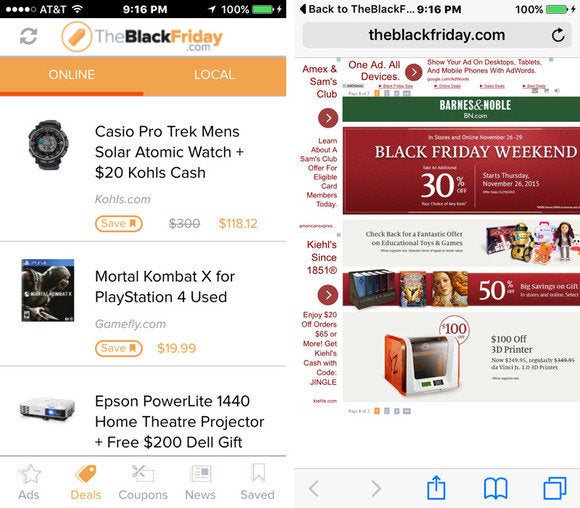 The Black Friday app gives you the choice of viewing specific ads for that day as well as general store information. While multi-page ads look small on the iPhone's screen, it's not difficult to magnify them and tap a product to get an easy-to-read Details page with a Shop Now button. While most of these apps let you enter your ZIP code to find local stores, this app takes advantage of Location Services (with your permission, of course) to pinpoint the closest outlet to your current location.
Black Friday 2015 by DealNews
Black Friday 2015 (one of two apps with the same name), is powered by DealNews and is also associated with the DealNews shopping app. Every day, the site checks over 2,000 online retailers and thousands of deals to deliver the best 200 sales. It verifies that each deal is valid, carries the lowest price, and is from a reputable retailer before posting it.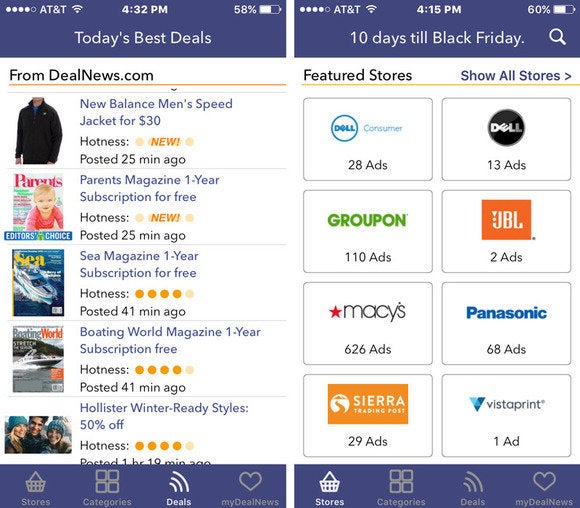 The Deals pane lists entries in order of the time posted and applies a five-point "hotness" rating measuring each deal's popularity. You can search by stores, categories, specific deals, or read shopping advice from expert e-commerce journalists. You can even access your shopping list online, a nice touch, and share ads with friends on social media.
Black Friday 2015 Deals by BuyVia
Here's a neat trick: If you are in the vicinity of a store that has a product you want, BuyVia's Black Friday 2015 Deals can alert you to local sales and online deals discovered by the app's personal shoppers.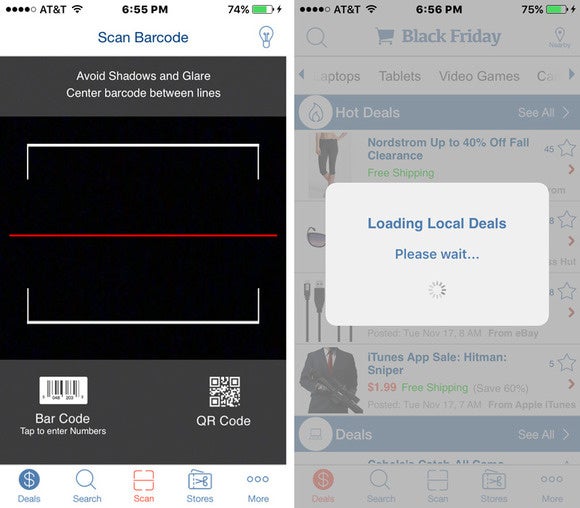 First, select items you want or stores you like, and Black Friday 2015 Deals will automatically send personalized offers for Black Friday and every day. Set shopping alerts for a push notification or email when sales occur, or just compare prices. The app and website, powered by BuyVia, are linked in the cloud and can sync your online shopping information across devices. If you use the Local Store Shopping Alert feature to watch for local sales of a specific product, it will use your device's GPS to locate good deals. Scan UPC barcodes or QR codes to find the best prices or save items to your shopping list and share information via social media.
Black Friday 2015 by Slickdeals
Slickdeals, a 15-year-old, community-driven, deal-sharing website, hosts a year-round general shopping app, and a separate Black Friday 2015 app. Every deal is posted, rated, and reviewed by the community, which votes on the best deals, while the site's team of experts populate the homepage with the best offers based on votes and feedback.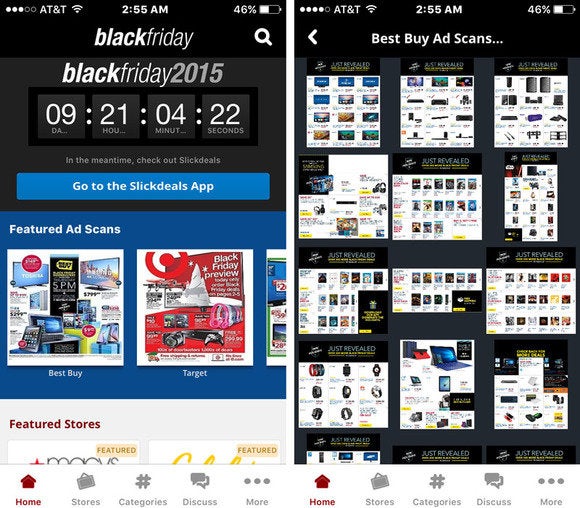 Its Price Tracker utility, found on the website but not in the app, can still send alerts to your phone if an item you're watching drops in price, or shows up cheaper at a different store. It's a pity you can't start tracking products from directly in the app, and that you have to register for Slickdeals before you can do almost anything, including saving deals to your shopping list.
BFAds.net
The key phrase for BFAds is "plan ahead." BFAds combs the web for the latest Black Friday information and organizes it into an accessible search tool. The interactive ad scans are easy to read, and tapping a product takes you right to the specific shopping page.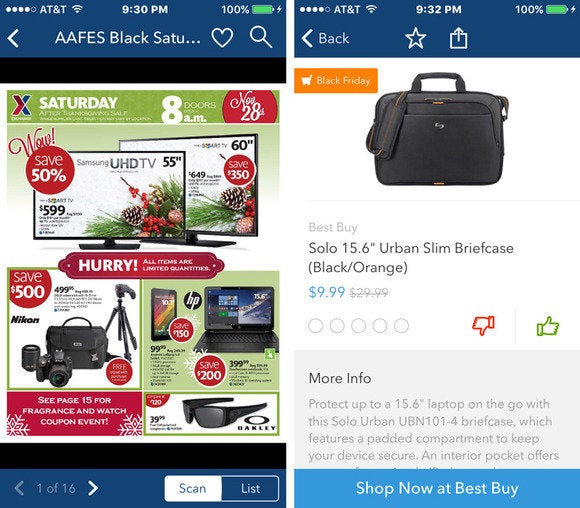 Use the app to browse more than 100 store ads, rate and comment on items, get alerts for new ad scans and leaked scans, save your favorite deals to wish lists, and share with family and friends. Log in with your user account to sync your shopping list, view it offline, and get push notifications—you have to sign up to see specific ad scans beyond the "featured" selections. Community message boards help you find sales and product information, links to coupons and Black Friday rebates.
Anyone can have fun blowing their paycheck on Black Friday, but with these apps, you also get a strategy to help make the most of the day—and weeks to come—this holiday season.