For about a decade, On1's photo editing tools have been marketed and used primarily as plug-ins for Adobe Lightroom, Apple Aperture, or Adobe Photoshop. Each tool was an independent, one-trick pony and appropriately named: Perfect Black and White, for example, or Perfect Portrait. A couple of versions back, On1 began rolling these mini-apps into a Perfect Photo Suite that allowed users to access all the tools from a central dashboard independent of Lightroom or Aperture. The latest version—renamed On1 Photo 10—takes this plan to the next level. Photo 10 is no longer a suite in name or design: It's now a pretty well integrated app.
Yes, you can still use it as an adjunct for Lightroom or Photoshop; if you do, you will welcome Photo 10's improved speed and cooperation among the modules. But for at least some photographers willing to "think different," the big news with this release is that On1 Photo 10 is ready to stand on its own as an alternative to both Lightroom and Photoshop.
New name, new look
The elements of the former suite have been rearranged in Photo 10 for a cleaner, more efficient workflow. Perfect Black & White has been rolled into the Enhance module. The features that used to be found in Perfect Resize have been reassigned: resizing is now in a vastly improved export pane, and cropping is now found in the editing modules. And the various modules are no longer accessed via titles at the top of the window, but instead, via buttons in a bumper on the right side of the screen.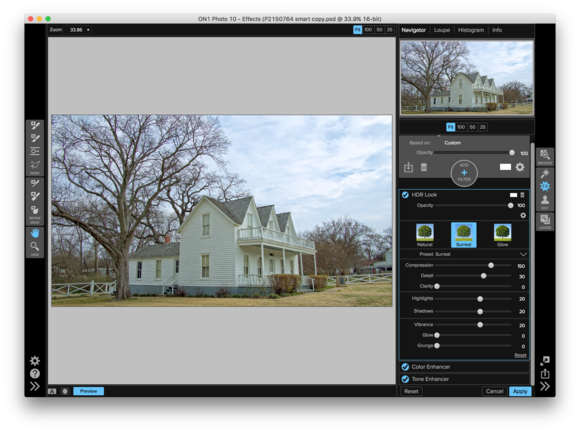 At the heart of Photo 10 are three editing modules—Enhance, Effects, and Portrait—and a kind of sub-editing fourth module for creating and managing layers.
Like Lightroom or OS X Photos, On1 Photo 10's Enhance module can read raw files and perform basic adjustments, corrections, and enhancements to aspects of the image such as exposure, contrast, color, noise and sharpness, and spot removal.
While Photo 10's Enhance module is deliberately straightforward, its Effects module is rich in possibilities. You'll get a quick start on your images by selecting a preset from the drawer on the left, which is organized by different types of shooting (e.g., Architecture, Weddings, Landscapes, Sports) and different styles (e.g., Black and White, Cinematic, Hipster, Urban). But Photo 10 isn't just a library of Instagram-style canned looks that you can slap on your images. You can edit all the presets and/or build your own sophisticated renderings by selecting and stacking the filters that are the components of presets (e.g., Antique, Blur, Black & White, Dynamic Contrast, Sunshine, etc.); and every filter can be masked and/or blended as you like.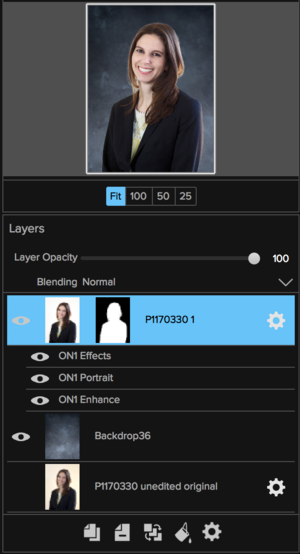 The third editing module, Portrait, provides specialized tools for editing the elements of a face discretely. For example, you can enhance detail in eyes without exacerbating wrinkles, or you can soften skin and remove blemishes without needing to make a careful mask that excludes eyes and mouth. It's a useful module, as far as it goes. For more aggressive edits like adding makeup, relighting or reshaping faces, you'll need Photoshop or a dedicated app like Anthropics' PortraitPro.
Finally, there's that special fourth module: Layers. This is where Photo 10 goes beyond Lightroom and invites comparison to Photoshop. Even within a single layer you can get layer-like effects by stacking filters and by using masks and blending. The layers module has many uses, including compositing.
Edits made to raw files by On1 Photo 10 are always saved from the start in a separate file (JPEG, TIFF, or PSD). By comparison, many other apps, including Lightroom, save edits internally. The latter approach creates fewer files in your project folders; but it also means that Lightroom pretty much owns your edited files until you export them. If you work entirely in Adobe's ecosystem and plan on doing so in the future, this works fine. But I have always worked in a variety of editors and I don't really trust any of them (remember Aperture?). For me, keeping my edited files independent of any one app is a big plus.
Most of my editing in Photo 10 is done in PSD files, which support layers. Photo 10 has an optional "smart" PSD file format that makes it possible to reopen a file later in Photo 10 and make revisions.
Workflow complete
In addition to making things more efficient in the middle of your workflow—that is, where you do your editing—Photo 10 also provides improvements at the beginning and the end of the processing chain, so that Photo 10 can now handle a raw workflow from start to finish.
At the start, Photo 10 eliminates the need to import files. Since it doesn't store your edits in a proprietary database, you copy images from your camera to your computer's storage any way you like, then just click on a folder of images in Photo 10's Browse module. The Browse module in Photo 10 renders images quickly on my new mid-level MacBook Pro, and I can quickly rate, keyword, label, and/or caption a large folder of images. Basic finds on these user-entered types of metadata are easy. Other finds—say, by camera, focal length, or file type—can be done using the new Smart Albums feature.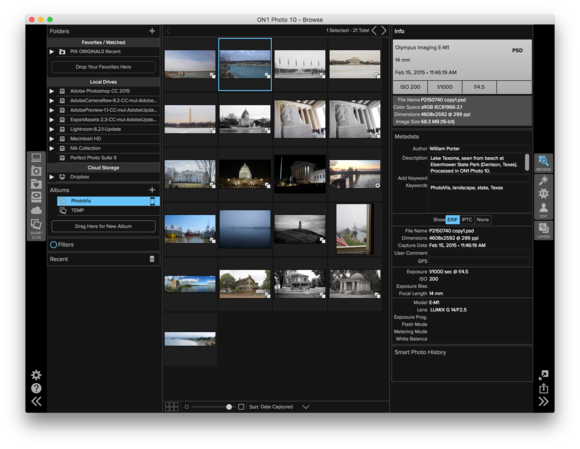 At the end of your workflow, Photo 10 can export to multiple file formats, resize files (making them bigger as well as smaller), add a watermark, even add effects from editing presets (say, batching converting images to black and white). The new sharing feature hooks into OS X to upload images to Flickr or Facebook, send to Photos or Messages, or share via AirDrop. And I'm especially fond of On1's PhotoVia feature, which syncs selected images with my iPhone and iPad via Dropbox or iCloud. Setting up PhotoVia took me about a minute and before long I had a selection of recent favorites on my iOS devices. I tried to achieve the same result with Adobe Creative Cloud and Lightroom Mobile but gave up after half an hour.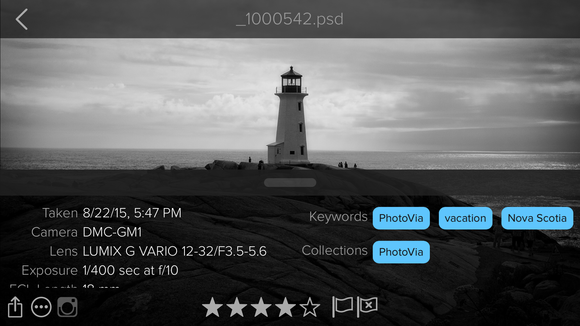 What's not to like?
On1 Photo 10 doesn't do everything. No pano stitching. No tools for advanced lens corrections or perspectival correction. No support for movie files.
And Photo 10 needs some polishing. Occasionally, it misbehaved in ways that suggest there are still bugs to be squashed. Also annoying are rough edges in the user interface and user experience. For example, there's no way to view an image full screen. When I close a file in the Layers module, I expect to return to Browse, but I don't; and while there are keyboard shortcuts for nearly everything else, astonishingly there is as yet no keyboard shortcut for switching to Browse. Photo 10's unique smart photo PSD files are clever and useful but can't be cropped. I've been told by the folks at On1 that some of these foibles will be fixed in coming updates.
Bottom line
No other single app in active development for Mac OS X provides the range of features found in On1 Photo 10: competent file management tools, outstanding editing tools including support for compositing in layers; and support for just about every export and sharing option you can think of, including, in On1's PhotoVia, a drop-dead easy way to get your masterpieces over to your iPhone or iPad.
With so much to offer—and with so much competition—On1 Photo 10 will appeal to different photographers for different reasons. Even if you're a Photoshop virtuoso, you may be interested in On1 Photo 10 for the creative presets in the Effects module. If you are already happy with another app as your primary photo management and processing tool (say, Lightroom, or even OS X Photos), you should check out Photo 10's easy implementation of layers. But remember, On1 Photo 10 is now a complete raw workflow app that can stand on its own. Bummed that Apple killed off Aperture? Not enthusiastic about Adobe's new subscription plan for its apps? Feel that Lightroom isn't enough, but Photoshop is too much? Then you should give Photo 10 a serious look. On1 provides a 60-day free trial, so you have plenty of time to try before you buy.