This is part 2 in a multi-part series on setting up Profile Manager to manage your Mac OS, iOS, and Apple TV devices. For an introduction to the series, have a look at last week's article, A primer in Profile Manger.
To begin our work with Profile Manager, we're going to start with a fresh install of El Capitan and a fresh install of the Server app.
A note of caution
You may already have El Capitan and Server installed on a Mac somewhere, but it's never a good idea to play with server configurations on computers in a production environment, so we're going to spend a little time here setting up El Capitan and Server on an external drive. Once you've practiced using Profile Manager in a test environment, you can take what you've learned here and introduce it to your production environment.
If you choose to throw caution to the wind and start performing these exercises on your production server, make a backup and set it aside. That way you can easily restore your server to its original state if something goes wrong.
You have several simple and inexpensive backup solutions at your disposal: Time Machine, Apple's excellent backup system that's built right into your Mac. SuperDuper, Shirt Pocket Software's disk duplication utility. And Bombich Software's equally excellent Carbon Copy Cloner. All three of these solutions create bootable backups you can use to restore a complete copy of your current server if you happen to make an irrecoverable mistake.
So, if you're not going to follow the following steps to install a fresh copy of El Capitan and Server on an external drive, BACK UP YOUR COMPUTER!!!
Believe me, it's your only hope.
Install a fresh copy of El Capitan to an external drive
Before you begin a fresh installation of El Capitan you'll want to make sure you have the installer downloaded (or at least downloading) from the App Store before we start the setting everything up.
Open the App Store app
Type El Capitan in the search field
Click Get if you've never downloaded the El Capitan installer or Download if you've downloaded it before.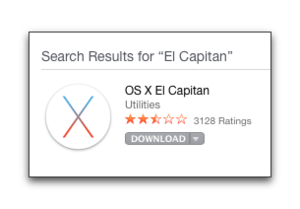 This will kick off the download process and will give us time to prepare a disk for installing the operating system.
Prepare a disk for installation
If you're using and external disk to install a fresh copy of El Capitan and Server, you'll first want to make sure the disk is formatted for use with El Capitan.
Plug the disk into your Mac.
Open the Disk Utility app. You'll find it in the Utilities folder in your Applications folder.
El Capitan has a new version of Disk Utility that looks and works differently than did previous versions of the app.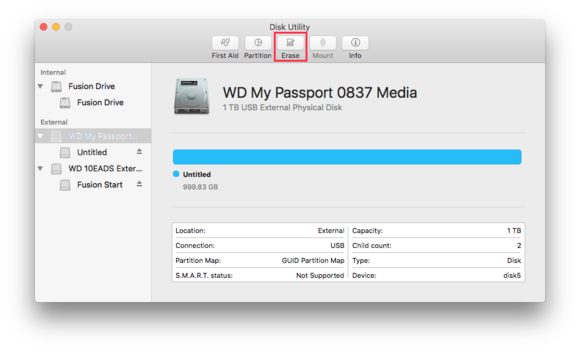 Locate and select the external volume you just plugged into your Mac.
Click the Erase button at the top-center of Disk Utility.
Name your new volume.
Select OS X Extended (Journaled) as the Format.
Select GUID Partition Map as the scheme and click the Erase button.
Install El Capitan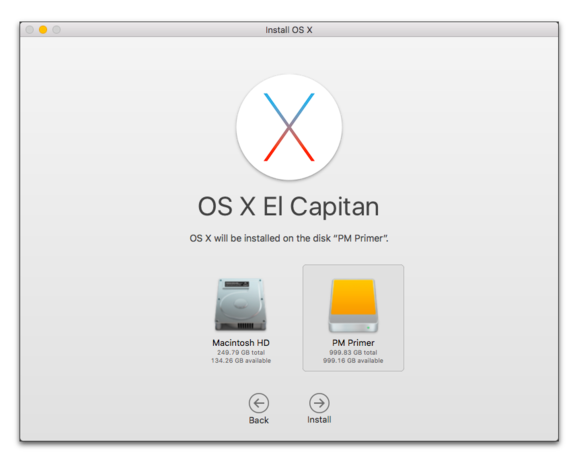 Locate and double click the El Capitan installer in your Applications folder.
Click Continue and agree to the license terms.
Click the button that says Show All Disks.
Select the volume you just created for this primer and click install.
Type the Administrator name and password for your computer and press the return key.
Wait for El Capitan to finish installing on your external drive.
Once El Capitan finishes the installation, follow the steps for setting up your fresh installation of the OS.
Install the Server app
If you haven't already purchased Server you'll need to purchase and download a copy from the App Store. If you've purchased the app previously you'll need to click the Purchased tab, locate and download the app.
When the Server app has downloaded, drag the app to the Dock and open it. Once the Server app opens: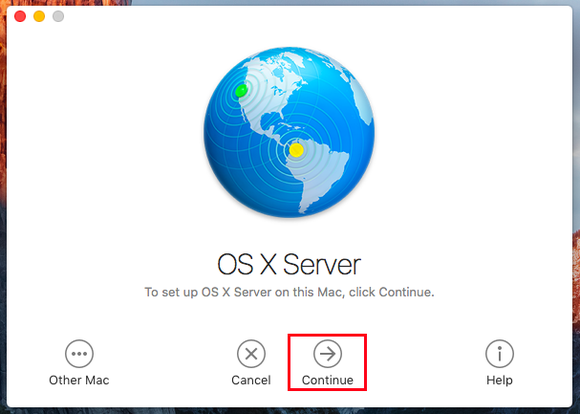 Click the Continue button.
Agree to the license terms, you can leave the check in the box that says, "Use Apple services to determine this server's Internet reachability".
Authenticate as an Administrator and click the allow button.
Server will begin setting up services. Once the setup is complete the Server app's window will open and an OS X Server Tutorials window will open as well. Feel free to have a look around the Server tutorials, especially the section titled Manage devices. This will be perfect preparation for the next Primer episode.