One common complaint about iTunes is that it does things that you don't want it to do. For example, when you view music by artist, iTunes applies album artwork to the Artists list, but you don't get to choose which album gets picked. I discuss how to resolve this. I also look at how you can fast-forward and rewind a track in iTunes, and I examine a question about re-ripping music from CDs that were ripped a long time ago.
Changing Artist Images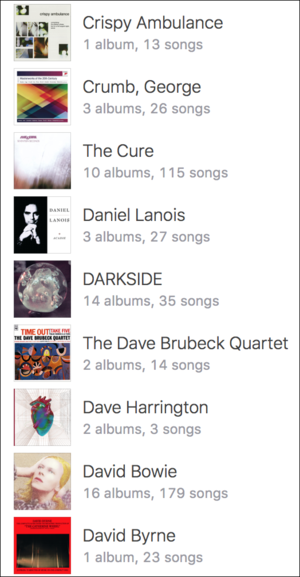 Q: iTunes choses an album cover to illustrate each artist entry in Artists view. This is often not the artwork I would prefer. How can I change these images?
When you examine the music by an artist, and look at the artwork that iTunes chooses, it's not always clear why the app selects a specific album to illustrate that artist.
If the artist has just one album, then that album is used. If the artist has more than one album, many of my artists in my library are illustrated by the first album in the list. But many others are not.
What I can suggest is that you decide which album you want to illustrate an artist, and remove any albums that appear higher up in the list when you view that artist's music. iTunes will—at least for a while—apply the first album in the list to illustrate that artist. However, I have seen these change back sometimes.
To make this change, create a folder anywhere, select the songs you want to remove, and then drag them to the folder. Select the songs in iTunes, and press Delete. Tell iTunes that you want to delete the files. Wait for iTunes to change the artwork, then re-add the music by dragging the files from the folder you created earlier.
Note that when you remove files from your iTunes library and re-add them, you lose any ratings, play counts, and last played dates. And they'll also be removed from any playlists you've created. So, do you really want to go to all that trouble? If only iTunes allowed you to choose the artwork you want…
Scrubbing
Q: I am a music teacher and use iTunes to play recordings for my chorus rehearsals. I used to be able to fast forward or rewind within a song but can't figure out how to do that with the latest version of iTunes.

Just click and hold the previous or next button in iTunes' toolbar.
You can also click anywhere in the scrubber bar to jump to a different location; the playhead (the thick, black vertical line) indicates the current position in a track.

And you can click and drag the playhead to scrub to any location as well. Note that this works for all types of content in iTunes: music, videos, audiobooks, etc.
Re-ripping
Q: I'd like to re-import some songs using AAC at 256 kbps, or even Apple Lossless in some cases. Most of the CDs in my library were imported years ago, and were encoded with iTunes 4.2.1 (or earlier). What's the best way to do this without ending up with a long list of duplicates or importing songs that were not originally imported?
There are two questions here. Let's start by discussing re-importing songs in a different format. I have been doing the same thing myself in the past year or two. Back in the day, I imported music in AAC at 160 kbps. It was a good compromise between size and quality. I prefer ripping CDs now at 256 kbps, and I've gone back and reimported some of my discs at that bit rate. I also wonder if the codec has been improved, so re-ripping CDs that were ripped ten years ago or more might result in better sound.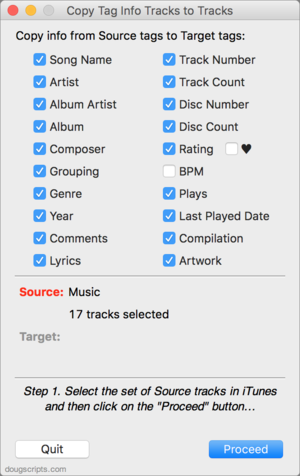 I've also been ripping some CDs in Apple Lossless format. While I can't hear a difference between 256 kbps and lossless, having files in a lossless format makes them future-proof. You can always convert them to another format without having to rip CDs again. It's much quicker.
If you re-rip a CD and all the tags match, then iTunes will ask you if you want to replace the existing files. I find that this happens with about half my CDs. When iTunes replaces files in this way, it keeps any metadata such as ratings, play counts, etc.
Sometimes, a tiny change—such as the way a title is capitalized—will prevent the files from matching. So what I do is rip the files to an empty playlist, find the original files, and then use Doug Adams' Copy Tag Info Tracks to Tracks AppleScript to copy all the tags from the existing files to the new ones. After that, I delete the older files.
As for your second question, it's up to you to check which tracks you've imported or not. iTunes will happily import the entire CD, or just those tracks you've checked when viewing the CD.
It's a big job to reimport CDs, especially if you have a large collection. As such, I would recommend ripping them all in Apple Lossless format, so if you ever want to change your mind, you can do so easily.
Have questions of your own for the iTunes Guy? Send them along for his consideration.