I can remember the exact moment I stopped missing my iPhone.
Three days earlier, I had embarked on a brave new journey with the Nexus 6P, a month-long break from my long-term relationship with the iPhone. I wasn't completely illiterate to Android—over the years I've tried a few Galaxies and a Moto or two, and even bought an original Nexus 7—but extended daily use was a bit of a shock to my system.
But it took less than 72 hours to wipe away eight years of memories. Part of it was the allure of the younger Nexus 6P, but it wasn't just a newness thing; for a fleeting moment it was as if iOS and Siri didn't exist. My once-beloved iPhone 6 sat on my nightstand, slowly draining its charge, with a persistent "No SIM card installed" message as if begging for my attention.
I would eventually return to my true love, but my time with Android turned out to be more than a passing fling. There were things about it that were better and more exciting, but it also made me appreciate aspects of my iPhone that I took for granted.
But in that one moment, the Nexus 6P was my world. And I was infatuated.
Merit badge
I'm not going to sugar-coat it: The first couple days with Android were a clunky, fumbling affair filled with gestures that did nothing, taps that led me astray and a general sense of confusion that left me staring at my screen for long stretches of time. Some of it was a lack of intuition, but mostly it was my iPhone muscle memory taking over. Much like the computational distinctions between OS X and Windows, Android and iOS are fundamentally different in how they are controlled, and while there is definite feature overlap, executing simple tasks requires a serious shift in logic.
In fact, just getting to an appropriate level of comfort required manipulating my phone in ways Apple would never allow. Despite purchasing a "pure" Android phone for my experiment, I was struggling with the out-of-the-box experience. In short, I wanted badges.
I hadn't realized just how dependent I am on them. On my iPhone I generally remove badges in favor of discrete banner notifications, but with the holy trinity of communication apps—Phone, Messages and Mail—I find them absolutely essential. Case in point: Just a few hours into my Android vacation I missed an urgent text because I was on the phone when it arrived.
So in a fit of exasperation I downloaded a launcher. I was hoping to keep Marshmallow as pristine as possible, but the allure of Nova Launcher (with a little help from TeslaUnread) was too great. A few toggles and taps later and I had restored the little missed, waiting, and unread markers on the apps that needed them.
I've always known Android's biggest advantage over iOS was customization, but using it to solve a problem like this was pure joy. With my iPhone, I've always had to grin and bear any issues and shortcomings I may have. There's always jailbreaking, of course, but that exposes my phone in scary ways and detracts from the overall iOS experience with frequent crashes and bugs. Android let me solve a problem just by spending a few bucks in the Play Store.
New world ordered
Once I had badges in place, I could focus on properly setting up my home screen. Android lends itself to a much different layout, and it's here where I became smitten. I have a lot of apps on my iPhone—863 to be exact. I'm something of a digital hoarder, my iPhone divided into a meticulous system of home screens and folders containing hundreds of apps I rarely use but still need to see, something I've always wished wasn't necessary.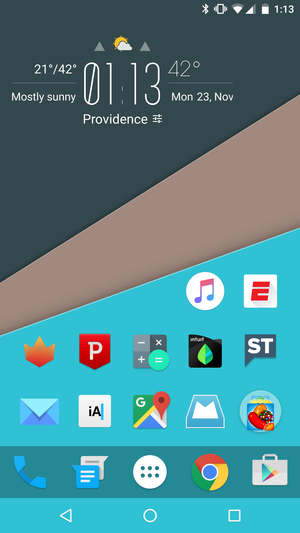 This is where Android truly begins to set itself apart. With every upcoming iOS update I've hoped in vain that Apple allows us to delete the stock apps we don't want, but Android's drawer is such a perfect solution I'm kind of amazed Apple hasn't yet appropriated it under its Mission Control trademark. It's the best of both words: If you enjoy looking at pages of app icons, you can easily set up iOS-style homepages, but your apps can also stay tucked out of view, making Android feel more like a desktop operating system than a mobile one. iOS feels antiquated and downright amateurish by comparison, and I'm never going to look at my iPhone's home screen the same.
I happily tinkered with the layout of my home screen for a few days before settling on a layout that I've stuck with for the rest of my time with the Nexus 6P. I don't feel the need to rotate my apps like I do on my iPhone; my home screen consists of just one home screen with 16 apps, all of which I regularly use. At the top is a solitary weather widget that updates as I travel and provides me with the at-a-glance forecast and conditions I've always craved on my iPhone.
Widget factory
When I started this experiment, I was most interested in widgets. Even more than the app drawer, widgets represent the starkest difference between the iOS and Android home screens, adding a level of personalization that's not possible on my iPhone. I've always been attracted to apps like Morning and Status Board that let me get relevant bits of information, and on my Nexus 7, I immediately cluttered the screen with various time-saving data widgets.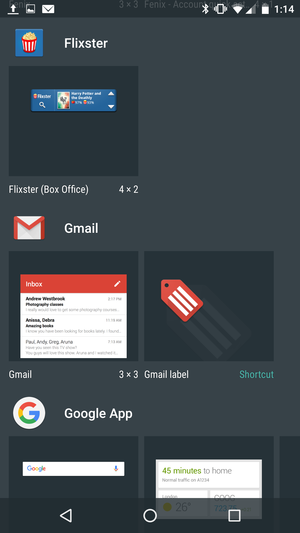 But the experience wasn't quite so blissful on my phone. The widgets I loved on my tablet didn't quite translate to the smaller screen, and very few of the dozens I installed (and ultimately removed) were things that I wanted to see every time I unlocked my phone. Putting them on different pages helped, but I was surprised to find that I actually preferred Apple's method of hiding them in the Notification Center.
Android's widgets may be visually superior to iOS's (some of them, anyway), but keeping them out of view is smarter. When I want to see stocks or sports scores I know where to find them, but they don't need to be in my face every minute. Android's widgets are more robust, and maybe iOS has an opportunity to use 3D Touch here to leap-frog Android's static home screen elements.
Notification anxiety
But if widgets were a downer, notifications were a downright disappointment. I've always had complaints about Apple's notifications, but I do appreciate how they stay hidden from sight. Android notifications are very much central to the experience, and if it wasn't for writing this piece, I would have turned them all off in a huff.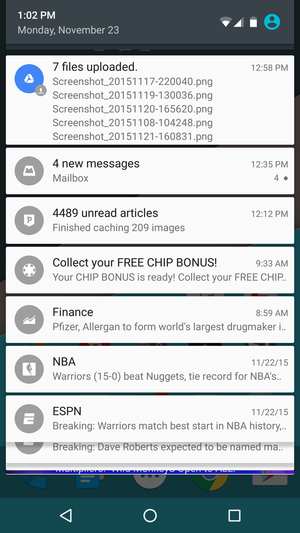 Apparently, assigning simple unread makers to apps would be too convenient. Android demands action—it wants you to continually check a series of tiny status bar icons to see your alerts and reminders, a method that couldn't possibly be less intuitive. Old icons stick around until physically acted on, so it's quite difficult to discern which are new. And unless they're directly acted upon, banners stay on the lock screen too, even after repeated unlocking.
The notification center itself is accessed using a familiar pull-down gesture, and I found myself using it far more often than Apple's. It wasn't out of enjoyment—after just a few hours, my status bar got so crowded I angrily swiped down to get to the Clear All button. It's a strange system that definitely succeeded in getting me to pay attention to notifications, but it's kind of like when a child puts away their toys out of fear of being grounded. Notifications needn't be stressful or overwhelming, and with Android they were constantly on my mind.
Apps and downs
We hear a lot about Apple's dominance when it comes to apps, but truth be told, the Google Play store is just as well-stocked as the App Store. But while the icons may have been the same, the experiences most certainly were not. I had no complaints with any of the games I played (it was refreshing not to deal with the status bar for a while), but many of my favorite apps—MLB At Bat, Todoist, Mailbox—didn't quite measure up to the standard set by iOS. It's not that they were bad; they just weren't quite as good.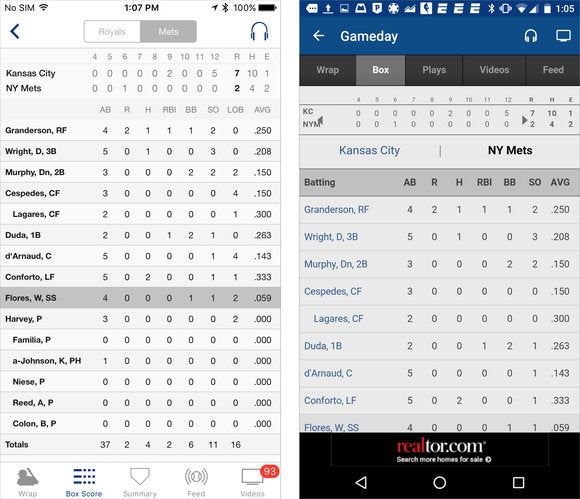 For example, I wrote most of this article in iA Writer. While much of the experience was familiar, there were little annoyances with the Android version, things like the menu bar sporadically sticking around while I typed and wonky swipe gestures. But more glaring was the comparative lack of options: no find-and-replace, no specific settings for Focus Mode, and no word count, just to name a few.
Aside from a bit more crashing than I was used to, many of my app gripes were relatively small issues that could be corrected in future updates, but it just seemed that developers didn't put as much attention into their Android apps as they did the iOS ones. Even At Bat, which has always been one of the best sports apps on iOS, felt like an inferior copy. Interestingly, the best cross-platform experience I had was with Apple Music, which landed midway through my experiment. The interface struck a nice balance between iOS and Android, and aside from a few playback bugs, I was able to download and listen to my entire iTunes library without a hitch.
Reality check
Ultimately it was a collection of little things that brought me back down to earth. Android offers a bevy of excellent features that iOS doesn't—and frankly, probably never will—but it's a matter of what I'm willing to trade off. Android's customization is refreshing, but what iOS lacks in tinkering it makes up for in usability. Every feature Apple implements is seriously considered for the effect it has on the user, an attention I didn't feel with Android.

Neither experience is perfect, and I'd be lying if I said I wasn't going to miss my Nexus 6P at least a little once I swapped my SIM back in my iPhone. But for a long-term relationship, Android just didn't do it for me. It might have been touch-and-go for a while there, but once my crush wore off I was able to see just how dependable and reliable iOS is. And that's better than a pretty face any day.