Quick show of hands: How many of you have gotten stuck in a multi-person iMessage session that caused your phone to go "buzz" every five seconds?
Yep. We've all been there. In the old days, in order to escape the constant buzzing, you had to turn on iOS's system-wide Do Not Disturb feature or switch off all notifications for the Messages app. In iOS 8 and later, however, you can easily leave a noisy group chat with just a few taps. Here's how.
First, pop open the Messages app and navigate to the troublesome chat. Tap Details, scroll down, then tap Leave this Conversation. Just like that, you'll be removed from the chat and be able to regain some peace and quiet.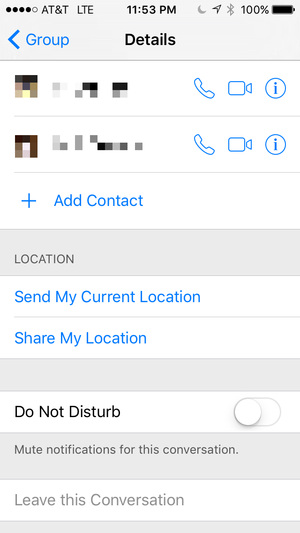 But there is a catch. According to iPhoneFAQ, you can only leave iMessage group chats with four or more participants–if you're in a group chat with only two other people, the option to leave the chat will be grayed out. It isn't exactly clear why this limitation exists, but three-person chats are less likely to be overwhelmingly chatty to begin with, so it isn't the end of the world.
Silence a group chat without leaving it
If you can't (or don't want to) leave a text chat and don't want to deal with constant dings, iOS's Do Not Disturb feature might be your best friend.
It's easy enough to use, provided you're running iOS 8 or later. Open Messages and navigate to the chat in question, like before. Tap Details, then slide the Do Not Disturb toggle to the "On" position. When Do Not Disturb is turned on for a particular chat, notifications for that chat will still appear on the lock screen, but your phone won't constantly buzz while it's in your pocket.
By default, Do Not Disturb will still allow notifications through when your phone is awake. To change this and mute all notifications while Do Not Distrub is on, go to Settings > Do Not Disturb, and scroll down to the Silence section, then tap Always.
Now go and enjoy your newfound silence.