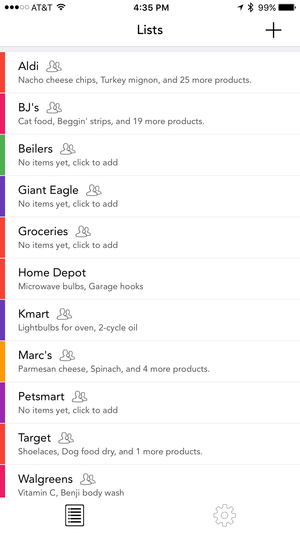 Grocery shopping for an entire family can be a daunting task, with requests for favorite items spread across handwritten notes on the refrigerator, text messages, and easily-forgotten verbal reminders. Now there's an app that helps everyone get on the same page—or at least on the same list.
Get organized
Grocery Shopping List by Capitan is a free iPhone app for creating shared checklists prior to heading to the supermarket. Added items are sorted into everyday categories like Dairy, Meat, or Vegetables to reduce the amount of time spent at the store. Once an item is in your cart, it can be crossed off the list with a tap, then reactivated with a second tap when preparing for the next trip.
Capitan's extremely plain user interface does a decent job of automatically sorting and color-coding new items as they're entered. Anything it doesn't already know (dog biscuits, for example) is remembered for the future, and can be manually categorized with a swipe left across the item. The same shortcut is also used to delete items or add notes, which come in handy for specifying a certain size, brand, or quantity on otherwise generic listings like cereal or batteries.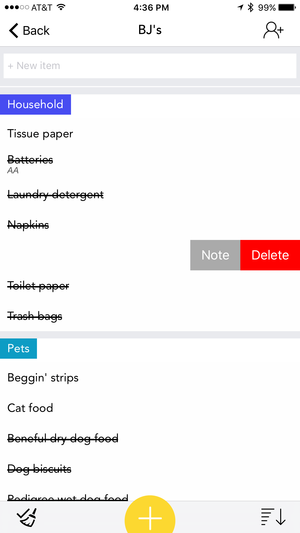 Users can set up unlimited lists, with no restrictions on the number of items inside each. A shortcut can be used to clear checked products in bulk, and categories can be manually sorted in any order you'd like. Capitan also works on Apple Watch, which is really the bee's knees for checking off items at the store without having to remove the iPhone from a pocket or purse.
Supermarket share
Capitan goes beyond basic list management thanks to its ability to collaborate with individual users or entire groups. As new items are added to these shared lists, members are alerted via push notification, perfect for last-minute requests in the middle of a shopping trip. To do this, access to contacts and Facebook are required; the latter is used to sync data to other devices, which is somewhat unnecessary considering the lack of native iPad support.
The app also touts geolocation-based reminders to give everyone a heads-up when you're at a store, but this feature didn't work at all in my real-world tests. A better approach would be tagging lists with the location of frequently-visited retail stores, which would also offer more granular control over such alerts.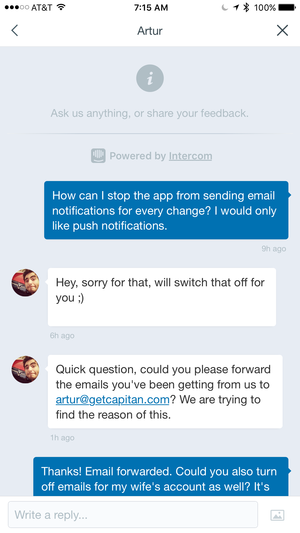 It's worth noting Capitan is geared toward supermarkets, so if you shop at department stores or warehouse clubs with well-stocked grocery sections (i.e., Target or Walmart), this won't be an all-in-one solution; adding the ability to create custom categories would certainly help here. The app also offers built-in chat support, and the developers were quick to respond when I couldn't log out, switch accounts, or stop an initial flood of email received when adding new items to a list; more robust account management settings are in the works to address these issues.
Bottom line
Grocery Shopping List by Capitan is on the right track, but requires further user interface, account management, and geolocation refinements before it's reliable enough to be used by the entire family.