Patrick Atis securely wiped his drive, and then wanted to reinstall Yosemite, the installer for which he has on an external hard drive. However, after he booted into OS X Recovery (holding down Command-R at startup), he was only offered the option to download OS X through the App Store, and Yosemite wasn't an option. What path could he take forward?
Recovery will reinstall the same version of OS X that was on your Mac, even though it's been erased. Patrick should therefore be prompted to install Yosemite. That didn't happen in his case. With an erased 2009 MacBook Pro, as Patrick has, he can't use Internet Recovery, which will reinstall the original operating system that came with the Mac. If that had worked, you could install that older OS, then copy the Yosemite installer, and use it to upgrade, although an intermediate OS X installation might even be required.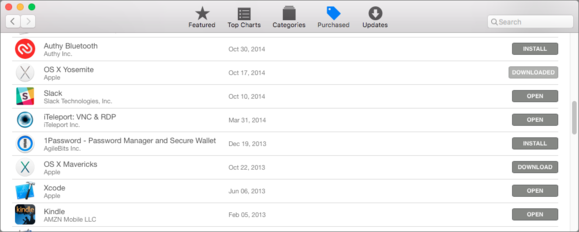 Since this isn't working for Patrick, the better course is to create on another Mac a bootable Yosemite installer following Dan Frakes' instructions. Patrick has the Yosemite installer, but if you need an older installer, you can launch App Store on a Mac and then use the Purchased tab to scroll down and find older releases—they don't show up by searching.
Ask Mac 911
We're always looking for problems to solve! Email yours to mac911@macworld.com including screen captures as appropriate. Mac 911 cannot reply to email with troubleshooting advice nor can we publish answers to every question.