I've been using the iPad Pro for the last three weeks, and all in all, I like it. Possibly enough to buy to replace my iPad Air 2, even.
But just because I've enjoyed the past three weeks doesn't mean I haven't thought of any number of potential improvements I'd like to see to the iPad Pro experience, whether it's from accessory companies, third-party app developers, or Apple itself.
More case and keyboard options
Every time a new Apple product with a new shape or size arrives on the scene, there's an understandable lag before the non-Apple accessories begin to show up. (In fact, the lag is such a big deal for accessory makers that many of the leaks surrounding forthcoming Apple products come from accessory makers, who have used their leverage and possibly their cash to get an advance look at the next generation of Apple stuff, so their products can reach the market faster than the competition. And Apple benefits itself by being the first company to offer accessories custom designed for its products, on day one.)
With the iPad Pro, there was a single accessory that didn't come from Apple: Logitech's Create keyboard, which uses the Smart Connector port and provides a more traditional laptop keyboard experience than Apple's own Smart Keyboard.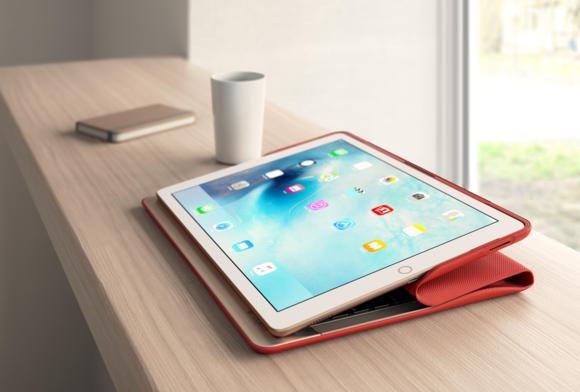 That's fine, but neither the Create nor the Smart Keyboard really do it for me. The Create is more of a case, requiring you to attach it to the iPad–a commitment I'm usually loath to make, because I constantly switch back and forth between using the iPad Pro with a keyboard and using it as a free-floating tablet. And the Smart Keyboard doesn't really work for me because it's too bulky to be a cover and doesn't offer the key travel (or additional row of keys) that traditional keyboards do.
So what I'd really like is an accessory that can prop up the iPad Pro while also being a carrying case and stand for a wireless keyboard–but that lets me just lift the iPad out when I want to walk away with it. Yes, I'm conjuring my beloved, discontinued InCase Origami Workstation, which worked with Apple's (now-discontinued) Wireless Keyboard to provide a keyboard traveling case that unfolded into a stand for the iPad. The InCase Origami actually works pretty well with the iPad Pro, but presumably a modern variation would work with a modern Bluetooth keyboard.
Then again, I can use Apple's own iPad Pro Smart Cover to place the iPad Pro into a stand-up orientation and then drop any Bluetooth keyboard down in front of it. But a stand that gave the iPad a little more height would be nice. (Maybe something that integrates with Apple's fancy new Magic Keyboard?)
Also, I have to say: Can we have more than two color options for the iPad Pro Smart Cover, Apple? I like my iPad covers colorful, and gray and white just don't thrill me.
Keyboard and multitasking improvements
For a device sold with an external keyboard accessory, the iPad Pro doesn't do as good a job with external keyboards as it should. As I've detailed before, iOS 9.1 has quite a few bugs when it comes to external keyboards. Obviously these bugs need to be fixed, and Apple should make an effort to add more keyboard features to iOS as quickly as possible.
The more I can navigate my iPad Pro with a keyboard, the more productive I can be. The more often I have to take my hand off the keyboard to tap on something on the screen, the more likely my concentration will break and I'll slow down. Right now there are still too many times when there's no alternative but tapping on the screen.
Apple's done a great job in introducing new multitasking features with iOS 9, notably Slide Over and Split View, and these features are best on iPad Pro. But as I've written about elsewhere, there's still a lot more to be done. The long scrolling app list in the Slide Over sidebar needs a redesign, and I'd like to be able to pair apps together so that they open in Split View together. (That would also enable me to launch a pair of apps together from the keyboard, which would be even better.)
Another multitasking feature of iOS 9 is Picture in Picture, which lets you play video in a little window while you're using other apps. It's not quite what I'd call a productivity feature, but I actually know a lot of people who have video running while they work. Just the other day I wanted to call up a news channel while I was writing an article, but a surprising number of video apps haven't been updated to support Picture in Picture. HBO Now and Hulu are there, but YouTube, Netflix, Xfinity, and NBC Sports Extra aren't. The iPad Pro is big enough that Picture in Picture is a fantastic feature. I'd like to be able to use it and still use other apps.
Better app support for the iPad Pro
The iPad Pro is a new screen resolution for iOS—the iPad mini and iPad Air are different physical sizes, but have the same number of pixels. So apps that haven't been updated to support the new screen size use a scaled-up view of their iPad Air/mini layout. It's very much the same effect as running iPhone 5 apps on the iPhone 6: everything's a bit blurry and the keyboard's the wrong size.
There are still way too many apps that haven't been updated for the iPad Pro, and it's frustrating. It's fun to read comic books on the huge iPad Pro screen, but the major comic apps haven't been updated for the new size, so they're just displaying the comics with a scaled-up version of the iPad Air's resolution. And typing on that huge scaled-up software keyboard is ridiculous.
While third-party app developers are updating their apps for the iPad Pro's screen, they'd do well to add more support for keyboard shortcuts. Among the improvements of iOS 9 is better support for external keyboards, including the ability to display a list of shortcuts when you hold down the Command key. But a surprising number of apps have no support for keyboard shortcuts, and among those that do, there are often major gaps. If this keyboard-and-iPad thing is going to work, the keyboard support needs to be better, from not just Apple, but app developers too.
I've also noticed that a bunch of apps, including those of the note-taking variety, don't seem to work well with the Apple Pencil. They work, more or less, but they're far more laggy than Apple's own Notes app. The Notes app is spectacularly good with the Apple Pencil, so if you're a note-taking app with stylus support that hasn't updated to make your Apple Pencil support top notch, you are in serious danger of becoming irrelevant.