Free-to-play games often look appealing, but it's difficult to know at a glance whether the business model is insidious and fun ruining, or reasonable and worth pumping a few bucks into. With Freemium Field Test, we'll take a recent free-to-play iOS game, put it through its paces, and let you know if it's really worth your time (and money).
After a string of successful premium iOS entries, EA's long-running arcade racing franchise has finally gone free-to-play with Need for Speed: No Limits. And if you know anything about freemium games, you have to admit that the title is either brazen or misleading—probably both, actually.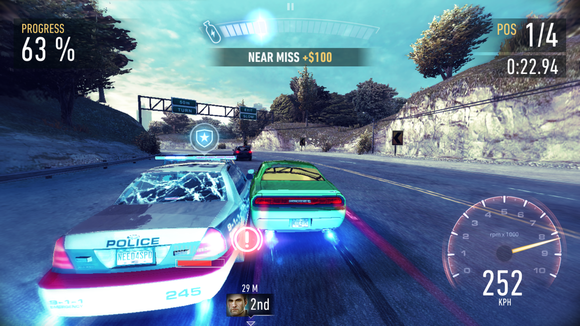 Of course it has limitations, but it's also a pretty well-made mobile racer from the studio (Firemonkeys) behind one of the App Store's best free racers, Real Racing 3. Need for Speed: No Limits has its own unique feel from that sim-centric entry, and doesn't necessarily provided as much enjoyment from the driving itself. But if you dug the street racing culture of Fast & Furious: Legacy and just wanted to actually get behind the wheel of those hot rides, Need for Speed might fill that void.
The pitch
It's right there in the franchise title: Need for Speed: No Limits puts fast, frantic racing action above realism as you outrun rivals, bash through police roadblocks, and boost for hilariously long stretches through closed-off city streets. And it looks pretty fantastic doing so, with glossy cars and plenty of presentational polish.
No Limits is based in underground street culture, with your character attempting to rise through the ranks by winning races, earning cash and cred, and constantly upgrading your rides to qualify for more challenging events. Much of the action comes within the light story mode, wherein you'll take on a series of races and other driving events with a bit of dialogue stringing them together.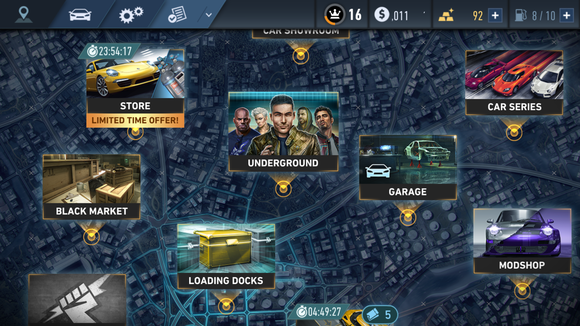 Unlike the console and PC games in the series, No Limits keeps its races amazingly short—like 20 to 45 seconds apiece in most cases, with the longest I played barely over a minute in length. That makes sense for a mobile game, especially one with a depleting energy meter (more on that shortly), but that approach limits the satisfaction of the actual racing. With only seconds behind the wheel before you're back at a menu, there's not a lot of depth or strategy to the action. And the touch controls feel a little stiff, but I still preferred it to slippery tilt steering.
Luckily, the game keeps things lively with a healthy mix of event types. Often, you'll race against a trio of computer-controlled cars—with the usernames and faces of other online players attached, like in Real Racing 3—or try to beat another racer while a cop car tries to slow you both down. Elsewhere, you might need to beat a timer en route to the finish line while building your boost meter by vaulting off of ramps or zipping across glowing blue boost pads on the ground.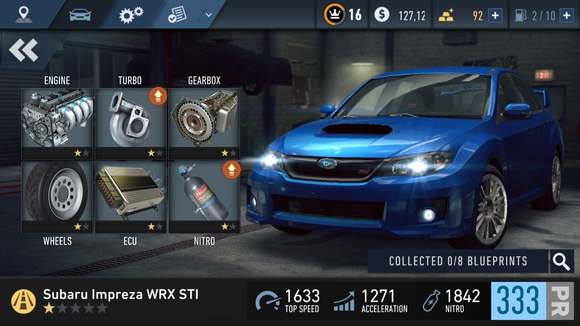 Many free-to-play racing games—like CSR Racing, or Fast & Furious Legacy, for example—look nice, but keep things simplistic by taking direct car control out of your hands. No Limits one-ups those titles by actually letting you drive, but the short-and-sweet nature means that it works better as a solid distraction than a source of really engaging, riveting driving action. Thankfully, there's plenty here to amuse and distract.
The catch
Need for Speed: No Limits soft-launched in some countries nine full months before it hit North America, so EA had plenty of time to refine its business model. And truth be told, while the name is utter nonsense, the limitations aren't that punitive. You really can enjoy a lot of what No Limits has to offer without spending money.
And No Limits really does have a lot to offer. Beyond the aforementioned story mode, you'll find numerous side races, plenty of cars to unlock and upgrade, and loads of possible paint schemes to spray on your rides. But if you're playing for free, you shouldn't expect to apply high-end rims or chrome paint anytime soon, as the slow grind means you'll stick with starter cars and low-level upgrades.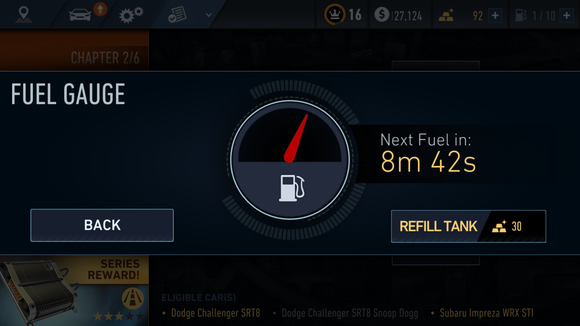 Your short-term progress in No Limits can be stymied by the fuel meter, which supplies 10 units (gallons?) to burn through before it has to regenerate—or be refilled with in-game currency. Each event takes one to three fuel units to start, but each time you level up, your bar is fully refilled. And that happens very frequently in the early hours, plus the first time you run out of gas, the game offers a free refill. In fact, I played for a good few hours—often in stretches of 30-plus minutes at a time, too—before I actually needed to spend the in-game gold to refill the tank.
The other major limitation comes with the player level itself, as the Underground career mode will occasionally prevent you from accessing the next chapter until you hit a certain level. But that's really no problem due to the huge amount of bonus Car Series races. As long as you have the gas for them, you can zip through those extra events and boost your level in no time. That said, every so often, you'll also run into a barrier in the Underground mode where your car won't be powerful enough to enter an event—so you'll need to run through other races or spend some money on parts. Guess which route is faster?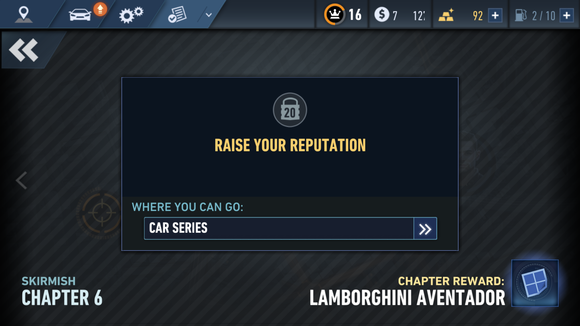 I never really felt enticed to spend cash in No Limits, given the myriad ways to play, but EA certainly offers ways to invest big. Gold packs are available in packs ranging from $2 (50 gold) to $100 (3,750 gold), and limited time bundles are available for $10 or $20 a pop, delivering a rare car and maybe some gold, cash, or parts. That's what I ended up buying: A $10 pack for a Dodge Challenger, 290 gold, and $50,000 in in-game cash. And that allowed me to access and dominate some additional races right away, but there's plenty of brief fun to be had without spending at all.
However, there is one interesting offer here that could really be worth it for regular players: For $3, you get 50 gold per day for 30 days. Assuming you play daily, that's 1,500 gold for three bucks. You'd have to pay $50 to get that much gold at once, and although it comes at a slow trickle, it provides a nice, long-lasting bonus over time. It's surprising, really, but it seems like a really smart move on EA's part to get players invested and keep them checking back daily.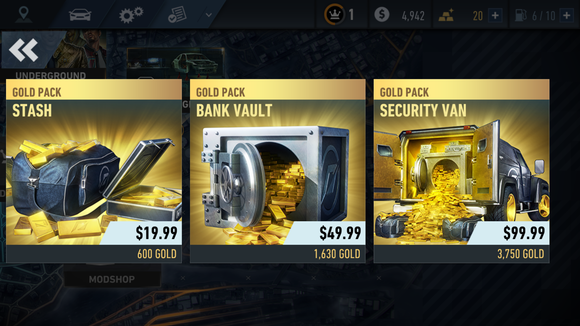 The verdict
Granted, I'm not sure there's a month worth of daily play in Need for Speed: No Limits—there's a lot of content, but the short races and repeated tracks mean it all feels a bit samey before long. It's certainly no Asphalt 8: Airborne in terms of free-to-play entertainment, particularly since No Limits doesn't have true head-to-head online play.
But that's a feature that Real Racing 3 gained over time, and I can only hope that Need for Speed similarly becomes more comprehensive in the months to come. Even if not, it's a fun little game to play for a few days or a couple weeks, and it has more to offer than other top free street racing options.