With the release of the fourth-generation model, the Apple TV has opened up to third-party apps. You are no longer limited to getting local media from your iTunes library. One of the first apps that lets you use other sources is Plex, which "organizes your video, music, and photo collections and streams them to all of your screens."
I had tried out Plex some years ago and found it as enjoyable as installing Linux on a computer. But the company has made great strides in improving the software, and as soon as the Apple TV app was available, I installed it on my device. In this article, I'm going to compare the two for streaming content to an Apple TV. I'll also discuss using these two methods to share content on other devices.
How they work
The Apple TV streams content from your iTunes library, or directly from the iTunes Store, for previous purchases or rented movies, as well as streaming from Apple Music. Plex is a "media server" that you install on a computer: a Mac, a Windows PC, or even a NAS (network attached storage device). Don't be afraid of the word "server;" it's just software that runs on your computer or NAS, the same way you need iTunes running to stream content from that library.
For iTunes, you simply turn on Home Sharing in iTunes' File menu. Enter your Apple ID, and do the same on the Apple TV. You then access your iTunes library on the Apple TV from the Computers tile.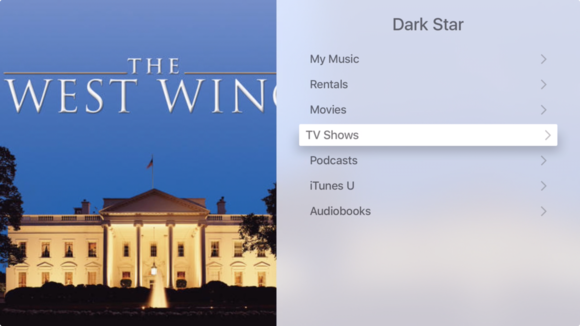 With Plex, there's a bit more setup. After you install the software, you point it to specific folders for the content you want to stream. You could point it to the Movies, TV Shows, and Music folders in your iTunes Media folder, or use separate folders. Once this is set up, you configure Plex to update regularly so it adds new content.
Both of these are easy to set up, and, while Plex takes a few minutes more, it's still quite simple.
Note that Plex is free, but certain features are only available with a Plex Pass, which you can pay for monthly ($5), annually ($40), or with a lifetime subscription ($150).
Streaming movies and TV shows
One of the main reasons to use either of these solutions is to stream movies or TV shows. Both iTunes Home Sharing and Plex can do this, but there are limits.
If you stream from your iTunes library, you can play movies in a certain number of formats: files using the H.264 codec with the extensions .m4v, .mp4, and .mov, and MPEG-4 files, with the same extensions. (Note that the new Apple TV can only play certain types of MPEG-4 files.)
Plex can play .mp4 files directly, but can also transcode other formats, such as AVI, MKV, and lots of others. So if you've ripped your DVDs in formats other than .mp4, you won't need to convert them to add them to your iTunes library. This makes Plex a lot more flexible for video.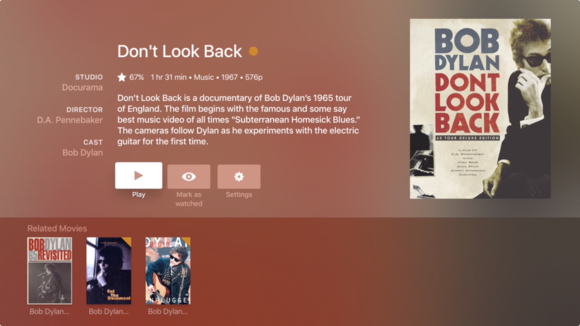 Plex also pulls down metadata for movies and TV shows, but for more obscure films it either doesn't find any or gets the wrong information.
Plex cannot play purchased videos from the iTunes Store, those which are protected with DRM (digital rights management). Only the Apple TV can play these, either streamed from your library, or from the iTunes Store. Unfortunately, Plex displays these videos if you select the Movies or TV Shows folders in your iTunes Media folder, which can be annoying if you forget which movies you've purchased from the iTunes Store, and which you've ripped. So if you use Plex for videos, it's best to separate the ripped videos from the iTunes purchases.
Playing music
As expected, iTunes Home Sharing lets the Apple TV access your iTunes library. You can also access Apple Music, if you're a subscriber, and your iCloud Music Library, if you use this with Apple Music and/or iTunes Match.
However, this solution only lets you play files in AAC, MP3, Apple Lossless, AIFF, and WAV formats. Many people use FLAC files, and, while you can convert these to Apple Lossless format to add to your iTunes library, you cannot play them natively.
Plex, as expected, lets you play FLAC files, but also Ogg Vorbis and others (but it can't play protected AAC files from the iTunes Store). It transcodes files from formats that can't play natively on the Apple TV and plays the others directly. Unfortunately, Plex transcodes lossless FLAC files to 256 kbps AAC files when sending them to the Apple TV.
iTunes Home Sharing lets you play all the playlists you've created in iTunes, or on your iOS device (if you use iCloud Music Library), and Plex lets you import your iTunes playlists. But if you make new playlists in Plex, they don't sync back to iTunes.
One of Plex's features is that it pulls down artist pictures, biographies, and more from last.fm. This works well when it works. When it doesn't, it lists, for example, John Mellencamp 26 times, and for Arnold Schönberg shows a photo and biography of Glenn Gould. For some artists, Plex displays a bright red last.fm graphic telling me to "Use correct artist name in your files' ID3 tags." Let's just say that, for managing a music library, Plex isn't really ideal, at least not if you've been maintaining your library in iTunes.
Plex does have an interesting feature. If you buy a Plex Pass, you can access music videos from Vevo when you view an artist's page, or an album or song list. There aren't that many videos yet, but it's still a nice addition.
Home Sharing on other devices
Apple's Home Sharing obviously only works on Apple devices. You can share to an Apple TV, you can share music to iTunes running on another Mac or Windows PC, and you can (theoretically) use Home Sharing on iOS devices. But trying to load a library on an iOS device is execrable if you have a library of any size. I've never succeeded in loading my 70,000-track library on an iOS device.
Plex is a lot more flexible. Not only can you install the Plex app on a whole range of devices—Chromecast, Amazon Fire TV, Xbox, PlayStation, Roku, and many smart TVs—you can also use it on portable devices, such as an iPhone, iPad, or Android devices (the Plex app requires a Plex Pass or an in-app purchase). Loading a library is quick and you can play videos or music from the computer or NAS running Plex server on several devices around your home. If you start watching a movie on the Apple TV, for example, and want to watch the rest on an iPad in bed, Plex remembers your position, so you can pick up where you left off.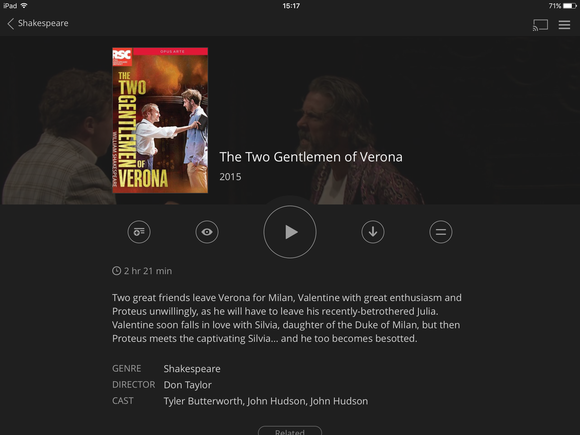 But Plex goes even further, reaching beyond your home network. Are you in a hotel in a different country, wanting to watch a movie that's on your Mac? No problem (again, with a Plex Pass or in-app purchase). Your iPad can pull down the video from your Mac, no matter where you are. This feature alone makes using Plex worthwhile for many people who travel a lot. You can also download content to your device either before you leave home or when you're on the road if you don't have much bandwidth or are worried about data caps.
The verdict
Both iTunes Home Sharing and Plex offer interesting and useful features. I've decided to stick with iTunes for my music, and for those movies and TV shows that I've bought from the iTunes Store. For these videos, there's no alternative.
But I've moved all my other videos from my iTunes library to a Plex folder and I now view them on my Apple TV in Plex. You can create any number of folders for your videos. I have one for movies, one for TV shows, another for my Shakespeare collection (filmed plays and movies), and another for my concert films. While this solution means I have to remember which movies came from iTunes and which didn't, it's not that complicated. And Plex is much better for organizing and playing videos.