While you're pondering a purchase of Apple's new Smart Battery Case and/or the updated Lightning to SD Card Reader, you can update your mobile devices. On Tuesday, Apple released an update to iOS 9 and watchOS 2.
Developers: Apple also released Xcode 7.2, which includes Swift 2.1.1 and SDKs for the OS updates that Apple released on Tuesday.
iOS 9.2
The new iOS 9.2 updates is 272MB and has several fixes and enhancements, including:
Apple Music improvements
A new Top Stories section in the News app
Mail Drop in the Mail app for sending large attachments
3D Touch support in the iBooks app
Improved stability in Safari and the Podcasts app
Several fixes and keyboard improvements
Apple also provides details of the security content of iOS 9.2.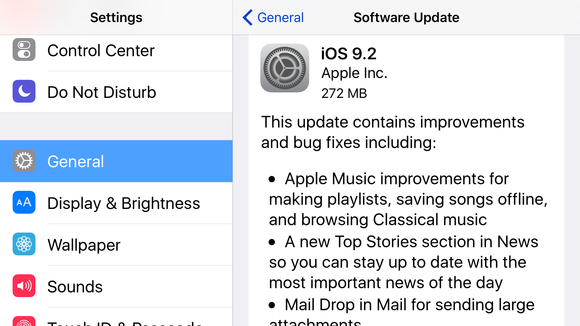 Before updating your iOS device, back it up. To install iOS 9.1 through your device, go to Settings > Software Update and install it over the air (you can also read a complete list of what's included in the update). Or connect your device to a computer and upgrade using iTunes.
watchOS 2.1
The new watchOS 2.1 is 57.1MB and includes the following:
Support for system language in Arabic, Czech, Greek, Hebrew, Malay, Portuguese (Portugal), and Vietnamese.
Support for Right-to-Left user interface
Fixes in the Calendar complication, Power reserve mode, and third-party app launching
Apple also has a web page with information about the security content of watchOS 2.1.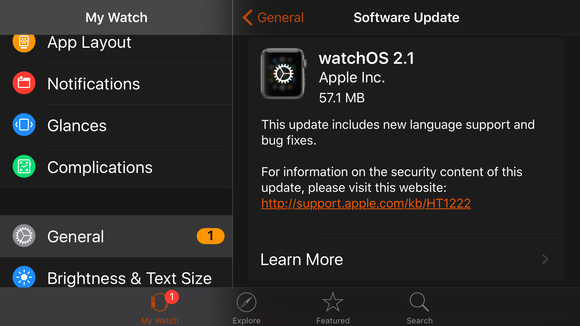 To update your Apple Watch, open the Apple Watch app on your iPhone and tap My Watch > General > Software Update. The watch must be charged to at least 50 percent, connected to its charger, and in Bluetooth range of your iPhone.