Kathy writes in with a problem and a request:
In my history, I see apps I did not install nor do I think are on any device we own. Can I know which device they were supposedly installed on and how can I erase them on my purchases?
For the first, it's hard to know. Apps associated with an iTunes account should only appear there if they were obtained for free or purchased. It's definitely possible that you or someone in your family selected apps by unintentionally clicking, or the apps are from so far in the past, you forgot you ever bought them. I have apps on my account that are seven years old, and I have no recollection of ever interacting with it.
Apple provides information in your purchase history about when you bought apps and other products, and for how much. In iTunes for OS X, choose Store > View Account, enter your account password, and then scroll down to select See All under Purchase History. However, these receipts don't show the device.
For that purpose, figuring out the source device, you have to consult your original emailed receipt. I retain these for future reference and just checked, and the receipt shows the name of iOS devices, but just says "Mac" for OS X hardware.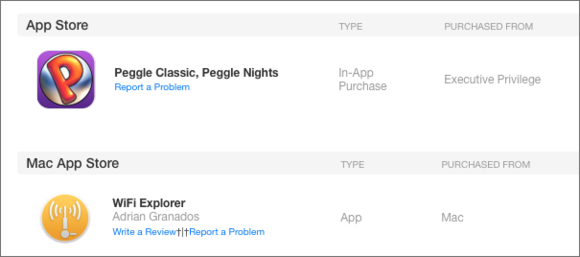 And the other issue, removing purchases? You can hide them from appearing. In iTunes for OS X, following these steps:
In the upper bar near the right, click your name and select Purchased.
Enter your account password if prompted.
Click Apps at the upper right and then, in the middle, click All (as opposed to On This Machine).
Hover over any app, and an X will appear in its upper-left corner.
Click the X, and you'll be prompted to hide the purchase.
Repeat 4 and 5 as necessary. (Note that on my Mac and my copy of iTunes, the X doesn't appear, but I get a cursor change when I hover over the upper-left corner and can click to hide the app.)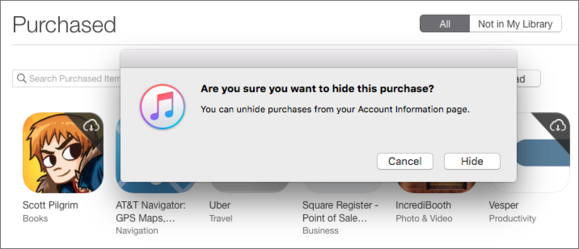 The purchases will no longer appear in the Purchased list, but they're still connected to your account, and you can return to iTunes in OS X to the Account Information section (Store > View Account), and then under iTunes in the Cloud, click Manage to the right of Hidden Purchases.
Ask Mac 911
We're always looking for problems to solve! Email yours to mac911@macworld.com including screen captures as appropriate. Mac 911 cannot reply to email with troubleshooting advice nor can we publish answers to every question.