For a company that has taken to reminding us with now tiresome regularity that it has "music in its DNA," Apple has been remarkably sanguine about fitting crappy speakers in many of its computers. Oh, sure, in the early days we didn't have particularly high expectations, and latterly when speakers have had to be crammed into laptops and then iOS devices we've been fighting physics—it's very hard to make a small speaker produce big, rich sound.
But still, if you love music and want to listen to it on your Mac, the first thing you will have done throughout most of the Mac's history is plug in set of external speakers rather than expose Nina Simone, Mahler, or Freddie Mercury to the indignity of anemic, buzzy, underpowered drivers. (Man, that's a supergroup I'm dying to hear—which is handy, really, when you think about it.)
There was, however, one noble exception to all this: the Apple Pro Speakers. These were introduced alongside the Power Mac G4 (Digital Audio), which had its own on-board amplifier, but they also shipped with the lovely, lovely iMac G4. I also had a similar-looking (though technically quite different) pair for my G4 Cube.
And they sound wonderful. If I was reviewing them today, I'd kvetch about a lack of real low-end meat, the kind of grunting, weighty thump that you almost imagine you can feel shifting the air around you, but by any objective standard they're warm and crisp and just deeply, deeply satisfying. I had actually forgotten how good they are until I dug them out recently and hooked them up to my iMac G4. CCTV footage of me at that point would, I'm pretty sure, have captured an actual double-take when I pressed play on some Johnny Cash and the vocals jumped out like he was in the room.
Look, I need to not get too carried away here. The Audyessey Lower East Side speakers that flank my 5K iMac now have more richness, more low-end, and much more drama and excitement than the Apple Pro Speakers, and I've reviewed more expensive audio gear that has all that plus class and fidelity and refinement. Yet if I think back—back before I had really ever heard genuinely good speakers—then I can remember having the same reaction the first time I heard the Apple Pro Speakers as I did when a few days ago I listened to them for the first time in many years. Surprise. Delight. Amazement that something the size of a grapefruit but so ephemeral-looking as almost not to be there at all can produce such an expansive, ruddy, assured sound.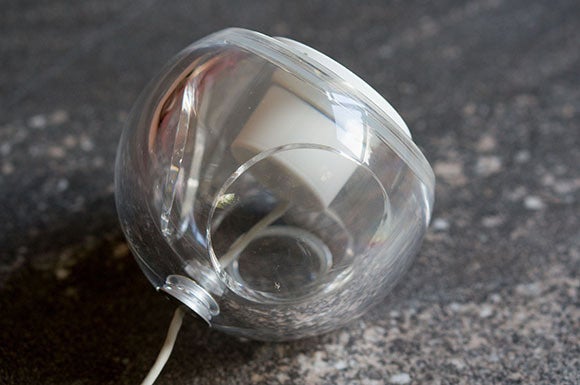 Before you head to eBay to pick up a pair, however, you show know that they don't just plug into a normal 3.5mm minijack. Indeed, not only is the physical connector different from most speakers', but they're designed to work with specific Macs with a higher output signal. You can make them work with standard equipment, either by scouring eBay for a Griffin iFire at the same time, or by getting out the wire strippers and soldering iron, but I wouldn't blame you if it's all starting to sound like you'd be spending too much money or too much time.
They are, though, quite lovely, even if the pair I have are in fact a little beat up. They are 12 years old, after all—though that just makes it all the more impressive. Next to them, the speakers built into my top-of-the-line iMac 5K sound horribly indistinct and clumsy, and sure, it's a slightly unfair comparison, but it's nevertheless true that the audio you got from an iMac at the start of the century is better than the audio you get from one today.
In typical Apple style, of course, it didn't itself make the drivers for the Apple Pro Speakers, but partnered with the heritage hi-fi brand harman/kardon. This partnership more famously resulted in the SoundSticks (later re-released as the SoundSticks II, III and now Wireless), a still-stunning set of 2.1 speakers which I covet to this day. Well, look, I already have eBay open in a Safari tab, so…
Which do you think are the best speakers Apple ever made—and which are the worst? Sound off in the comments below! I expect a high volume of comments! With an increasing frequency! (I wonder what my editor thinks of these puns? Maybe I'll tweet 'er…)