While you could, up until now, run Pixelmator for iPad on the iPad Pro, it was not specifically optimized for either Apple's new tablet or Pencil. Now it is.
Pixelmator today released version 2.2 of its mobile app, added features targeted to the new Apple devices, and augmented iOS 9 compatibility on the iPhone.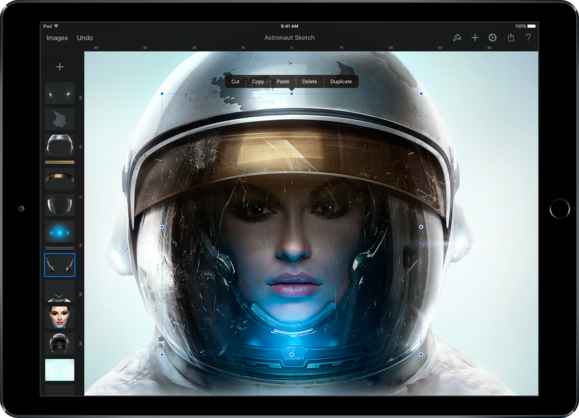 This new version is designed to work with Apple's 12.9-inch giant iPad, which gives you ample space to draw and paint with natural hand movements. Pencil support includes full palm-rejection with brushes optimized for pressure, tilt, and acceleration sensitivity.
The app features more than 50 artist-designed basic brushes, including a new Pixel brush, specifically geared to more intuitive painting and enhanced control over the way each stroke looks. Press firmly for heavy lines or more gently for finer strokes. Tilt the Pencil for thicker and shaded lines or vary the stroke pace to tweak line weight. Low-latency technology in the hardware means no waiting for your strokes to appear as you draw.
Working with a really large image is no problem. The app now offers 16K support for images up to 100 megapixels. According to the Pixelmator Team's Marija Mikalauskiene, "You were able to use Pixelmator on iPad Pro [before], but we tailored more than 50 brushes for all the Pencil's features, and we optimized and tailored Pixelmator for 16K—including text size, canvas size, and many, many other settings to cater for the bigger screen."
The update does not leave out the iPhone, as new features for the handset expand the app's support for iOS 9. Pixelmator on iPhone 6s and 6s Plus now provides full 3D Touch support.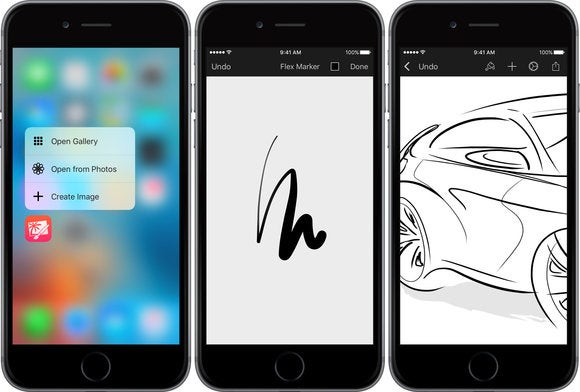 In addition to offering Quick Actions when pressing firmly on the Pixelmator icon from the home screen, and Peek and Pop with images in the app's gallery, the new version also facilitates 3D Touch-sensitive painting. You can now change the look of a stroke by varying the pressure you apply with your finger, without altering the brush settings.
Pressing firmly on an image in your gallery lets you preview, duplicate, share, copy it to Photos, or delete it.
Additional improvements include enhanced cropping, making it easier to crop and straighten images. A new auto-straighten feature lets you straighten images with a tap, while cropping lines now snap to objects in your picture. Finally, you can boost font size up to 1000 pixels.
As with most updates, there are additional performance improvements and bug fixes, so look forward to text with a shadow now being exported correctly.
Pixelmator for iPad and iPhone is available from the App Store for $5.