Apple's attempt at a TV revolution has been delayed again. Reports this week were all about Apple hitting "pause" on its streaming TV effort, with CBS CEO Les Moonves kicking things off by saying that Apple has "pressed the hold button," followed by confirmation from Bloomberg.
I'll just go ahead and say it: I'm bummed. Yes, TV is a luxury, and it feels like it's not quite among Apple's core interests, but I was looking forward to some further disruption of the market from Cupertino. So what's the deal here?
Straight up
Everybody wants in to the streaming TV market. Technology companies, like Hulu, Amazon, and Apple; media companies like CBS and Fox; and cable companies like Comcast and Dish. (Though increasingly those latter two groups are the same, with Comcast and NBC both part of the same conglomerate, for example.)
My enthusiasm about Apple's putative TV service has always been about control. Apple is a maker of devices, first and foremost. It has hardware, software, and service arms, but unlike a lot of these big companies, it doesn't have massive tentacles throughout all these different industries. And unlike its would-be streaming service competitors Netflix, Hulu and Amazon, Apple hasn't entered the original content game.
To me, that's always spoke of a singularity of focus. Apple's a company and, to be sure, that means it wants you to buy its products. But because its investiture begins and ends with those products, it's straightforward and obvious about what's for sale. There's never much of a "How do they expect to make money off of this?" question where Apple is concerned.
In the past, that's served Apple well, because it means that it can focus on creating a product that people want to buy. The company could build the new Apple TV without waiting for the streaming service to be ready—even if that device is a bit underwhelming as a result.
The competition
Of course, Apple's competitors aren't standing still and waiting for it to get its footing. Amazon recently announced deals with several networks, including Showtime and Starz, that will let Amazon Prime subscribers add those on to their existing streaming for a monthly fee. This Streaming Partners Program sounds a lot like what Apple has been doing quietly and slowly: handling the backend of billing, subscribing, and even serving up content. Amazon even touts universal voice search and a unified watchlist as features that benefit end users.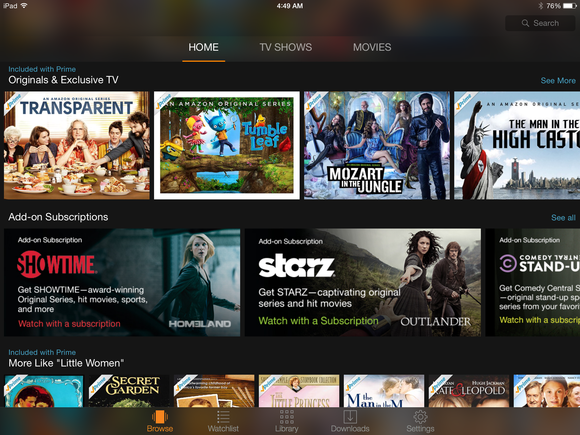 Showtime has already made a similar deal with Hulu. Essentially the network is re-creating its niche as a "premium" channel, with the likes of Hulu and Amazon in the place of traditional cable companies.
The traditional cable companies haven't been standing still either: Comcast has been piloting its Stream TV service in a few markets, including my home of Boston. I've been trying it out for a month, and while its implementation doesn't hold a candle to Apple's, it's hard to argue with a $15 per month price that includes among its features HBO Go access—itself $15 per month.
Where Apple can make a difference
All of that said, an Apple-backed service still appeals to me for a few reasons. Chief among them, integration with the Apple TV. I can watch a lot of my favorite TV content as it is, but I have to get some on Hulu, some from CBS, others from HBO Go, and so on. And each of those comes with its own billing and user accounts.
That's part of where Apple has apparently gotten pushback. As Re/code's Peter Kafka reports, the big problem is that Apple wants to keep the bundle small, with no extraneous channels for a reasonable price—but the content providers, most of which own multiple networks, are all jockeying to have all of their ancillary channels in the mix as well.
That means 21st Century Fox, for instance, is reluctant to sell Fox and Fox News without bundling in its FX channels or its new Fox Sports 1 network. The same goes for Disney (ABC, ESPN, Disney, etc.) and NBCUniversal (NBC, Bravo, USA, SyFy, etc.) and on down the line.
My hope is that this is a place where Apple can make a difference. We're still customers to Apple, but to so many of those content providers, we are more like the products. Almost anything would be better than continuing to have to deal with my cable company. In the same way that Apple has made strides to abstract us from having to deal with cell phone carriers, an Apple streaming service could do something similar for television.
But it's clear that disruption is already coming to the television industry, no matter what. Hopefully Apple can get its own offering out of the gate before we return to our regularly scheduled programming.