Free-to-play games often look appealing, but it's difficult to know at a glance whether the business model is insidious and fun ruining, or reasonable and worth pumping a few bucks into. With Freemium Field Test, we'll take a recent free-to-play iOS game, put it through its paces, and let you know if it's really worth your time (and money).
Would you believe that a free-to-play game about attracting cartoon cats into your home and backyard has die-hard fans? True story! See, Neko Atsume: Kitty Collector was first released in Japan last year with no intention of a worldwide release. But once English-speaking players got wind of it, they banded together on message boards and social media, trading tips to help each other navigate the fully Japanese menus.
It's thanks to those feline aficionados that we can all enjoy Neko Atsume in English today, as developer Hit-Point recently released a translated version. Was it worth the wait and all the Internet hype? Sure, assuming you're not expecting anything more than figuring out how to lure adorable cats—and then admiring them.
The pitch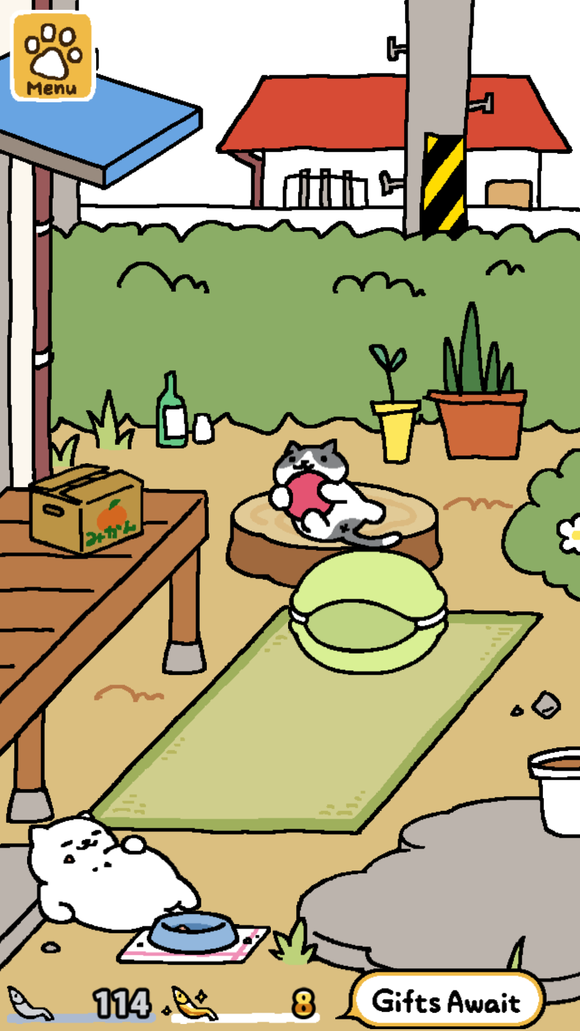 Given the title, Neko Atsume might sound like a Pokémon-esque affair in which you assemble a party of cute creatures—but that would be dramatically overstating it. In fact, there's really no active gameplay to be found: You'll select items and tweak the arrangement of what's in your yard, leave the app for a little while, and then check back to see which cats came by to visit.
It's really that simple. Armed with silver fish bucks, you'll hit the in-game store and purchase an array of toys to drop into your backyard. The shop has more than 100 items available, including balls, cardboard boxes, pillows, cat trees, baskets, tunnels, scratching posts, and space heaters. In other words, things that cats love. But also things you might not associate with a cat—like a cowboy hat.
Once you've adorned the yard with toys, you'll need to place some food to actually draw the kitties near. Dry food, canned food, and sashimi are all available, depending on how much you want to spend; each can seemingly attract different types of cats, so it's worth trying them all. And then you wait. But not very long: A few minutes spent away and you'll likely have some adorable visitors the next time you fire up the app. Take some snapshots. Put them in your Catbook.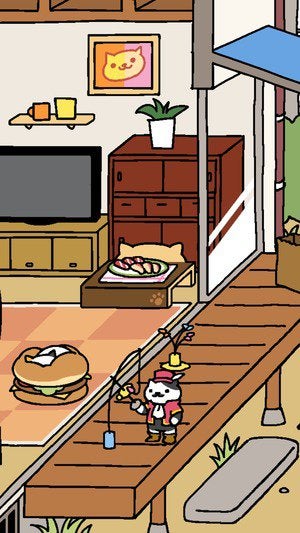 And that's about it. There's no gameplay depth beyond attracting the cats and then photographing them for your collection: Mini-games might have been nice, but it's really just about hanging out with cute cats. That said, there are deeper aims: Attracting all the different cats, for example, and particularly the special ones that only come if you have certain items. The mustachioed Senor Don Gato, for example, or slugger Joe DeMeowgio.
Different toys and food can bring different furry friends, plus you'll want to expand your space from just the yard to part of the house, as well, and consider changing the theme of your home to attract other cats. And if you're captivated by this cute cat affair, like a surprising number of people are, then that's where you'll surely be tempted to spend a little cash.
The catch
Fish are the catch in Neko Atsume—get it?—as they provide the two forms of currency available in the game: Silver and gold. Each is used to purchase items and food, although only the gold fish can purchase things like the expanded yard and room themes, along with many of the more interesting toys. You can convert them back and forth in the store, but unsurprisingly, the gold fish are a lot more valuable than the silver ones.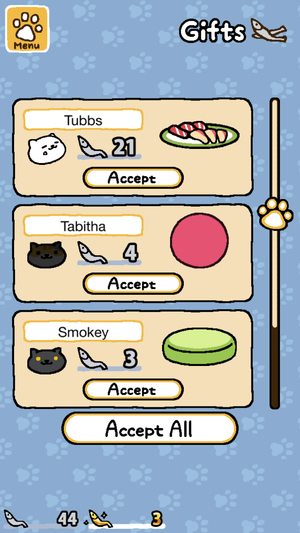 Fish are accrued slowly through play: Each time a cat visits and plays with one of your toys, it'll leave you some fish bucks as a gift. Silver fish come more quickly, of course; you might receive a few dozen silver fish from an afternoon of cat visits, but only a couple gold fish. Also, tapping the "daily password" in the News menu earns you extra silver fish for nothing—plus a bonus can of food after five consecutive days. Still, unless you're keen on playing steadily for several days just to unlock a single high-end item, you may want to spend a few bucks on some gold fish.
Luckily, Neko Atsume keeps it to just that: A few bucks at a time. Quite literally, too, as the gold fish bundles range in price between $1 and $4 apiece. I can't think of another free-to-play game covered in this column that's had a top purchase at just $4, let alone in single digits. Of course, you can buy those bundles over and over again, but the 300 gold fish you get for $4 are enough to purchase the expanded yard and a handful of items, for example.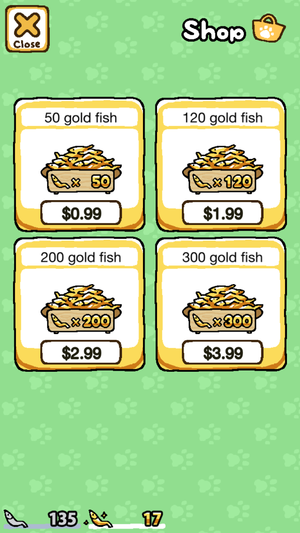 That's what I did at first, with the larger area providing more spots to place food and items. Doing so earns you more gifts each time, so you're essentially investing in a better overall experience going forward. It's like buying a car pack in a game like Real Racing 3: Do it once and the rest of your play experience will be improved without need for another purchase.
But I did purchase more: Another $4 was spent to fund a new theme for my space, along with a wider array of items. Eight bucks to appease some digital cats? I've spent more to try and find fun in less pleasing games, but my real cats—Taz and Einstein—would probably be disappointed. Especially Einstein.
The verdict
Neko Atsume is a bright spot in a freemium market increasingly dominated by joyless grinds—there are no requirements or restrictions on your time, and no expectations. It's all about watching silly, sweet cats hang out in your yard, and finding ways to discover even cooler ones in the virtual neighborhood.
And you really can play it for free if you don't mind seeing the same faces lurk around, although spending just a few dollars can set you up for more fun down the line. Call it pointless, but this lovably lightweight Japanese wonder is bringing little moments of joy to people amidst their daily routines. Why not join them?