The holidays are upon us, which means it's time to scramble for gift ideas for your loved ones. If you're down to the wire and haven't yet procured a present, we think most people would be delighted to find an activity tracker under the tree.
Fitness bands are all the rage these days, and for good reason. We have better tools than ever to live healthier lives, and what better excuse than the impending new year to kickstart a workout routine or otherwise vow to get your butt in gear? Here are five of our favorite activity-tracking bands for everyone in your life, from your fashion-forward coworker to your tech-obsessed mom.
For the early adopter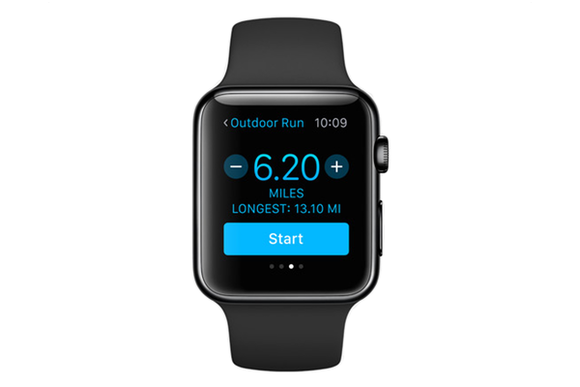 Apple Watch Sport
Price: $349 for 38mm model, $399 for 42mm
When people see the Apple Watch Sport strapped to my wrist, their first question is usually, "What's your favorite thing about it?" They want to know if it's worth buying. My answer is always the watch's stellar fitness-tracking features.
It might be an unconventional answer, given all that the Apple Watch can do. But a device that can send and receive text messages, push news alerts to my wrist, and measure my heart rate as I run? That's a winner. The watch's built-in Workout app lets you track exercise by activity—outdoor running, indoor elliptical, etc.—in addition to the step-counting it does in the background throughout the day. If your tech-loving friends and family aren't the exercising types, the Apple Watch still offers a fitness boost with its Move, Exercise, and Stand rings, which encourage you to meet daily goals with nudges every few hours.
Now, the Apple Watch Sport isn't for everyone. If your in-laws only use their iPhones for taking photos of the grandkids, gifting them a watch is silly—it'll probably go straight in the junk drawer after the holidays. But for the early adopters in your life, the Apple Watch is the best activity-tracking smartwatch on the market. —Caitlin McGarry
For your most competitive friend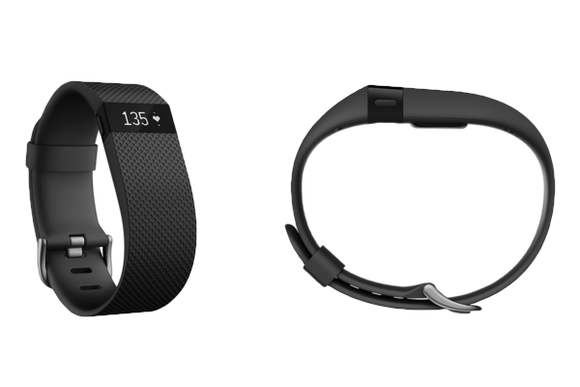 Fitbit Charge HR
Price: $150
There's a reason Fitbit dominates the wearables market: The company makes feature-packed activity trackers at a variety of price points, with a corresponding app that has social features to keep you accountable.
Regardless of which Fitbit model you wear, you can find friends and famiy in the Fitbit app for iOS and challenge them to compete against you in four race categories: daily steps, weekend steps, work week steps, and reaching daily step goals. Up to 10 people can compete in a single challenge, and you don't have to personally invite each person—your Fitbit friends can invite their friends to join in. This is useful, considering not everyone you know has a Fitbit, and having exercise buddies to keep you on track is a contributing factor to weight loss success.
My personal favorite of Fitbit's current lineup is the $150 Charge HR. Although it's a chunky black bracelet, what it lacks in style it makes up for in features like continuous heart-rate tracking and automatic exercise recognition at an affordable price. The encouragement of friends and family in the Fitbit app is a solid bonus. —Caitlin McGarry
For the fashionista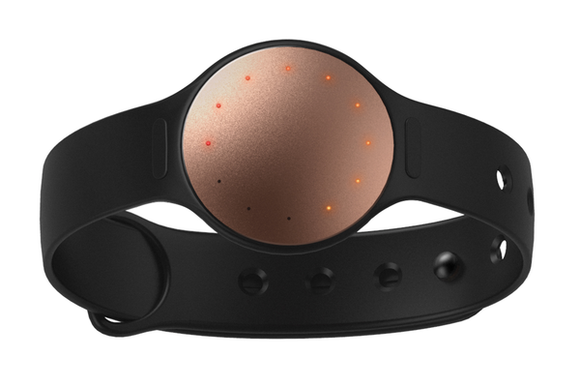 Misfit Shine 2
Price: $100
Since 2013, the Misfit Shine has blurred the line between activity tracker and jewelry, with its good looks, clever ring of LEDs that lets it double as a clock, and huge variety of accessories that let you wear it like a necklace or bracelet, tuck it in a jewel-encrusted locket, or just hide it discreetly into a pocket on your sock. This year, the Misfit Shine 2 debuted, further blurring the line between activity tracker and fashion accessory by adding even more features.
The $100 Shine 2 has color-changing LEDs, plus a vibration alarm to notify you of calls, texts, and alarms. Like the original Shine, it's waterproof enough to wear swimming, plus it can count your steps throughout the day and automatically track your sleeping at night—the replaceable coin-cell battery means you never have to charge it. It even comes in new colors, including Rose Gold and Carbon Black.
Aside from the excellent Misfit fitness app, the Shine 2 works with a Misfit Link app, which turns your tracker into a smart button by adding an extra function when you double-track the Shine 2 tracker. Depending on what you specify in the Link app, that double-tap action can take a selfie with your smartphone, turn your Misfit Bolt connected lightbulb on or off, advance slides in a presentation, or even control your phone's music, with Spotify, Pandora, Soundcloud, iTunes, and Apple Music supported. More functions and even better looks? That's a tracker any fashionable geek can take a shine to. —Susie Ochs
For the scientist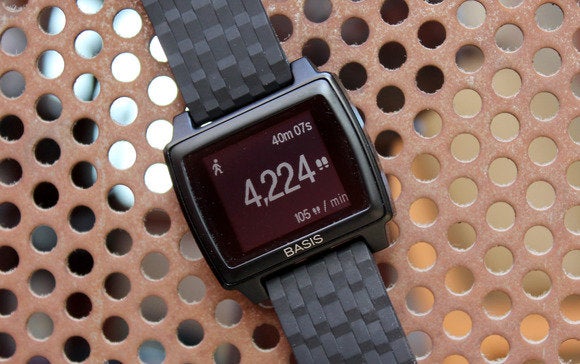 Basis Peak
Price: $150
If you want accurate, real-time heart rate measurements during the heat of vigorous exercise, jump on a treadmill while patched into an ECG. If that's too restrictive, and you need true freedom of movement, get a chest-strap monitor. And if that's too restrictive, consider the $150 Basis Peak. It's one of the few activity-tracking wristbands that can provide legitimate real-time heart-rate data during hiking, jogging and other intensely physical workouts.
You'll notice that most activity trackers with heart-rate sensors won't promise accuracy during the middle of exercise. Instead, they're geared toward heart rate "spot checks"—you're instructed to stop working out, stand perfectly still, and wait for your beats-per-minute number to appear. That's because most wrist-worn heart rate sensors can't get an accurate bead on your heart rate when your arm is moving around.
Basis says it's solved the problem with a brighter LED in its spectroscopic sensor; an improved photoreceptor; and a bermed chassis that forms a tighter connection on your skin. I've tested the Basis Peak during hiking and elliptical training, and found it does, in fact, rival a chest-strap heart rate sensor for accuracy. It's not perfect—but it's close enough for zone training.
The Peak also uses its heart-rate monitor to deliver data on REM cycles during its sleep mode. Battery life is rate for four days; the band looks sporty and feels comfortable; and the device provides notifications for texts, emails, phone calls, and calendar events. It will never win a beauty contest, but the Peak can't be beat if you're a quantified selfer who wants the most accurate, detailed exercise and sleep data from a wristband. —Jon Phillips
For the analog aficionado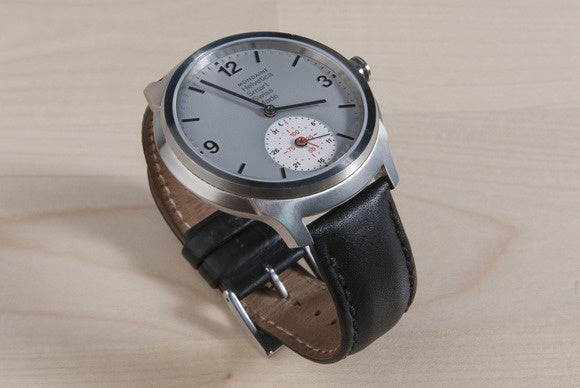 Mondaine Helvetica 1 Smartwatch
Price: $950
Most activity trackers look excessively high-tech. The manufacturer slaps an LCD or LED touchscreen on top of a bright, colorful plastic band, and you're left with something that looks like a science fiction movie prop. It's bound to clash with more sophisticated styles. But take a long, hard look at the Mondaine Helvetica 1 Smartwatch. It costs $950, but it's a real Swiss watch from a legit Swiss watchmaker.
Like other Swiss smartwatches built with MotionX activity-tracking technology, the Helvetica 1 employs the same step- and sleep-tracking algorithms that Jawbone used for its first two UP wristbands. If you want to see your activity data directly on the watch, just check the short red hand on the complication dial (the long black hand shows the date). And if you want even more detailed activity data, sync the watch with the MotionX iOS app. You'll see step and sleep timelines that are remarkably similar to the original Jawbone app.
Best of all, the Mondaine watch (along with other MotionX watches from Alpina and Frederique Constant) promises two years of battery life. No other activity tracker can beat that longevity. You also get a stainless steel case, a sapphire crystal, a quartz watch movement, and a sophisticated design that celebrates the Helvetica font (one of the watch's primary retailers is the Museum of Modern Art store in New York).
With a 44mm diameter case, the Helvetica 1 may be too big for many wrists. It's also quite expensive. So if you want the same concept in a smaller, more affordable package, consider the Withings Activité Steel. The case is 36.3mm wide, and the watch costs just $170. The Activité Steel looks quite small on many wrists, the band is silicone instead of leather, and battery life is rated for just eight months. But look at that sophisticated design. It's a proper analog watch. —Jon Phillips