Popup ads are, for better or worse, a fact of life on the Internet. They are not, however, something you'd expect to see in the App Store app for iOS. But as 9to5Mac reported late last week, Apple is apparently using a popup ad in the App Store to promote the iPhone 6s to owners of older devices.
The popup, first noticed by @dirk_gently on Twitter, includes a basic iPhone 6s ad with links encouraging you to learn more about or upgrade to a new iPhone; a Skip button in the upper-right lets you bypass the screen and go to the App Store.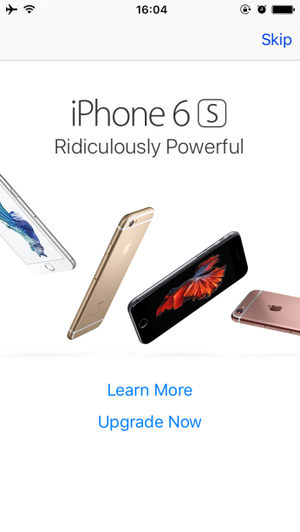 Although it'd be easy to dismiss the ad as a hoax—after all, it seems so…un-Apple—other iOS users have confirmed the existence of the popup, both on Twitter and in 9to5Mac's comments section. A similar banner appears in the "carousel" atop the App Store's Featured page: Tapping it opens Safari and takes you to the iPhone section on Apple's website.
As of this writing, I have yet to see the popup appear in the App Store on my iPhone 5c, so it's hard to say whether this popup is something Apple is pushing to everyone or if Apple is merely testing it.
Have you seen the App Store popup? If so, what iPhone do you have? Let us know in the comments.