Reader Len writes:
I frequently use flash drives for backup and to transfer files from one computer to another. I often want to delete one or two files from a flash drive without emptying the trash. Is there any way to do this?
Starting in El Capitan, you've got an option for precisely this purpose. While I don't use the Trash as a temporary repository—a kind of purgatory between an active file and the final bit bucket in the sky—but rather only for items I want to get rid of, many people I know stow stuff in Trash they think they might delete later.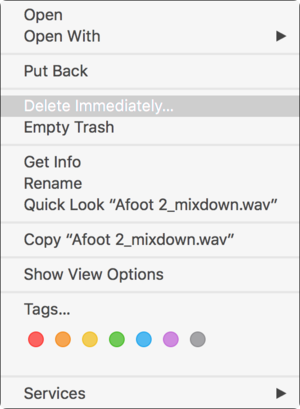 Before El Capitan, you would have had to drag items out of the Trash to delete only those that remain. However, OS X 10.11 adds Delete Immediately. You can select any item or set of items in the Finder, hold down Option, and click the File menu to see Delete Immediately. (You can also press Command-Option-Delete for the same effect.)
This is also useful in the Trash, as you can select items in the Trash and Control-click to get Delete Immediately as a contextual menu item.
However you invoke it, Delete Immediately first prompts you to confirm the action and then erases the filesystem's knowledge of the item or items selected right away, rather than pushing it through the Move to Trash and Empty Trash cycle. (As previously described, though, deleting files doesn't securely erase them without extra effort.)

Ask Mac 911
We're always looking for problems to solve! Email yours to mac911@macworld.com including screen captures as appropriate. Mac 911 cannot reply to email with troubleshooting advice nor can we publish answers to every question.