Henry Crun is fed up with suggestions. He writes:
How can I get rid of all the email addresses iOS has collected and insists on offering up when i'm trying to select something? Personally, I only want iOS to offer addresses that are listed in my Contacts app. i can see some wanting more but what iOS currently offers is the kitchen sink.

If you toggle off Contacts in Mail in Settings, Apple claims it'll delete any unconfirmed contacts. But "unconfirmed" by whom? Apparently not by me, because it's off and yet all those unwanted contacts still show.
Henry also finds that if he sets up an iOS device from scratch, iCloud syncs all those addresses, too.
Henry has run afoul of a feature added in iOS 9 and El Capitan that connects information in email with contacts and other data. Collectively called Proactive, this feature is supposed to anticipate better what you want and populate related information. However, it can be confused if you have a very large archive of email, as people from your past—in Henry's case, email addresses for people at defunct companies—will keep resurfacing. These numbers found in email are also used to provide information for incoming phone calls on an iPhone.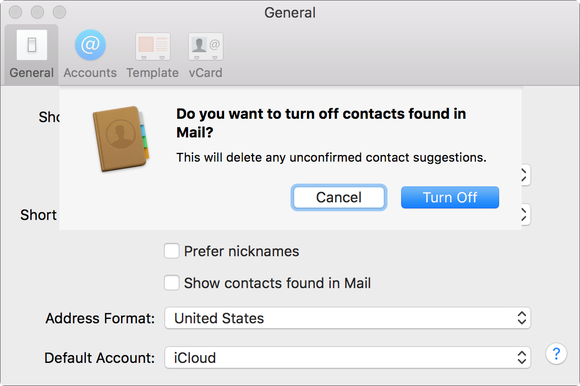 You can disable this feature in iOS by launching Settings, and going to Mail, Contacts, Calendars. Swipe way down and you'll find under Contacts the Contacts Found in Mail switch. Flip it off to stop the suggestions flowing. In OS X, launch Contacts, select Contacts > Preferences, and in the General tab, uncheck Show Contacts Found in Mail.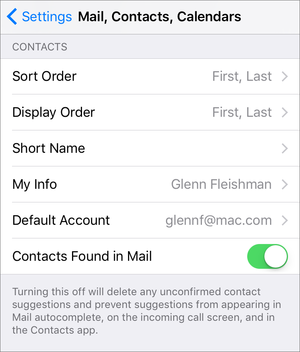 The Mail app in OS X also has a slightly related feature: It keeps track of every previous email recipient. You can use this list to add people to your contacts, or you can delete them so they don't auto-fill as suggestions, either, from Window > Previous Recipients. You can select one or more entries and click Remove from List.
My suspicion in Henry's case is that this feature was enabled on other iOS or OS X systems that were linked to the same iCloud account and had access to the same email corpuses. As a result, disabling the feature on one device might still have left the data in the cloud and updating.
Ask Mac 911
We're always looking for problems to solve! Email yours to mac911@macworld.com including screen captures as appropriate. Mac 911 cannot reply to email with troubleshooting advice nor can we publish answers to every question.