Renee C. Jackson is seeing double:
I upgraded to El Capitan and now I have 2 Gmail mailboxes showing in Mail. One is POP and the other is IMAP, and they don't even show the same number of messages. Same address on "both" mailboxes. How can these be merged?
This is an odd glitch related to the legacy support in Gmail and many mail hosting services for POP (Post Office Protocol) mail retrieval. IMAP (Internet Message Access Protocol) evolved alongside POP, but it's considered more modern, despite its many drawbacks and inconsistent implementations.
The very tl;dr summary of POP and IMAP is that POP doesn't interact with a mail server to manage mail folders or how it's stored; rather, it can retrieve a copy or delete the message remotely. IMAP can replicate the structure of mail on a mail server, and sync back changes, such as deletions or moving messages from one mailbox to another. (If you want to get into more depth than that, it's an ocean with no bottom. Some companies are working to replace IMAP with a more mature and powerful protocol.)
What seems to have happened—possibly due to the Internet Accounts system preference pane and associated parts of OS X that manage email, contacts, social network, and other accounts—is that you have a duplicate setting for email, one as POP and one as IMAP. Check that preference pane to be sure you have only a single entry for your Gmail account. If there's a duplicate, delete it.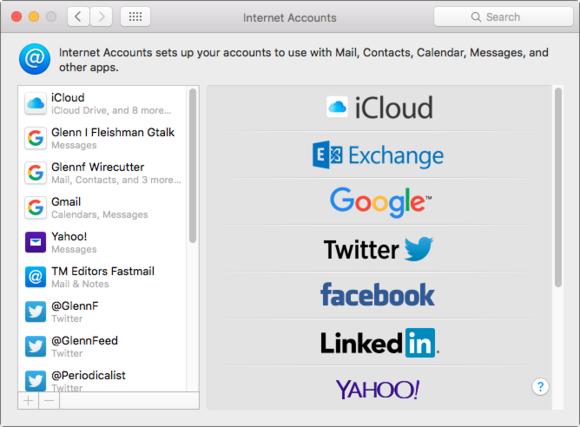 In Mail, you can also disable an account—deleting it could cause other problems, and I'd hate to recommend that as the first step. Instead, disable the POP account.
Select Mail > Preferences.
Click Accounts.
Select the Gmail account that shows Account Type: POP in the Account Information tab.
Uncheck Enable This Account.
The difference in message counts between POP and IMAP is almost certainly because IMAP mirrors your server folder structure while POP is almost certainly only retrieving from your main inbound mailbox. IMAP will count all messages in all folders; POP, just in the incoming folder.
Ask Mac 911
We're always looking for problems to solve! Email yours to mac911@macworld.com including screen captures as appropriate. Mac 911 cannot reply to email with troubleshooting advice nor can we publish answers to every question.