What better way to tell your friends you're on your way than by requesting an Uber ride mid-Facebook chat?
On Wednesday, Facebook Messenger got an update to allow U.S. users to seamlessly request an Uber ride directly from the mobile app. Messenger's new "Transportation" feature only surfaces Uber rides right now, but ride-sharing rival Lyft will join in January. Requesting a ride via Messenger alerts everyone in your Facebook chat that you have, in fact, requested a ride.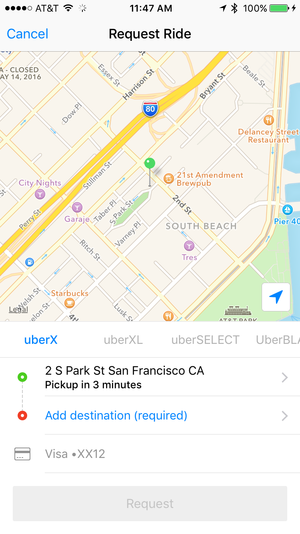 To request an Uber ride in Messenger, simply tap on the car icon below the text field or find Transportation in the "more" (…) menu. You'll have to create an Uber account or connect an existing one before you are able to request a ride. If this is your first time using Uber via Messenger, you will get your first ride for free (up to $20), according to the message we received from Uber once we connected our account. It looks like you can chat directly with Uber reps via Messenger, which is incredible, considering Uber support is notoriously difficult to reach.
This is the another major step for Facebook Messenger as it looks to expand beyond simple messaging. Earlier this year, the app got a Venmo-like feature for users to be able to send cash and split payments. And according to Facebook product manager Seth Rosenberg, Facebook is looking to bring more capabilities to the Messenger app, like booking flights and concert tickets.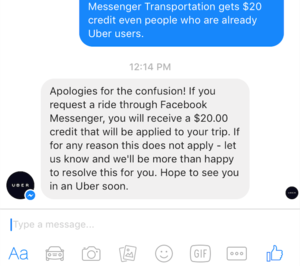 Why this matters: Facebook Messenger seems to be following the footsteps of Asian messaging apps like WeChat, Line, and KakaoTalk, which integrate a bunch of services—from games to e-commerce—to become a vital part of everyday life for mobile users. It remains uncertain whether this approach will work in the U.S., as designated apps seem to offer greater ease-of-use than bloated one-stop shops. That's the reason Facebook spun off its Messenger service into its own app to begin with, because the flagship Facebook app was getting too bloated.
Earlier this month, Uber released a public API update for iOS and Android developers to add an official "Uber Ride Request Button" to their apps. This request button can pull address data from the third-party app, so Uber will automatically know where you intend to go once you tap it. However, developers who install this code are not allowed to offer a competing ride-sharing service. Obviously, Facebook is a big enough player to be an exception to this policy, since Messenger will have Uber and Lyft side-by-side starting in 2016.