If you're a podcast fan, you have many ways to listen to your favorite shows. You can download them to iTunes and listen to them on your Mac. You can sync them from iTunes to your iOS device, and listen to them with Apple's Podcasts app. You can subscribe to them on the Podcasts app, and download them only to your iOS device. Or you can use one of a number of third-party apps on iOS.
Apple's Podcasts app can be complicated and confusing. Designed to sync with iTunes, the app has a befuddling approach to organizing podcasts, with organization by podcast, playlist, and "station." Syncing is often unreliable, so if you do manage your podcasts in iTunes, and want to listen on your iOS device, you're likely to have differences between the two.
Unless you listen to podcasts often on your Mac, it's probably best to not even use iTunes for this type of media. I've given up on iTunes for podcasts, and listen to them on my iPhone. I sometimes stream them to my Apple TV in the living room, or to an AirPlay speaker. Or I use Rogue Amoeba's Airfoil Speakers to turn my Mac into an AirPlay receiver and listen to them there.
Here are a few iOS apps that let you listen to podcasts and manage them much more efficiently than Apple's solution.
The Late Instacast
Let me start by briefly lamenting the demise of Instacast, which was retired in June. It offered both an OS X and iOS app, which, like iTunes, synced your podcasts and settings, allowing you to easily switch from one device to another. Instacast will be missed, especially by those who want to save episodes of their favorite podcasts.
This is actually the one weakness of managing podcasts on an iOS device. While apps can save episodes, you won't have them on your Mac to archive them. If this is the case, I'd recommend you download those podcasts to iTunes, so you can keep them in your library.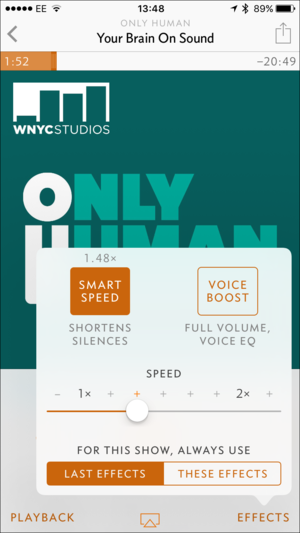 Overcast
The free (with optional patronage) Overcast lets you download or stream episodes, you set up playlists, choose how many episodes to keep and download, and makes it easy to manage podcasts and episodes. You can search Overcast's directory, and if you don't find the podcast you want, you can also manually add a URL.
There is no desktop equivalent for Overcast, but the app does offer a web-based interface at overcast.fm. While you can't download podcasts to your Mac, you can stream from this website. All your subscriptions and episodes sync, so it's easy to use this player on the desktop, or on another iOS device.
Overcast's killer feature, for me, is its Smart Speed feature, "which dynamically shortens silences in talk shows," as well as speeding up the speakers. Since this is a dynamic setting, it's not absolute, but I listen to most of my podcasts at about 1.4 to 1.5x. You can adjust this setting on the fly, or for each podcast, so you can turn if off for music podcasts, and turn it on for talk.
Overcast also offers an Apple Watch app, if you use that wrist computer.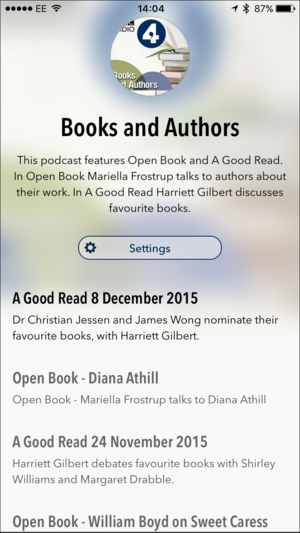 Castro
Like Overcast, Castro has recently gone free with patronage. It's an attractive app, for the most part, but its usability is marred by some tiny fonts in episode descriptions, and by blurry, colored backgrounds with translucency when viewing a podcast.
The app has a number of settings which allow you to choose how to refresh or download episodes, alter the playback speed (which can be set per podcast), how much storage to use and more. However, it takes a while to get used to the essentially gesture-based interface of the app but it's fast and responsive, and once you get the hang of it, it's quite intuitive. Be prepared to spend some time fiddling with it before you get your settings right.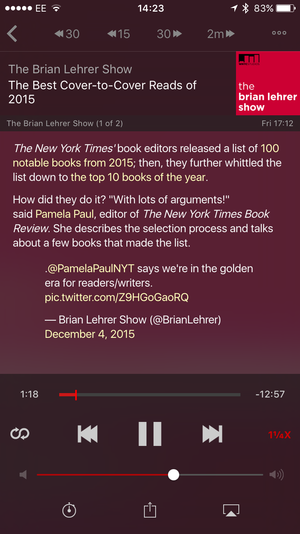 Downcast
The $3 Downcast should come with a magnifying glass. It's full of finicky features and settings, but it's very hard to read episode descriptions, especially on the go. Its play screen contains a surfeit of controllers, making it look a bit like a control panel for a nuclear power plant. You can tweak a number of settings, adjusting how episodes are refreshed, downloaded, and stored, set a sleep timer, change playback speed (up to a ludicrous 3x), and much more.
Downcast lets you sync your settings and subscriptions via iCloud, so if you listen on more than one iOS device, you'll find this useful. However, it's utilitarian at best, and, while it lets you download and stream podcasts, it doesn't make the process enjoyable. Downcast does have an OS X app and can sync with the iOS app.
iCatcher!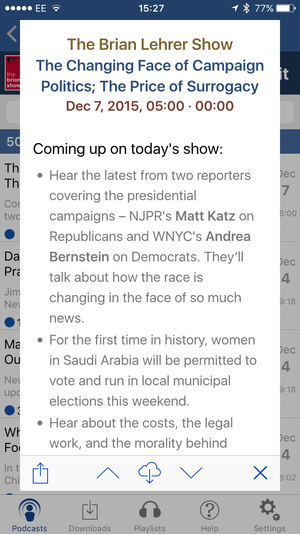 The $3 iCatcher combines a lot of the features in Downcast with a more polished interface. It's got dozens of settings, but it's a lot easier to navigate. Tabs on the bottom of the window take you to podcasts, downloads, playlists, help, and settings. When you tap and hold an episode, a popup displays (not exactly 3D Touch; there's no haptic feedback) showing a description of the episode.
This app also syncs your settings via iCloud, so you can use it on multiple devices. It offers an Apple Watch app, supports split screen on recent iPads, and much more. While it's a bit finicky, it's well designed.
There are lots of options for listening to podcasts on iOS devices. Whether you choose the default Podcasts app or others, there are plenty of apps you can try out. Only Overcast offers an option to listen to podcasts on the desktop, via its website, and that, and its Smart Speed feature make it my choice.
Editor's note: Updated on 12/18/15 at 10 a.m. PT with information about the Downcast OS X app. Updated 12/19/15 at 9:45 a.m. PT to correct a statement about Castro's ability to choose per-podcast speeds.