Ho, Ho, Ho, Merry Christmas to all! Did Santa Claus leave an iPhone under the Christmas tree? If so, it may be an upgrade from an older device, or it may be your first iPhone. It's simple to set up a new iPhone and migrate your apps, content, and settings from an old one, or even migrate from an Android phone. In this week's column, I go over the process to set up a new iPhone, iPad, or iPod touch.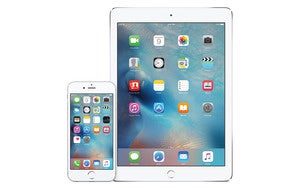 Set up a new iPhone
Q: I got a new iPhone for Christmas. What should I do to get it up and running?
Congratulations. I don't know if this is your first iPhone, or if you're upgrading to a new iPhone, so I'll cover both scenarios. The same procedure also applies to the iPad and iPod touch. And if you're switching from Android, Apple makes this easy too.
If you already own an iPhone, you'll want to migrate from the old phone to the new one, retaining your apps, content, and settings. There are two ways to do this, one using iCloud, and one using iTunes.
Back up your old device
A lot of people use iPhones and iPads without ever connecting them to a computer and never syncing them with iTunes. While this is possible, it does make the migration process a bit more complicated. If you don't want to use iTunes, make sure that iCloud backups are turned on. Go to Settings > iCloud > Backup. If iCloud Backup isn't toggled on, do so. Then tap Back Up Now, and wait until your device has finished backing up. (This could be a good time to sample some chestnuts roasting on an open fire…)
Since your iPhone sends data to Apple's servers when it backs up using iCloud, the time it takes depends on your Internet connection. If you have a slow connection, it could take a long time. So I recommend connecting your iPhone to your computer—if you have one—and using iTunes. Also, if you ever have a problem with your iPhone and need to restore it, you can do it more quickly using iTunes. Note that an iCloud backup won't store your music or videos, unless they're purchased from the iTunes Store. (See this Apple technical document for a full list of what iCloud backs up.)
When the device is connected, click its icon in the iTunes navigation bar, then click Summary. Check Encrypt iPhone Backup and enter a password. If you do this, iTunes can back up many of your passwords and settings, and restore them to the new iPhone; you won't need to configure as many settings on the new device. Click Back Up Now to have iTunes start doing its work.

Set Up the new device
Once you've backed up your old device, it's time to set up the new one. If it is an iPhone or an iPad with a cellular connection, slip your SIM card in the device. You'll find a SIM tray eject tool in the box with your iPhone.
When you turn the device on, you see a Hello screen. Swipe to start the setup procedure. Select your country and language, choose a Wi-Fi network and enter its password, and decide if you want to turn on Location Services. (You should; if not, you can't use Maps and some other apps.)
Next, set a passcode and, if your device supports it, Touch ID. This latter technology lets you use a fingerprint instead of typing your passcode. You still have to type the passcode occasionally, but most of the time, when you unlock the device, and when you purchase content from the App Store or iTunes Store, you can just touch the home button rather than type.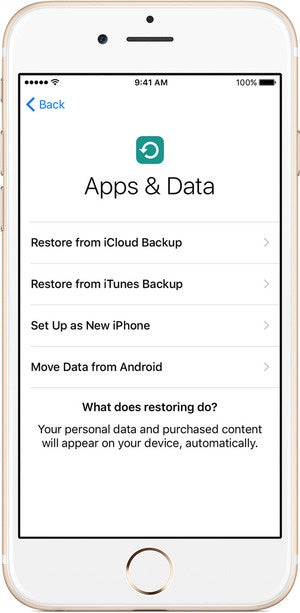 At this stage, your iPhone or iPad will ask if you want to restore from an iCloud backup, restore from an iTunes backup, set up a new device, or migrate from Android.
To restore from an iCloud backup, enter your Apple ID and password. And wait. Maybe try some egg nog now?
To restore from iTunes, connect the new iPhone to your computer, and choose the backup you made earlier. This will be a lot faster than restoring from iCloud.
To migrate from Android, you start by installing the Move to iOS app on your Android phone. Apple explains the process here.
If you're using your first iPhone and not migrating anything, or if you're just upgrading to a device running iOS 9, you should check out the Settings app, so you can tweak the way your device works. Check out the new Hey Siri! feature, learn how to use content blockers to make your web browsing more efficient, and discover some of the coolest features in iOS 9.
Enjoy your new device! Merry Christmas!
Have questions of your own for the iTunes Guy? Send them along for his consideration.