Kids love toys and video games alike—so why not bring them together into one harmonious, entertaining, and totally commercial experience? It was that bright idea that kick-started the toys-to-life gaming genre a few years ago, and the market only seems to be growing as smart chip-housing figurines proliferate.
Now that Apple has a console-like gaming box, the two biggest toys-to-life franchises are available on Apple TV, right in time for the holiday shopping rush. Skylanders SuperChargers is the fifth entry in the pioneering toys-to-life series, adding an array of vehicles for the first time in addition to various cartoonish characters. And Disney Infinity 3.0 puts its largest focus on Star Wars, but it also has heroes from the Marvel Comics and Disney/Pixar universes.
Both arrive on Apple TV with a starter kit that has everything you need to get up and running: A couple of toys, a portal for connecting them with the game, a gamepad, and access to the full game within the free App Store download. If you're interested in bringing one home for the family this season, here's a look at what to expect.
Disney Infinity 3.0
Disney's toys-to-life game clearly benefits from having access to one of the most amazing entertainment lineups ever assembled under one corporate banner. This one is primarily focused on Star Wars—well timed with this month's release of The Force Awakens in theaters.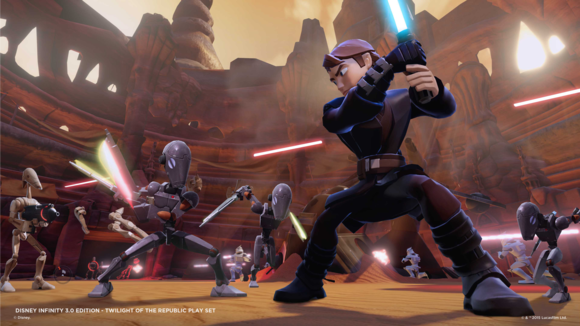 The Infinity 3.0 starter kit ($100) comes with characters Anakin Skywalker and Ahsoka Tano, as well as a plastic piece that starts the Twilight of the Republic playset. The kit also has another big perk: The great SteelSeries Nimbus, an MFi (Made for iOS) gamepad that works with all compatible Apple TV games, as well as hundreds of iPhone and iPad games.
To play Disney Infinity, you'll plug the base into a power source: A wall outlet, or maybe a nearby computer. From there, it'll connect automatically to the game via Bluetooth. The base has three slots: One for a playset piece, which lets you play a certain campaign in the game, and two for figurines. All Infinity toys have a special chip inside that the base reads to pull characters and playsets into the game, and your heroes' progress is stored on the toy too.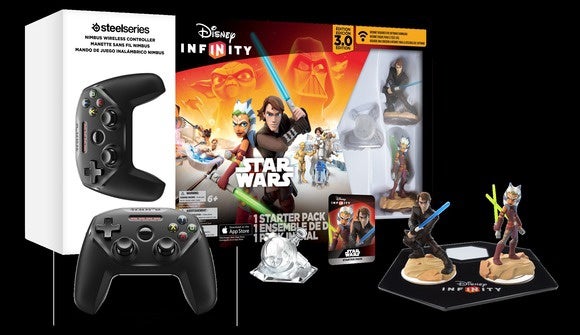 Twilight of the Republic might seem an odd campaign choice for the starter kit. It's based on The Clone Wars animated series, which might resonate better with younger fans, but older players will just recognize the characters and scenarios from the groan-worthy prequel films. Still, it's a solidly fun jaunt, with plenty of lightsaber swinging and even some space dogfighting. The action is approachable enough for kids to jump right into, and it provides a few core hours of fun, with side missions and collectibles to hunt down for extended entertainment.
Then there's the Toy Box, which for many players may be the most compelling part of the Infinity experience. Toy Box provides the tools to create your own levels—action, platform, racing, sports, whatever—and then share the results online. And there's a wealth of finished stages from people who clearly have a ton of time on their hands. That's a good thing for you, since you can freely download and play anything on the servers. If you love Minecraft or other creation games, you might find yourself pouring hours and hours into the Toy Box.
That's also where all the properties from the wide world of Disney come together. You can mix and match Star Wars, Marvel, and Disney characters, items, and world pieces in Toy Box—I pulled out Spider-Man and Sulley (from Monsters Inc.) figurines I had from the past Xbox and PlayStation entries and put them into the game. Disney has also released several new figures for Infinity 3.0, including Olaf from Frozen and Mickey Mouse himself. Those sell for $14 apiece.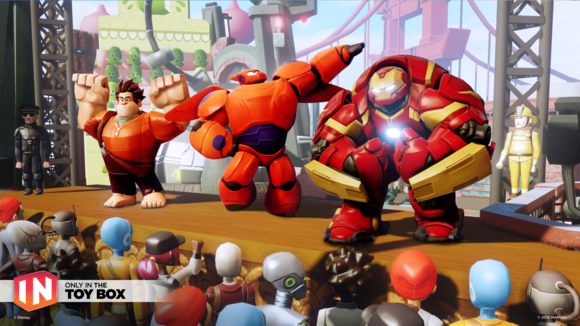 Infinity 3.0 also supports a couple of add-on playsets: Rise Against the Empire is the set that most Star Wars fans will probably want, as it includes Luke Skywalker and Leia Organa and whips through the events of the classic film trilogy (with tweaks). You'll battle Darth Vader, fly the Millennium Falcon, and destroy the Death Star. It's stellar stuff, and $35 for the campaign and two figurines seems reasonable considering how much the separate toys cost.
A set based on Pixar's Inside Out is also available, with Joy and Anger toys included (also $35). It's colorful and creatively rendered, with both 3D and side-scrolling platform stages in the mix, but it's very simplistic: The brilliant film might have skewed towards adults, but the game is a kiddie diversion. And then the Star Wars: The Force Awakens set—out now, as it launched the same day as the film—is sure to be huge. A Marvel set and additional figurines are coming in 2016, as well.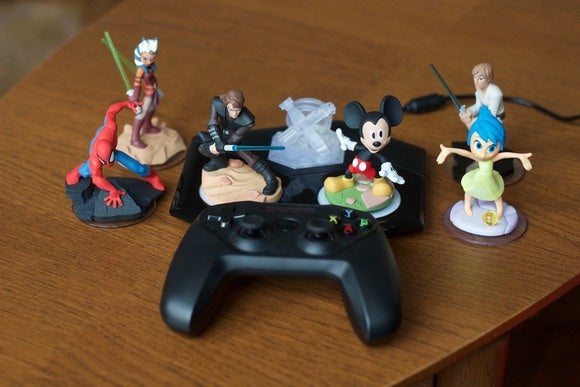 Disney Infinity 3.0 looks rather nice on the Apple TV, with the crisp, stylized graphics appearing much like the console versions. That said, my first hour with the game was a mess: It took about 30 minutes of downloading additional content before I could even play, and then the audio was mismatched to the cinematics as more content was streamed in. I also ran into brief freezes, and it all seemed really janky. Big games are at a disadvantage on Apple TV, due to Apple's own download size restrictions, but that first session was especially brutal.
Luckily, later play sessions were much smoother after I got over that initial hump: I didn't see any more audio syncing issues, although you'll still wait for a minute or more at loading screens and encounter small hitches when introducing a new toy to the game. That initial frustration certainly wasn't reassuring, but it's worth the hassle to be able to enjoy the full console Infinity experience on Apple TV.
Skylanders SuperChargers
Skylanders started life in 2011 as a curious spinoff of the fading Spyro the Dragon action series, but by this point, it really feels like an original universe. SuperChargers is the fifth entry in five years, and where past sequels added extra-large heroes or ones that could snap apart to mix and merge, this one is all about vehicles on land, sea, and air.
And it's a cheaper buy-in than Infinity: The $75 starter kit gets you the portal base, a gamepad, two figurines (Spitfire and Super Shot Stealth Elf), and the Hot Streak car. That's a pretty decent difference in price, but it largely comes down to gamepad value: The one bundled in with SuperChargers isn't MFi compatible, so you can't use it with loads of other current games.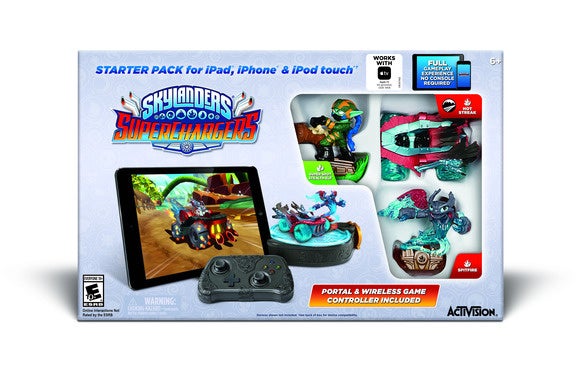 The Skylanders gamepad is also much smaller and feels cheaper, but on the plus side, it's probably an ideal fit for a six-year-old's hands and it snaps into the bottom of the portal for easy storage. Also, if you already have the Nimbus or another MFi controller, you can use that with Skylanders instead of its packed-in option.
Skylanders works much the same as Disney Infinity, in large part because Disney lifted much of its template from the series. The portal here is wireless and battery-powered, connecting automatically to the game via Bluetooth, and it doesn't have fixed positions for toys: You can pop multiple figurines and vehicles on the circular platter however you wish. The toys don't feature a big, obvious disc on the bottom, but they have the same kind of smart chip embedded within that tracks your progress.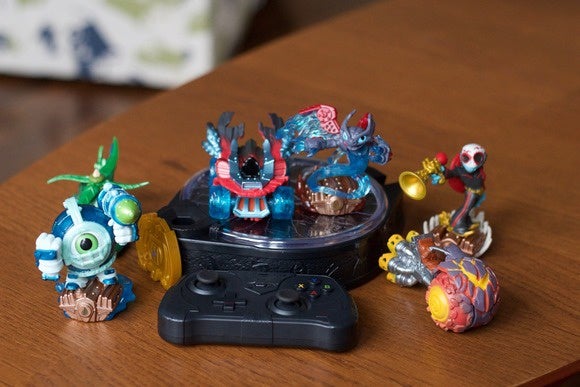 Coming into a sequel that's not based on widely-known media franchises isn't ideal, but you're not missing much on premise: You'll control one of many colorful heroes battling against Kaos, a bumbling villain set on world domination. Your allies are a hodgepodge of characters whose names you'll probably struggle to remember, and that's not really a problem. If it all seems like a kid-friendly cartoon made interactive, it shouldn't surprise you that Activision has an animated series in production right now.
Superfluous as the plot might seem, the platform-leaping gameplay and button-mashing combat are pretty entertaining, even if mindless. You can switch in a different figurine at any time to employ new fighting techniques, or boost your power in areas against enemies of a different elemental alignment. And the hundreds of previous Skylanders figures can all be used, so worry not if you have a closet full of 'em. New individual figurines sell for $13, typically.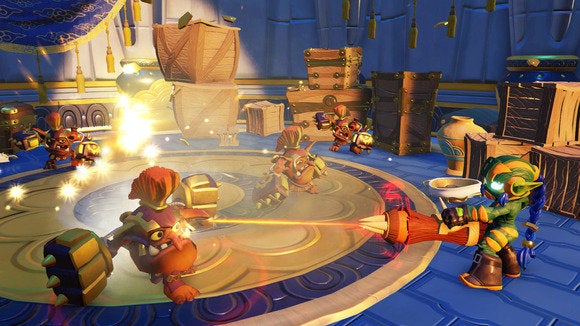 Vehicles are the big new addition, as mentioned before, and they come into play in both the campaign and in standalone side races. While the car included in the starter kit will get you through the core campaign, some additional content is locked unless you also purchase sea and sky vehicles—those are $15 a pop. Skylanders has a longer main campaign than Infinity, but doesn't have add-on adventures or a creation mode; however, you can buy additional race tracks, like with the $35 Racing Sea Pack.
Skylanders Superchargers unsurprisingly also has a lot of in-game downloads: You'll wait for a while early on, and then wait again as levels load. When I came back to the game after a few days away, it had a 10-minute download to even start the game, then another few-minute download after the menu popped up… and then other little bits of downloading along the way.
It's slow going at times, but at least the game offered up no Infinity-like performance hitches in my testing. That said, when Infinity is running well—most of the time, luckily—it's the more attractive of the two. Skylanders nearly matches the older console versions in visual fidelity, but Infinity's style is the more eye-catching of the two, and it looks crisper as well.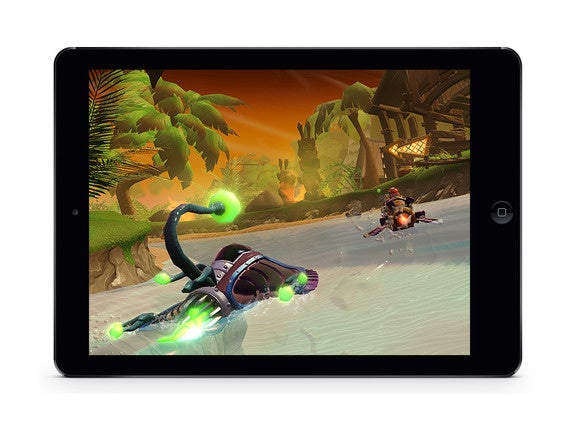 Also, note that if you bought last year's Skylanders: Trap Team starter kit for iOS, you can use the same portal with SuperChargers: Simply download the free game from the App Store, and you can pay $40 within to unlock the full game. You'll need a vehicle to get through parts of the game, but if you don't want to buy one, you can purchase "instant" digital-only rides and characters within. That takes away much of the point of a toys-to-life experience, but it's an option.
Which one?
Skylanders SuperChargers and Disney Infinity 3.0 are very similar core games: Smart toys plus button-mashing action equals solid family fun in both cases. Honestly, the biggest factor in your decision should be franchise preference: Do you love Star Wars, Marvel, and/or Disney? Or would you rather have something that feels a bit more original and cartoonish in tone? Both are fun, both starter kits get you up and running on Apple TV, and both have some platform-specific annoyances that are thankfully bearable.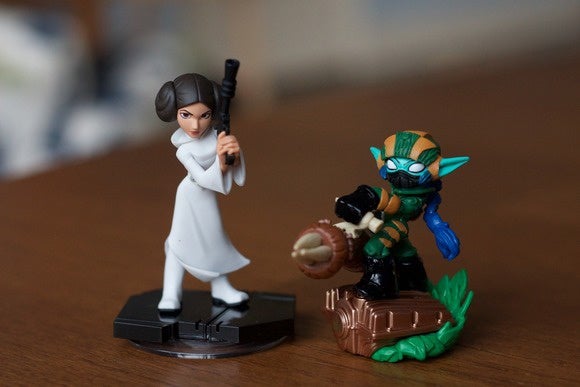 All that said, my vote is for Disney Infinity 3.0. The Star Wars stuff is fun, the Toy Box is vast and welcoming, and the compatibility with Marvel and Disney legends is wonderful. The fresh release of The Force Awakens as a playset is also huge, and getting a Nimbus controller in the box is a huge boost to any serious Apple TV gamer. With the Nimbus selling for $50 on its own, the $100 Infinity 3.0 starter pack seems like a real deal.
That said, Skylanders has its advantages. The pack is cheaper and comes with an extra figurine, plus the toys feel more like real toys than Infinity's small statues; some vehicles have spinning wheels and helicopter blades, which my two-year-old loves, even if he can't quite play the game himself. The figurines are definitely eye-catching, even if the paint work can be spotty, and Skylanders feels like this whole unique universe that you can dig into.
Disney Infinity 3.0, on the other hand, primarily trades in familiar content—but also has a better chance of hooking adults in addition to kids, thanks to the cross-generational appeal of its heroes and scenarios. That likely makes it more widely appealing, but if it's colorful action and cute toys you want, you can't go too wrong with either game.